October 10th, 2015
A Coming Out Story – Episode 19 – What I Learned About Homosexuality (Part 3) "Aftermath"
Whew!   Finally…
A Coming Out Story Episode 19 is posted…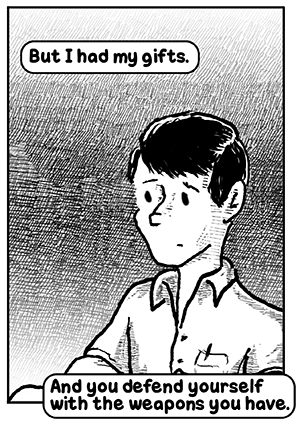 …wherein our hero discovers his inner strength.   And his inner prison.
I hadn't initially thought of dividing this story into sections, but it's a work in progress and now that I've finished this little three part story arc about why I'm so bottled up inside when I should be asking this beautiful sexy classmate out on a date, I see that it puts exactly the right closure to everything that came before it. So I'm calling this End Of Part 1.
Part 2 begins soon (I hope!), and we shall see how this gay kid and the object of his affections manage to deal with their angsty adolescent hormones in a world that would as soon push them off a bridge than give them role models, support and maybe even a prom to go to. This is 1971/72 we're talking about here. I try to explain what that means in the first strip of this episode.
I apologize for the excessive delay in getting this one out. But I had to pull some stuff out of my guts I never did before.   Plus…everything I said a few posts ago.
Enjoy!