April 29th, 2015
How About Not Throwing So Many Of Those Fathers In Jail Then?
This came across my Facebook stream just now. It's the kind of thing that just sets me off and I start seeing red. No…first I see a face. My Mom's face.  Then I see red…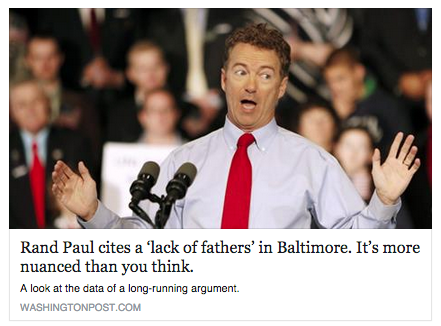 I was raised by a single divorced mother you drooling brick-brained ideologue and her son's police record is a hell of a lot cleaner than your's is.
But… But…
I had good public schools to go to…which you want to take away from America's kids.
Even in a time when women made less than 60 cents on the dollar than a male co-worker for doing Exactly the same job my mom could still afford to raise a child back in the 50s and 60s. And that was because we had an economy that benefitted middle class and service workers like my mom. …something else you want to kill so your rich benefactors can buy more yachts. All those high paying union jobs gave paychecks to people who actually bought goods and services with them instead of gambling at the Wall Street casino. But your kind hates unions.
Mom was able to afford health care for me when it was desperately needed, after I came down with Scarlet Fever when I was 6 and then was laid up in bed for months with complications. Once upon a time working people and even a poor working single mother could afford health care for their kids. And you are trying to kill off the Affordable Healthcare Act.
Mom could afford to feed me, even on her meager salary back then. It wasn't a fabulous diet I had back then but I never went to bed hungry. And it was reasonably healthy You want to take food stamps away from poor kids and let the food industry feed everyone else junk.
And even on that meager salary she could buy me books to read.
Face it Paul…you don't give a good goddamn about those inner city kids. Broken homes is it you're worried about? What ruins more marriages than money problems? You are making home life for everyone but the rich worse and worse so they can have more and more and more and you're bellyaching that kids don't have fathers? I'm laughing in your face. It isn't lack of fathers that drove those kids into the streets, its lack of any concern whatsoever for the rest of America you can't see from inside your nicely furnished cocoon. They're just little people. If you and your kind were really concerned about them not having fathers, maybe so many of them wouldn't be in jail right now for piddly sh*t that very few white men ever face arrest for, let alone jail time. Maybe the life those kids are looking wouldn't be a school-to-jailhouse pipeline.