March 29th, 2015
Thou Shalt Not Tell The Mirror Lies
This came across my Facebook stream this morning…one of many stories about the so-called Religious Freedom bill the governor of Indiana signed into law the other day…
Gov. Mike Pence, scorched by a fast-spreading political firestorm, told The Star on Saturday that he will support the introduction of legislation to "clarify" that Indiana's controversial Religious Freedom Restoration Act does not promote discrimination against gays and lesbians.
Pull the other one. I've seen apologists spinning criticism of the Indiana law as some kind of militant gay hysterics, that the law has nothing whatever to do with discrimination against gay citizens, it's just about preventing government from forcing The Devout to violate their Sincerely Held Religious Beliefs.   We all believe that people should be free to practice their faith don't we?   But in Georgia a similar law was amended to make it clear that it wasn't a license to discriminate and rather than pass it with that amendment they withdrew it. And in Oklahoma when a legislator proposed that businesses wanting protection under that law had to post signs alerting customers they would not serve anyone if it violated their religious beliefs, that law was also withdrawn.
Laws like these aren't actually originating in the various state legislatures. The new thing is to first cook up a law in a right wing legislative think tank like ALEC and then pass it around to friendly state representatives. If you want to know the purpose of these ersatz religious freedom laws, ask the folks pushing them on the states…
Bryan Fischer (@BryanJFischer): "Dear Indiana legislators: any legislation "clarifying" RFRA will be abject surrender to the homosexual agenda. Don't do it."
I'm sure part of the song and dance now is  Don't Say The G-Word during hearings on the law. But there's plenty of talk about what the purpose is elsewhere and if you doubt the actual legislative purpose take another look at what happened in Georgia when they added the clarity that Pence claims now to be seeking.   Or take a look at this image from GLADD…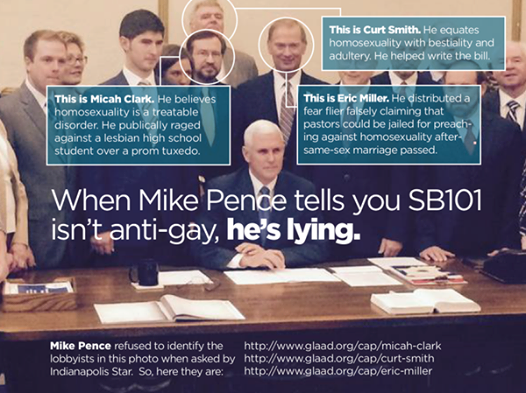 There will be no clarification forthcoming, Pence knows it, this is just wash, wash, washing his hands before the angry multitudes.   What?   What?   I asked the legislature for Clarification…they did not provide any…so don't blame me!
Some of you may recall a lot of this started when a same sex couple wanted a wedding cake and the bakery refused, citing their Sincerely Held Religious Beliefs. There have been several more cases like that, but in the one case I'm thinking of, I think it was the Colorado bakery, what hasn't gotten as much press was a local radio station had various people go to that same bakery and ask them to bake cakes for divorces, out of wedlock births, heterosexual couples shacking up but not getting married, and so on…and they were perfectly willing to bake those cakes. Just not the one for the gay couple. I don't think that even qualifies as Sunday Morning Christianity.
The ninth commandment is you don't tell lies about your neighbors. There needs to be one for telling lies about yourself. Because, really, that's where soul rot begins. All this yap, yap, yapping now about how everyone is completely misinterpreting Indiana's law would be hilarious on The Daily Show but it's pathetic to watch people really saying these things with a straight face. Anyone saying this law has nothing to do with nullifying the effect if not the reality of same-sex marriage needs to go look in a mirror and ask that poor lost soul staring back at them which is worse: repeating a lie because you don't want people to know the truth, or repeating it because you don't want to know the truth.