May 21st, 2014
A Wee Question…
I've said this before, much to the distress of some liberal/progressive friends, but here it is again: I have no problem with private gun ownership, I see it as an eminently democratic right, IMO the second amendment does confer a right to individual Americans to own guns, and yes as a matter of fact I own a few myself. And I take responsibility for owning them seriously as I do my automobile. I obey the laws. I concern myself with safety. And I have nothing but contempt for people who use them recklessly, even if they're not actually breaking the law. That goes for guns, automobiles…anything people use that can do harm to other people.
I'm an American liberal. I believe that public spaces convey public obligations. From respect for the environment to seemingly mundane day-to-day things like traffic safety, the common public spaces we share together are a mutual responsibility…and at minimum that means they are safe to use.   Or to put it another way, the common ground that is too dangerous to occupy is more properly called a Battlefield.  The last time the shared common spaces of Americans became battlefields we called it a Civil War and it killed more Americans than all our other wars put together.
As a liberal I go even further and insist that even the private workplaces must be at minimum safe to occupy too, since we all need to work to earn a living. I grant that some occupations are very dangerous but also very necessary for the good of all.  That said, working in a fast food restaurant, let alone eating in one, does not strike me as one of those occupations.
So I hear Chipotle wants customers to not bring their guns inside their restaurants. So while I'm shrugging my shoulders and and thinking to myself, so much so reasonable, and moving on apparently other people are bursting veins and threatening boycotts.
What the hell is wrong with you? Just…what the hell is wrong with you? No…Seriously. What the hell is wrong with you?
If Chipotle said they wanted gays to stay out of their restaurants because Jesus! you'd be dog piling on it like you did Chick-fil-A. You're bellyaching that same-sex marriage is going to destroy civilization….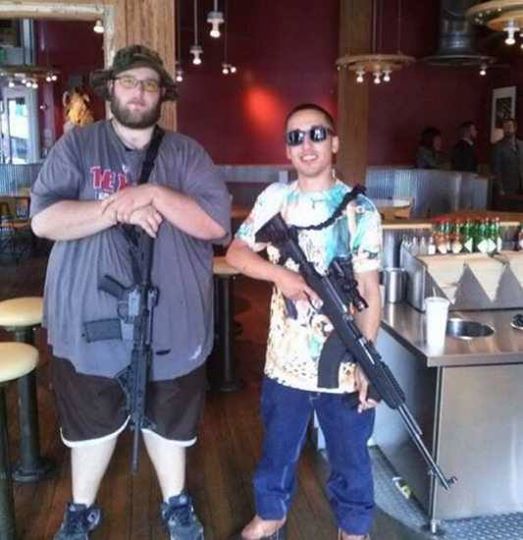 …Does This Fucking Look Like Civilization To You!
They say guns don't kill people, people do. And that's true. It's always the person. The idol is always false. We give meaning to our material objects, they don't give meaning to us. A weapon, any weapon, finely, skillfully, beautifully made, by a master craftsman, is a noble thing. Until the moment a runt gets their hands on it. Because runts don't build civilizations, they tear them down so they don't have to know what runts they are.  But let it be said that, unlike those two,  not all runts look like they've spent their entire lives in mom's basement.  These guys for instance, bear a heavy responsibility for the decay of American society…
All these voices on the right bellyaching about Morals and Traditional Values, and Social Decay and really they don't give a good goddamn about any of it. None of it at all. They get up on their stages in their suits and ties and slicked down hair and they wave the flag and talk about law and order and it's all bullshit.  Behold the new minutemen at the battle of Chipotle!  I have a question…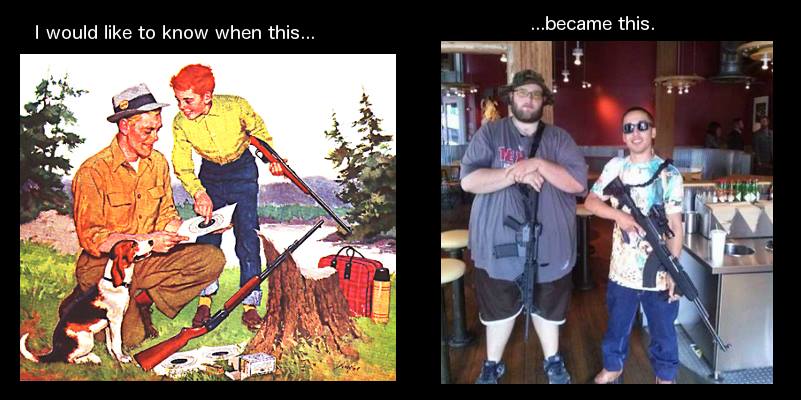 Thank you NRA for turning a pastime that brought pleasure and even taught a few values to thousands of Americans into an idol for anti-government troglodytes. Thank you for turning the basic democratic right to own your own gun into a totem for ignorance and hate…the very things that kill democracy. You don't love this country. You don't even love guns. What you love is power. You loath the peace and prosperity and brighter future Americans have always sought, if it means everyone can have a share of it too. You'd rather it all came crashing down into anarchy and chaos if it means everyone can dream the American dream too, not just powerful white men.