May 6th, 2013
You Know The Race That Matters When You Loose It
It was the autumn of 1973. I'd graduated from high school the previous June, come out to myself two Decembers before, and that summer I'd just discovered my first crush had moved away without telling me his family was going anywhere.   But also that summer I'd also somehow attracted the notice of a cuteling at a coffee house a friend and I frequented, who took an interest in me.   He was beautiful and I was dazzled and unlike my first crush, he was perfectly willing to let my camera give him some love. Looking at it in retrospect, I think I might have even been his first crush.
One day he invited me to go with him to watch the quarter mile fuelers run at a drag strip somewhere in southern Maryland. He bought the tickets and even bought us both pit passes. I drove us both in the car I had just bought with money from my first good job at Industrial Photo. It was the first time I got to see the fuelers up close.   I love high energy smoke and belching fire stuff like that, and it was a thrill to see them up close like that.
But it was the time of the first oil embargo and I was young and a tad too self absorbed for my own good. As the races went on into the night I got scared the gas stations would close before the races ended and we would be stranded. He noticed and asked me if I wanted to leave early and I said yes. Just as we left the track he remarked wistfully that one of his favorite racers was probably making his last run just then. I was too busy calculating how far we could get on what was still in the gas tank and didn't notice.
I saw him again the next night at a city park we both used to rendezvous at.   It was usually packed with other teens and young adults on the weekends and that night was no exception.   I can still see the sad, dejected look on his face before he saw me approach.   He gave me a smile and I noticed then how there had always been a little something extra in that smile before because it wasn't there then. We chatted for a bit and then somehow we both wandered off with other friends.   A few months later he had pretty much stopped seeing me altogether.   I was still in a knot over the sudden disappearance of my first crush that summer and wasn't really paying attention to what was right in front of me, and I let it slide.
I've been kicking myself over this memory ever since. If I hadn't been quite so self absorbed back then I might have figured that getting stranded for the night would have been a good thing. Maybe even the best thing ever.
That memory has been nagging at me a lot recently for some reason, so yesterday I decided to see if I could find that drag strip and try to refresh my recollections of the place. I'd heard it had closed ages ago, but thought I could find where it used to me and perhaps scope out the surrounding area and put some of my memories of that night to rest…or at least give them some clarity. I'd thought the strip was somewhere near La Plata, so I drove down Highway 5 to 301 but didn't see anything I recognized. So I wandered for a bit and then gave in and went home and started Googling. Eventually I found some links and a few images of the drag strip as it is today. Loneliness and regret are like the two pale horses of my love life. This photo could almost be the path I took through it…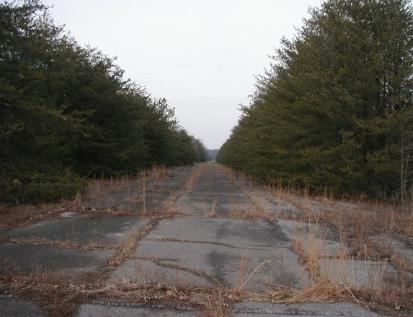 But no…it's what's left of the Aquasco Speedway. They say some of the most famous names in quarter mile racing raced there. It may have been where I lost the only race that ever mattered.
If you're out there reading this now…I'm sorry I was a jerk.   I hope you've won your race.