June 24th, 2012
1971
Winter 1971. The artist at work…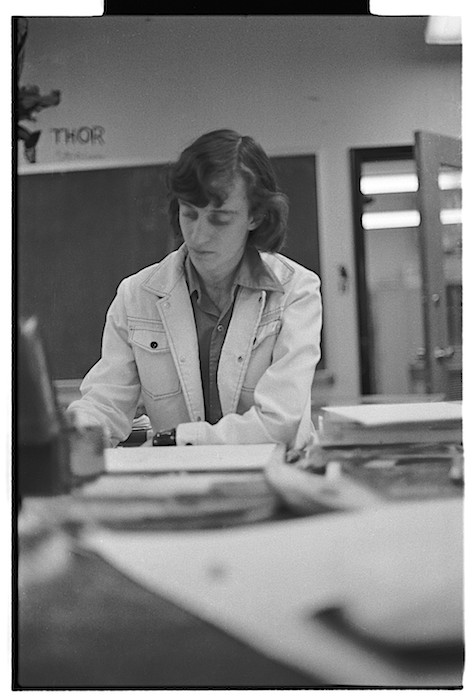 This was taken by a friend with my camera, for possible inclusion into the yearbook. The odd framing is an artifact of the film scanner I have.  I was staff cartoonist for the student newspaper (serendipitously called The Advocate) and was also made staff photographer after the previous one had a tiff with the editors and quit.  This shot was for a spread in the yearbook about the student newspaper staff, but didn't make the cut. Instead they had me arrange another one of a small group of us, thereby saving page space.
I remember this. What I like about this shot is my friend actually managed a snap when, for an instant, I got into the drawing I was working on and was actually concentrating on it there for a moment.  It's not often I get to see my concentration face.  I'm 17.  I'm posing at one of the art room desks, drawing, not pretending to draw but actually drawing, one of my cartoons. I was a stickler for authenticity (still am) and even though the shot had to be posed I insisted I would be working on something for real, not faking it. You can't see my hand with the pen in it in this shot, but that's the drawing on the board and paper in front of me. The tackle box also in front of me is typical. The tool boxes they sold in art stores for artists were expensive. I figured the tackle boxes they sold in the sporting goods section of most department stores would do just as well and they cost a lot less.
And this by the way, is why to this day I draw on a horizontal surface and not with the drafting table top tilted at an angle, although it can be. All my grade school art rooms had tables like these and I just got used to drawing that way and now I find it more natural then having the table top tilted. But see the board I have the paper on. I still cut Masonite boards to use for drawing and tape my paper on them. Then I have the paper on a nice smooth solid surface I can turn this way and that.
This is the kid I'm doing A Coming Out Story about. When this was taken I was just on the verge of finally coming out to myself as a gay teenager.  This was late 1971, but probably still a few weeks away from the day a certain someone put an arm around my shoulders, gave me a squeeze before heading out the school door, and thereby sent my head and heart into the stratosphere, and I couldn't rationally deny it any longer.  Such were the printing lead times back then, yearbook photography had to be pretty much done by the end of the first semester.  So when this was snapped that kid there was head over heels crushing over a certain someone, but still not at all ready to admit it to himself.
And who could blame him? It would be another couple years before the American Psychiatric Association removed homosexuality from it's diagnostic list of mental illnesses.  The kid you see in this photo is about to come out to himself in a world that had no other understanding of homosexuality other then a ugly sexual depravity. To be a homosexual was more loathsome then anything else a man could be. It was the bottom of the bottom of the human gutter.  This was a message you got from every direction.
I look at this kid and I just want to go back in time and tell him he's smart and beautiful and worthy of being loved and never let anyone tell him otherwise.  But he would ask questions.  He will ask what the future will be like for him.  And I could tell him all sorts of wonderful things that will eventually happen to him.  Except for one thing.  This is why I'm having a hard time maintaining energy to work on A Coming Out Story.  I need a better ending then the one I've got.