January 9th, 2007
Perhaps We'll Be Able To Sell Our Wedding Rings On eBay
So here I am…watching the auction of a couple of really nice looking original Canon F1s, and two really nice 85mm f1.8 lenses on eBay. The F1 I bought back in 1971, after a summer of working behind the counter at Burger Chef, has only had to visit the repair shop once and is in great shape now, but I worry about what will happen if it ever needs another repair. So I'd like to get another spare F1 body. I love that camera…best 35mm SLR film camera ever made in my opinion…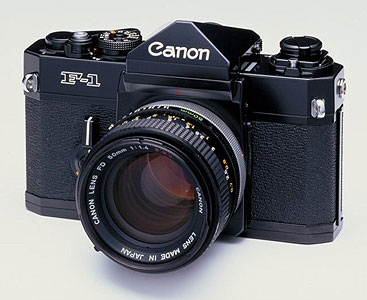 They made them practically bombproof. Solid overbuilt mechanical guts, alloy frame, solid brass lens focusing helicoids, roller bearings, titanium foil shutter curtains, oversized film pressure plate, and that breach lock bayonet lens mount that never got loose. The thing was a tank compared to the Nikon F it was competing with when it first came out, and yet in operation it was as smooth as silk. Heavy and yet precise in feel. My friends used to call it the Brass Monster. But in almost 30 years of nearly constant use (at one time I'd wanted to become a professional photographer) it never once failed me. It's been smacked by a horse, slammed by basketballs and players while covering my school sports, knocked down stairs, knocked out of my hands by angry protesters, taken into the bitter freezing cold, and baking hot conditions. I've probably run tens of thousand of feet of 35mm film through it. And only once, did it ever need to be taken to the doctor. That was in 2001 and it took them six months to find a part they needed to fix it. They did a great job…the camera came back restored back to absolutely great shape. But immediately afterwords that repair shop announced they would no longer be servicing any Canon FD series cameras.
So I worry what will happen if mine ever needs repairing again. I just don't want to be without one of these. For my money, this is the perfect 35mm SLR. Simple, elegant, beautiful, over engineered, yet smooth and precise like a fine watch. I never work better then when I have one of these in my hands. And after all this time, that one I bought back when I was a teenager after months of flippng burgers has great sentimental value to me. So there I am prowling around eBay…looking to buy another backup body (I actually have two others, but one of those is more of a parts camera as it is missing a few pieces), and perhaps get a lens I still don't have.
And then I see this, first over at Americablog, and then at Pam's House Blend …
Mr. Romney's supporters came armed with lists of friends and, in the case of politicians, their own contributors. A lot of internal planning had gone into the day, so the recipients of calls asking for donations of $2,100, the legal limit, were not surprised. And Mr. Romney was certainly not taking any chances. When it came time for him to make a fund-raising call, piped over the loudspeaker and in front of a crush of cameras, he chose to call his older sister, Lynn Keenan, at her home outside Detroit.

…"I've never done anything like this before," said Meg Whitman, the chief executive of eBay, in a break from her callers. "I start out by saying: `You won't believe where I am! I'm at the Boston Convention Center with four or five hundred other people dialing for contributions for Mitt Romney.' "
Meg is one of Mitt's regional chairs for his finance committee, and apparently she's doing a bang-up job for him. According to this link, Meg gives money to, among others, Orrin Hatch and…yes…George Allen. No macacas on her payroll I guess.
There is apparently no way to cancel your eBay account. Once you sign on, you're in their system for life. In the meantime I'm trying to find a viable email point of contact, just to let them know that I'll be shopping elsewhere for the time being, and maybe forever if Mitt's anti-gay same sex marriage amendment succeeds in cutting off the ring fingers of gay people in Massachusetts. I'm probably better off shopping for used camera equipment at a real camera store anyway, like B&H in New York City. I've never bought anything from their used camera department that wasn't in exactly the condition advertised. I can't say the same about everything I've bought on eBay. That parts F1 I have being one example.