January 28th, 2009
Snow. Sleet. Freezing Rain. Baltimore
Not exactly your foot deep snowfall…but enough to keep Traveler at home…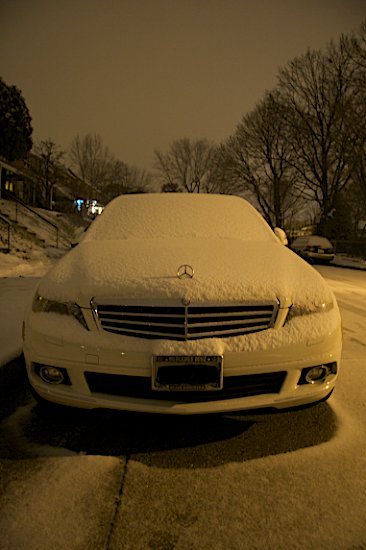 Doesn't it look adorable in the snow? Well…I think it does. And I'm here to tell you owning a forty-five thousand dollar automobile does make you think twice about driving it in snow and icy conditions. And tonight they are forecasting a freezing rain. Swell. If I had studded tires (which are illegal in Maryland anyway) I would not move that car. I can walk to two grocery stores and to work, and in really bad weather, the Institute encourages us to either telecommute or take leave. In a really severe situation they will close down the Institute altogether, for the safety of staff. But you have to understand the work we do is in support of space missions that don't pause for bad weather on earth, and some folks just have to be on call no matter what. If the power goes out due to ice bringing down lines, or trees onto lines though, I doubt I'll be able to telecommute.
It's sleeting now as I write this. The forecast is for ice accumulation up to a quarter inch in the city. That's…pretty bad. The city seldom if ever plows or salts the sidestreets (we have no money) but distributes salt boxes all around the neighborhoods, which I've never seen done anywhere else. I am responsible for my own patch of sidewalk…all sixteen feet of it…so I shoveled mine and salted it down before bed. I also put out some extra seed for the birds. Hopefully the feeders won't be so iced up they can't get to it.
If the power goes out tomorrow, because some tree somewhere upgrid from me came down on some lines, I probably won't be blogging. BGE is usually pretty good about getting the power back on here in the city…but if the ice is widespread it might take a while. Hopefully, once again, it won't be as bad as the worst case scenerio the forecast is predicting. A quarter inch of ice is a lot. That'll bring down some tree limbs around here for sure.