January 27th, 2009
Was Sie mit "wir" weiß gesicht?
Winnetou and Old Shatterhand ride again…
Karl May production makes cowboy casting call

Germans looking to live out their Wild West fantasies of being a gunslinging cowboy or Indian are in luck: the Karl May festival in Bad Segeberg needs experienced horseback riders as extras for this summer's performance.

New festival director Donald Kraemer plans to begin rehearsals of the open-air stage adaptation of the classic Karl May novel Der Schatz im Silbersee, or Treasure of Silver Lake, in late May.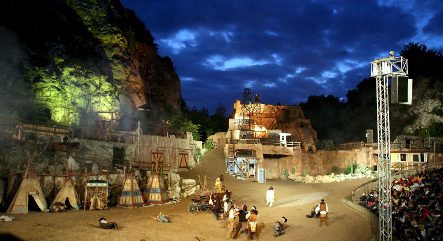 Some years ago on one of my road trips as I was driving near Bryce Canyon, I noticed every curio shop and trading post I stopped at all had their prices and item tags on everything in the windows, display cases, and on the clothing racks written in German. This kept happening all the way from Bryce Canyon to Monument Valley, where I finally crossed paths with a huge, and I mean Huge, caravan of tour buses, all loaded to the brims with middle aged German tourists.
Nice folk…passionately curious about everything around them…pleasant, polite, cameras clicking away. But they spoke not much if any English at all and stayed close to their tour guides…which makes me wonder to this day about the stories I keep hearing about how English is widely understood in Germany. I happen to catch one of them, a pleasant enough German man, taking a snapshot of my car's license plate.
I have the special "Preserve The Bay" plates which you pay extra for, and the money goes into a fund to help clean up the Chesapeake Bay. It's distinguished from the standard plates by the state waterfowl, the Great Blue Heron. When the German saw me watching him taking a picture of my plates, he became visibly embarrassed and made a gesture toward the car I took to mean he wanted me to know he was just snapping a tourist photo. I smiled back and wished I could tell him the plate was a special edition and the facts behind it, but all we could do was smile at each across the language barrier.
I've tried to read Karl May. I can't. To an American boy who grew up reading Louis L'amour, May is simply unreadable, and I don't think it's because the translations are bad, or that he just didn't know or understand the West. Let it be said, those other American icons of Western storytelling, Zane Grey and James Fenimore Cooper, were no better then May in that regard, and had less of an excuse because they actually lived on this side of the pond.
Grey was the better romantic though. My first and only walk with Zane Grey through the American West of his imagination, began on the first pages of Lone Star Ranger…
If Bain was drunk he didn't show it in his movement. He swaggered forward, rapidly closing up the gap. Red, sweaty, disheveled, and hatless, his face distorted and expressive of the most malignant intent, he was a wild and sinister figure. He had already killed a man, and this showed in his demeanor. His hands were extended before him, the right hand a little lower then the left. At every step he bellowed his rancor in speech mostly curses. Gradually he slowed his walk, then halted. A good twenty-five paces separated them.

"Won't nothing make you draw you —!" he shouted, fiercely.

"I'm waiting on you, Cal," replied Duane.

Bain's right hand stiffened – moved. Duane threw his gun as a boy throws a ball underhand – a draw his father had taught him. He pulled twice, his shots almost as one. Bain's big Colt boomed while it was pointed downward and he was falling. His bullet scattered dust and gravel and Daune's feet. He fell loosely, without contortion.

In a flash it all was reality for Duane. He went forward and held his gun ready for the slightest movement on the part of Bain. But Bain lay upon his back, and all that moved were his breast and his eyes. How strangely the red had left his face – and also the distortion. The devil that had showed in Bain was gone. He was sober and conscious. He tried to speak, but failed. His eyes expressed something pitifully human. They changed – rolled – set blankly.

Duane drew a deep breath and sheathed his gun. He felt calm and cool, glad the fray was over. The one violent expression burst from him. "The fool!"

When he looked up there were men around him.

"Plumb center," said one.

Another, a cowboy who evidently had just left the gaming-table, leaned down and pulled open Bain's shirt. He had the ace of spades in his hand. He laid it on Bain's breast, and the black figure on the card covered the two bullet-holes just over Bain's heart…
This is why Zane Grey became so popular, and why his American West came to define the real West for generations. That last little touch with the gambler placing an Ace of Spades over the bullet holes is great stuff. But it didn't compare to Louis L'amour, and I put the book down and never picked it back up. Louis L'amour could paint a scary picture of a bad guy with just a few deft sentences of description, not all this face distorted and expressive of the most malignant intent, he was a wild and sinister figure crap. You got the feeling reading L'amour that you were really there to see it all, not that you were watching it on Saturday morning TV.
May, at least in translation, writes a lot like Grey and Cooper, which is why I can't read him. And his West, and Grey's, and Cooper's just isn't real. But sometimes real isn't what's wanted. You want the myth. You want the high opera. You want to see the struggle between good and evil drawn out in sharp, bold strokes because that story Is more then the sum of its real life parts. Art, Picasso said, is a lie that makes us see the truth. One of these days I have to go see that Karl May festival for myself, and the German cowboys and German indians that gather there to pow-wow…