December 6th, 2008
A Lovely Little Art Deco Spaceship, From When The Night Sky Was New
The Polaris II from The Space Explorers. Well…actually, it's Weltraum Schiff 1 from the German film Weltraum schiff 1 startet.
Back in the 1950s, William Clayton and Fred Ladd combined several films into one they serialized and syndicated to local TV stations for use on their daytime children's shows. I was a pre-schooler and the stars in the night sky were fascinating. Mom bought me a little "Golden Nature Guide" book on stars…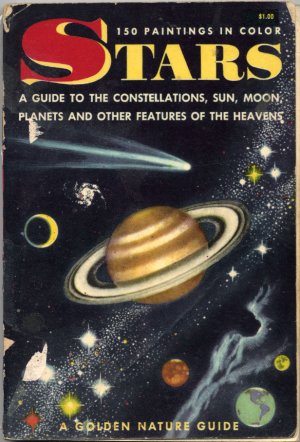 …which, as you can see, I've kept all these years. That book I think, was my first step into the world of learning, and what it taught me about the heavens above was a revelation. The sky above was beautiful, mysterious, and yet understandable. My world, which until then compassed only the backyard of the apartment complex we lived in, and a small shopping plaza just down the street, suddenly became huge.
There were other kid's space shows on TV back then, but The Space Explorers stuck in my imagination…largely for the beautiful imagery and background music Clayton and Ladd chose. One of the films they used was a Czech Russian educational film titled, Universe, which lent The Space Explorers some absolutely riveting (to my pre-school eyes) artwork of the stars, planets and moons. I have tried for years to get a copy of the whole, thing, but I suspect all the various copyrights to all the pieces Clayton and Ladd used to make The Space Explorers are just too hard to get all in a row and still make it worthwhile to put on DVD. But I am stumbling across more and more of the parts on YouTube now, and what's impressive to me at age 55, is how detailed my memory of that cartoon serial was, compared with other things I watched from that period in my life.
In my scrap books are some of my earliest sketches and drawings and that little art deco spaceship is there among them. I tried for years to find a model of it somewhere. Finally, a small enthusiast shop, Fantastic Plastic, has come out with a model you can build. If this is the sort of thing that strikes your fancy, then you might want to explore their online catalog, as it is full of all sorts of spacecraft, well known and obscure, from science-fiction films past and present. I ordered two…one for practice since I haven't built a model anything in years. For most of the 1980s I worked as a freelance architectural model maker and built custom models of new buildings and parks from scratch. So I'm not entirely without some skills in that regard. But by now they're probably very rusty. The kits came in the mail last week and unpacking them, and examining the pieces, I could feel the seven year old boy inside of me get all wide-eyed and excited again.
I won't paint them quite like I see in the shots on the Fantastic Plastic page, but it'll be close. I want to try for an effect that's more like smooth aluminum metal then silver paint. That's what's going to take some time investigating and practicing and why I bought two kits instead of just one. And the windows should look like they're being illuminated from within, not dark. But as I can't install lights in this thing that'll be a trick to accomplish with paint. But with the right touch of the brush I think I can do it. Eventually one is going down in the art room, and the other in my office at Space Telescope. I'll post some shots of the finished work here.
One more thing: As I was composing this post, I decided I wanted to include a scan of that old book on stars mom gave me back in my pre-school days, because it was one of those small but important things, a touchstone, for the direction my life would eventually take. I've said before that I was blessed in a way, to have entered school shortly after Sputnik scared the hell out of The U.S., because suddenly there was an emphasis on getting America's youth a good science education. When I went to scan the book, I took another look at the back cover. Here it is…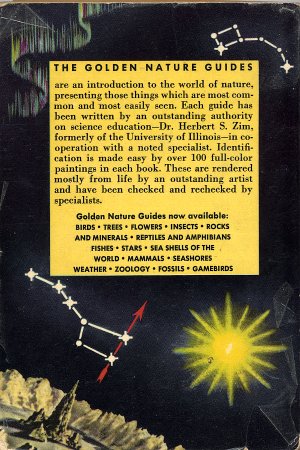 Each guide has been written by an outstanding authority on science education… A lot of the information in that book, printed in 1956, is dated now. But the spirit is even more relevant now after decades of republican party and religious right assaults on science, reason and knowledge, then it was even at the height of the cold war. Science is not a dry collection of facts on display in a museum or a textbook. Science is a way of knowledge, where knowledge is understood to be something you actively discover, not something you passively receive. A science textbook is not a bible. It is not a political diatribe. It Wants to be challenged. You are Supposed to have questions when you finish it. And you are supposed to be unafraid to ask them.
My little golden book of stars. A relic of the cold war. It was a time in America of stifling, absolutely stifling conformity. But for a moment, for one brief and shining moment, the nation understood clearly, in the shadow of a nuclear, not biblical Armageddon, that the way you fight totalitarianism is by teaching your young to how to think for themselves, and that the pursuit of knowledge is a great adventure.