June 11th, 2006
"Love!", We Shouted…
I went to the protests yesterday, in front of Focus On My The Family's so-called Love Won Out conference at Immanuel's Church in Silver Spring Maryland, missing the D.C. Pride parade and block party, and what was even worse, Baltimore's "Hon" Fest in Hampden. But I had to go, and it was the more rewarding experience. I met so many kind and decent people on the picket line, all ages, gay and straight, all deeply troubled by the lies being told about homosexuals and homosexuality inside the sanctuary of a church.
The first thing I noticed when I got there was how remote Immanuel's Church actually is from the city. If Focus is bringing its circus to Washington D.C., why put it inside a church, and not all that big of one, all the way out here in the outer suburbs? I discussed it with some of the other protesters and came to think that they did it so that they wouldn't be mobbed by an angry gay community. The thought also struck me that it was why they held the event right on D.C. Pride day…to have it happening while the city's gay community would be busy with something else. It wasn't until I got home that another reason occurred to me: a number of Focus supporters might not have wanted to go into the city for such an event. For all its appeals to black ministers lately, the anti-gay religious right is largely a phenomena of the well to do suburbs…the vanguards of the white flight of the 60s and 70s. They may draw support from the rural voters, they are perfectly willing to appeal to the prejudices of some in the African American community, but the anti-gay agenda is being driven largely by the rich white burbs. Dobson had to know his base probably wouldn't want to drive into a largely black, never mind largely democratic city for his conference.
Our picket line was not huge, but according to Steve Boese of A Tenable Belief, neither was the crowd inside the conference. Steve actually went into the conference (a thing Wayne Besen is apparently no longer allowed to do) and sat through most of the presentations and his estimate of the crowd size was about 300 or so people, in a church that could hold about four-hundred or so. Lance Carroll, who protested Love Won Out when it was in St. Louis, said they'd gotten over a thousand people at their conference in that city. But the people who stood in front of Immanuel's Church yesterday, and held their signs for the attendees to see, had strength in more then simple numbers: the strength that comes from truely loving your neighbor, and caring about what happens to them.
Lance Carroll, the 18 year old who was taken to Love In Action against his will when he was 17, was there, as was Wayne Besen. During the afternoon picket Lance spied what he thought were a group of LIA staff members and walked across the street to talk to them. Having been forced to walk the walk of shame last year on the LIA campus in Memphis, it had to have been an exhilarating feeling for him to be able to freely choose whether or not to talk to LIA staff. As it turned out only one of them was from LIA, the others were Exodus. The LIA guy was new, and hadn't been at LIA when Lance was in the program. He told Lance that he and John Smid were the only two people from LIA there at the conference. They all chatted with Lance for a bit, and Lance asked the LIA guy to tell John he said 'hi'. Of course Smid never had spine enough to come out and talk to him. But later the other guy from LIA come back out, by himself, and walked over to the picket line. He told Lance he wanted to hear from him directly why he was so upset over how he was treated at LIA. Lance gave him an earful. It had to have felt good to be able to get that off of his chest to someone on LIA staff.
I met many good and decent people…did a little chauffeur work for Lance and Wayne and Steve, back and forth to the Metro station, and watched so many interesting moments as the people inside the Love Won Out conference encountered people outside their doors, who were bearing witness to actual human love and compassion. I'll be chewing on what I saw for weeks I'm sure. In the meantime, here are a few photos…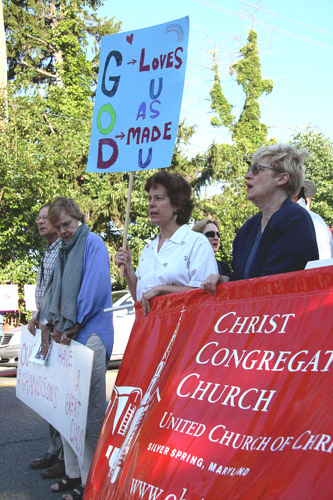 God Loves You
I just have to mention this about the image above…these folks there at the head of the picket line had just broken into a chorus of Amazing Grace when I walked over and snapped this one. Listening to their quiet, insistent voices singing that song just there, just then, nearly brought me to tears.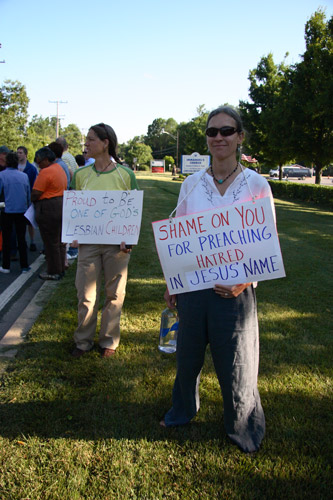 Shame On You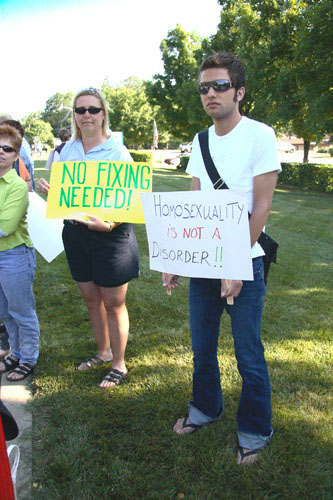 Homosexuality Is Not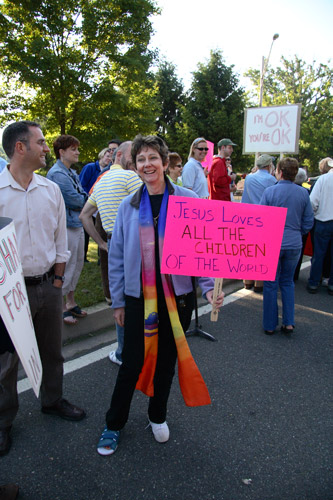 Jesus Loves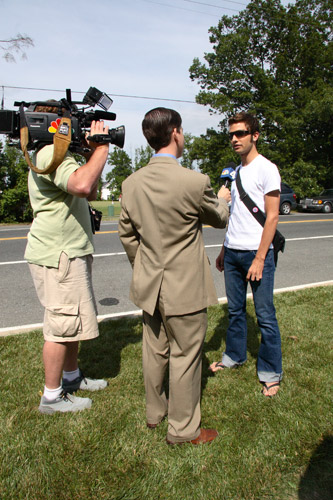 Lance Carroll being interviewed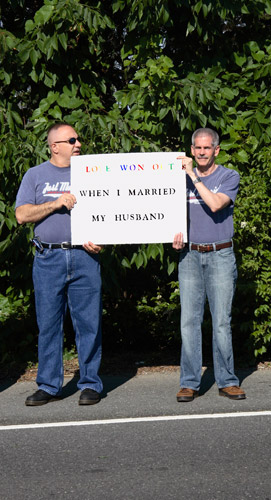 Love Won Out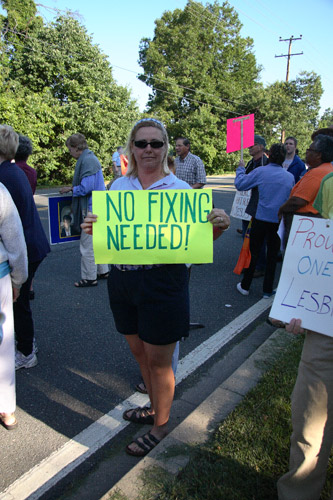 No Fixing Needed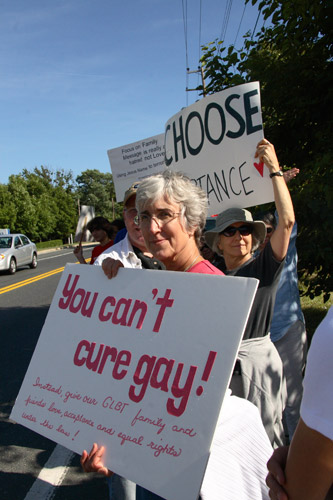 Choose Acceptance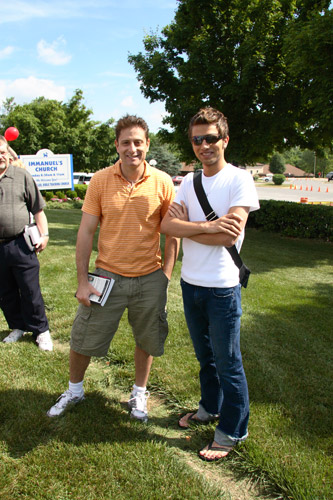 Wayne Besen and Lance Carroll
More photos later…bandwidth permitted…