Archives, 2005 Sept. 5
Sunday October 9, 2005
Miles: 6032
Gallons of Gasoline: 191.802
Total Gas Cost: 549.68
Oil Changes: 2
States (not counting Maryland): 17
Time Zones: 4
Tectonic Plates: 2
Boat Rides: 2 (to Catalina and back)
Motels: 10
Motels With Broadband: 9
Motels With Broadband That Worked All The Time: 6
Cheap Motels That Had Great Rooms: 3
Pricey Motels That Had Lousy Rooms: 1
Impressive Thunderstorms: 4
Massive Power Outages: 1
Scary Backroads: 2
Backroads That Surprised Me With Lovely Scenery You Wouldn't Have Expected From Looking At The Map: 2
Wrong Turns : 8
Wrong Turns That Led To Lovely Scenery: 4
Tires That Nearly Went Flat: 1
Indian Casinos Entered: 1
Slots Played: 0
Sandwich Shops With Broadband Visited: 7
Trading Posts Visited: 18
Trading Posts With No Respect For The Native American Artisans They Buy From: (this trip) 3
Trading Posts I Will Never Enter Again: 3
Bull Sea Lions That Roared At Me In An Unfriendly Tone Of Voice: 1
Strange Rashes That Appeared On My Arms After Being Bitten By Unknown Insects: 2 (I'll probably call my doctor about it tomorrow)
Nice Gay Guys Who Had Lunch And Dinner With Me: 2
Cute Guys On Surfboards: (lost count)
Cute Guys Strolling By The Beach (lost count)
Cute Guys Who Gave Me Their Phone Number: 0
Cute Guys Who Smiled At Me While Walking By The Beach With Their Girlfriends: 1
Cute Guys Who Probably Should Have Been Taking Exams Instead Of Hanging Out With Me: 1
Friendly Gay Guys Who Took Me To See Some Boarded Up Mental Hospitals: 1
Unknown Family History Uncovered: (lots!)
Hours Spent Staring Up At The Amazing Western Night Sky: (lost count)
Shooting Stars Seen: (lost count)
New Horizons Beheld: (many)
Roads I Passed By That I Must Take Next Trip: (many)
by Bruce Garrett | Link
Thursday October 6, 2005
A bumpersticker I'd like to see on the highway…
If you can't see me in your rearview mirrors
it's probably because you're sitting in the
fast lane like a giant slug with a half mile
of traffic bottled up behind you. Get Over!
(Posting from Tucumcari, New Mexico)
by Bruce Garrett | Link
Wednesday October 5, 2005
Matthew Shepard Foundation Benefit

Via a friend on MySpace…
NEW YORK CITY'S BIRDLAND HOSTS "A NIGHT OF MUSIC "
CELEBRATING THE MATTHEW SHEPARD FOUNDATION
Monday, October 10 at 7PM
On a very special evening in New York City, a group of musicians from all over the country will remember Matthew Shepard, a young college student who lost his life in a vicious anti-gay hate crime in October of 1998. Members of the Matthew Shepard Foundation, along with his mother, Judy Shepard, will be on hand to honor his memory and celebrate his life with music. This year's event will be held Monday, October 10th, at Birdland (315 West 44 Street) in New York City, and will feature a performance by singer/songwriter Randi Driscoll with Noah Heldman, Dave Eggar, and David Gurland. Also performing are pop duo Jason and DeMarco, and some very special surprise guests! Birdland's own Cast Party emcee, Jim Caruso, will host the event.
Randi Driscoll, a New York-based singer/songwriter, wrote and recorded the benefit single "What Matters" in 1998, in response to the death of Matthew Shepard. The song was written to honor his life, his family and the unconditional love they represent. "What Matters" is endorsed by Matthew's parents, the Matthew Shepard Foundation, GLAAD, GLSEN, and several other organizations. To date, the benefit single has raised over $40,000 for the Matthew Shepard Foundation. The song has been featured in documentaries, a commercial directed by Spike Lee, and an NBC film, "The Matthew Shepard Story," Randi regularly tours the country playing her message-driven acoustic music. www.randidriscoll.com
The Matthew Shepard Foundation, founded in December 1998 by Dennis and Judy Shepard, was established in memory of their 21-year old son, Matthew, who was murdered in an anti-gay hate crime. The Foundation carries out Matthew's legacy by developing educational projects and activities that raise awareness of the issues involving discrimination and diversity. The Foundation's goal is to educate and replace hate with understanding, compassion, and acceptance. http://www.MatthewShepard.org
The evening begins at 7:00 PM, and doors open at 5:30. Tickets are available online by calling 212-581-3080 or at www.birdlandjazz.com http://www.birdlandjazz.com
_________
For additional information contact:
Christopher Maluck, Director of Development, Matthew Shepard Foundation
(303) 830-7400 or Chris@MatthewShepard.org
by Bruce Garrett | Link
Sorry for the lack of posting here about my vacation. Life has thrown me one of its little curveballs, and I'm still chewing on it. I tend to get kinda quiet when these things happen. There's a lot going on in my head right now.
The central tension in my life has always been the discord between the two sides of my family tree. Mom's side just didn't like dad's, and especially, they absolutely hated dad. My parents divorced when I was two, but eventually began seeing each other again. When left alone, they always got along great. But mom's family, particularly her mother and oldest brother, would go nuclear. They were always telling me things about the Garretts, some that was completely true, much that just wasn't. And by the time I was old enough that my sexual orientation became an issue, I had already endured years of pummeling by some folks on my mother's side of the family, simply for being my father's son, that I already knew perfectly well how it was to be hated for something I just was. What saved me from becoming a complete mental case, was the certainty that both my parents loved me unconditionally.
Time passes. The universe expands. Most of the people at the center of the family discord are gone now. And at fifty-two I'm taking time I never really had before, to come to know the Garrett side of my family. They have always accepted me just as I am. I can't even talk about much of my life with what's left of mom's side of the family that I still speak to. I can talk about anything with the Garrett side. I like them. I really wish I'd had them more in my life growing up then I did. But in addition to all the family strife, the two sides live on opposite sides of the continent, and when my parents divorced, mom's folks brought me to their side. Thank goodness dad drove trucks for a living.
When I was old enough to have my own car, and travel the interstates, I began visiting my father's side. I visited twice during my college years, but then for a couple of decades I was struggling to get a working life started, and for a time I couldn't even afford to own a car. During that time I lost touch with my brother (actually my half brother on my father's side), but in 2000 we found each other again via the Internet. Now that I have a good job with vacation time, I've been traveling more often to California to try, finally, to get to really know the other side of my family tree and its history.
I always figured there'd be some surprises there.
On previous visits, I'd learned about my relation to the California artist, William Lees Judson. My great grandfather Garrett, who I'd met twice, was married to a nice lady everyone called "Cupie". I'd always assumed she was my great grandmother.
This visit, I was able to see family in Catalina Island. There is some family history there. Dad's sister and her husband, one cousen and another cousin's son, all work and live on the island. My cousin Darline is another family artist. And family legend has it that granddad, my father and his sister, all met their wives on the pier at Avalon. (Dad's brother Jack always swore he'd never set foot on that pier. He died unmarried. Speculation is that he was gay, but nobody can say for sure. Just that he was always in the company of young men…). For the record, the pier didn't do its work for me.
So…anyway…I'm visiting family I hadn't seen or talked to in decades here on Catalina Island, and I make a remark about my great grandmother Cupie and they tell me "oh no…Cupie was someone great granddad married late in life. Your great grandmother was another woman…"
In the 1900s, Great Granddad was married to a lady named Hazel. But he had a son by another woman, a full blooded Native American woman with whom he'd had an affair. Granddad 'Art', as everyone here calls him, was born just a couple of months before Shirley, the child great granddad had by his legally married wife, was born.
Art married into the family of California artist, William Lees Judson. They had three kids, my dad, his brother Jack, and his sister Marie.
Which makes Bruce 1/8th Native American.
Well…you wouldn't know it to look at me. But now that I look at granddad's pictures again, I can sure see it in him. I have a picture in my collection of Dad's stuff that has always, until now, mystified me: a picture of great granddad and a Native American lady, in what looked like Native American dress of the time (he would have met her in what were still the wild west days…). When I considered granddad's appearance, I did wonder where he got his looks. As an artist, I am fascinated by faces and family resemblances. I saw very little of it in granddad. He had a sharper, more angular face then either his father or Cupie, and a nose no one else in the family except dad (and my brother and I) have. His hair was jet black, like dad's, where most of the family had lighter brown to blond hair. And his skin was dark, which I wrote off whenever I considered it to that California thing about being tanned. You see a lot of dark skinned blonds around the California coast. I generally wrote the difference between granddad and his parents to the randomness of genetics. Somewhere back there I thought, was a black haired ancestor. But no, it was his mother.
My great-grandmother. I don't know her tribe, I am three generations removed from her culture…I don't even know her name. I have my work cut out for me. Not many people in the family who are still alive remember much about the woman great granddad had his affair with. It was probably a pretty big source of tension in that side of the family at the time. And probably for her too. As I read my history, if great grandma loved a white man she would likely have been ostracized by both her people and by white society. And great granddad was already married to another woman when he had granddad. One of my co-workers is big into genealogy, so hopefully I can ping him for advice on how to proceed. And my family on Catalina Island gave me a copy of granddad's death certificate, which has a lot of information on it, including his social security number and date of birth. That's a good start I think. But he was illegitimate, and his mother was a native American. There may have been no official birth record filed.
Some family laundry: There are few in the family, and especially no one in the Judsons, who liked Art. From everything I've heard he was a fairly mean character, and very much in the center of all the shady stuff that went on in the Garrett side that no one really likes talking about. He cheated a lot of people. He ran a lot of schemes. Art did not set a good example for his kids, and his two boys, my dad and his brother, got into some fairly deep trouble over the years (a thing my mother's side would point to over and over again, while swearing that I was headed for the same fate…). Over time, the more I learned about Art, the more I came to dislike him. When Dad passed away, my brother inherited several hundred dollars from the sale of dad's car. It was a lot of money for a teenager back in the 1970s. Art talked my brother into giving him the money, so they could buy a grave stone for dad. Last time I was out here my brother and I discovered that Art had not bought the grave stone. Dad's grave had been unmarked for all these years. So I bought one, and my brother had it put in place. The day I discovered dad's grave had gone unmarked all this time, I stood over Art's grave and cursed him. But this discovery takes some of the edge off my dislike. They used to say ugly things way back when, about Indian half breeds (take for example, the character of 'Injun Joe' in Huckleberry Finn). If he had to endure being regarded as a bastard child as well, he may have just grown up hating the world. It would explain his bad attitude.
This concept of illegitimacy is so damaging to a child. And this whole business of racial purity is just plain nuts. Humans have been taking a roll in the hay with folks from the other tribe for millennia.
For now, I intend to take this investigation one step at a time and see where it goes. I'll keep you all posted. It would be nice to discover who great grandma was, what her tribe was, where they lived, and what their lives were like then and now. It would be fantastic to discover who my blood relatives are on her side. But at the moment, I have to keep my expectations low. It would not surprise me to learn that there are no records of any of this. But I might be able to contact other branches of the family tree from back then, and at least piece together something. I may be working at this for a long while.
This is a lot to chew on. I'll be years digesting this.
Last year I celebrated my birthday, alone, in Monument Valley, my favorite place. I got up before sunrise just before the time I was born and drove out to the middle of the valley to look at the stars and wait for the sun. Near the middle of the valley I stopped my car and got out. The sound of a tribal chant swept over me. In the night I saw a large camp fire not far away. Someone was having a sing on one of the Navajo ranches nearby. For a moment, standing there listening to the Navajo men chanting, and the beat of the drums, I felt thousands of years of North American history swirling around me like a sudden dust devil. It was breathtaking. But I felt like an intruder, so I got back in my car and drove further down the road. I hadn't known that I had a distant connection to that song.
by Bruce Garrett | Link
Thursday September 29, 2005
Episode 3 of my online comic, A Coming Out Story can be found here.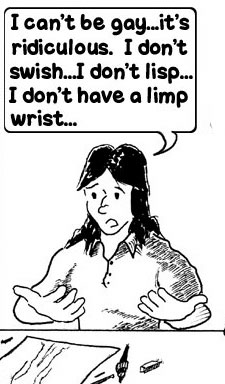 by Bruce Garrett | Link
Monday September 26, 2005
I'm in California now…I made it here late Friday, after a long drive to Bakersfield from Selina Nevada, and a quick drive down what my brother calls the Bad Karma Road (because it gets so many people killed…it's a very twisty road through the mountians just east of the coast that fogs up regularly) and I've been de-stressing for a couple of days. Sorry about not posting sooner, but I find that I need the break from the world more then I realized. California is the land of my birth, and there are times, like right now, when I feel very much like the native son who needs to go back home. Ah…but as long as I am working on Hubble I reckon I'm staying in Baltimore.
I'll post some more on my trip and my experiences, but it's going to be infrequent. I really need to tune out my life for a little bit and just walk around the beach for a while and not have to do anything or be anywhere for a bit. It's been a stressful year.
There's a new cartoon this week. I may have some more later in the week. It's kinda restful to just hang out at my brother's place and draw. Oh…and I bet you want pictures. Okay…

Balanced Rock, Arches National Park
That rock…btw…the one balanced precariously on the pillar, is about the size of a three story building…

Down route 128…approching Moab

Colorado River…route 128…near Moab
by Bruce Garrett | Link
Thursday September 22, 2005
I'm scarfing wireless at the Moab Information Center at the moment. My hotel in Grand Junction lost its Internet connection after a big ass thunderstorm knocked power out to the city for about an hour. Power came back but not the Internet. And now I'm in Utah back country where I always have trouble finding broadband. So my updates may be a little spotty for the next couple of days.
Will post more tonight, assuming I can find a hotel with reliable broadband…
by Bruce Garrett | Link
Wednesday September 21, 2005
On Monday Bob and I went to Lawrence to see the town and visit with a friend of his, Andi, who goes to college at the state university there. Lawrence is as different from Topeka, and according to Bob and Andi from the rest of Kansas, as day is to night. It's got a great, lively downtown area full of shops, good restaurants and a few college town bars. There are historic old buildings, like the Neo-Egyptian Masonic Temple, the Eldridge Hotel, and the Liberty Hall Theater. Bob and Andi and I wandered around town, and they pointed out various sights to me, like the home of William S. Burroughs. We stopped at a few places to eat and grab some refreshment. Wireless was abundant. Everywhere I turned, there were things for my camera to study. Okay…mostly Andi. He was a little cuteling.
Bob and I dropped Andi back off at his dorms, and as we got back to Topeka, he directed me in a meandering wander though town, pointing out this and that. He is directing me through a simply lovely neighborhood of cute little Kansas homes, when he asks me if I feel a force of darkness creeping up on us. He directs me down a street and I see a block of houses with an odd central structure in the middle, and a banner that reads WWW.GODHATESAMERICA.COM.
Ugh! He's taken me to the doorstep of Fred Phelps. I'm torn for a moment between wanting to smack Bob and an intense curiosity about this profoundly evil man. Bob told me previously that the Phelps clan was away, picketing some funerals somewhere. His compound, brightly lit, even at the dead of night, seems to sulk in the middle of this cheerful neighborhood.
The first thing I notice is how neat and tidy everything is, save for a bit of raggedy screening bush that goes Fred's side of the property, near what Bob tells me is Fred's main sanctuary. There is a fence, which Bob offhandedly says has razors and glass shards on the other side to greet intruders. Fred would need to be afraid. The entire block of houses belongs to him, and I notice, weirdly, that a tall fence of plain brown boards surrounds the neighborhood, but does not enclose it. The homes, all but Fred's, are not behind the fence, but between it. The fence closes off every little gap between them, no gap being too small to close off. Where the houses are close together, a couple feet or so of fence carefully bridges the gap between them. Where they are further apart, maybe fifteen or twenty feet of fence close the gap. Not only are you not meant to walk around behind the homes, you are not meant to see anything behind them either. It is eerie, and a tad disturbing. The front facade of the homes are all painfully bright and cheerful, like a proselytizer's smile. You could walk right up and knock on the doors. Nothing is out of place. There are no children's toys laying about, no lawn furniture, no cars parked on the street. Everything but the facades of the houses that are not Fred's is behind that meticulous fence. Bob says the neighbors hate his guts.
I left Topeka Yesterday morning, late. And made my way to Denver where I stopped for the night. During the drive across the high plains I began to feel as if my vacation had really started. I guess you have to live in the congested Baltimore-Washington area to appreciate how free you feel driving through all that wide open space. Normally I get to the Rockies sometime in the middle of the afternoon, but today I reached them late, as the sun was going down, and the view of the mountains as I crested a prairie rise was spectacular. Deep blue jaggedy peaks, like a row of ragged shark's teeth stretched out in front of me from the northern horizon to the southern. At 75 miles per hour, you can see them on the horizon in front of you an hour before you actually get to them. Above them a pale afternoon sky with waves of cotton candy clouds reached across the sky. By the time I got to my hotel they were brilliant with crimson light.
I'm going on into Utah today, and down to Moab and Arches National Park. I may try to find a place in Moab to spend the night. Then I think I'll drive state road 95 through a stretch of Utah my AAA atlas says is scenic, back up to I-70, and I'll keep heading west.
In the meantime…a few pictures…
Inmate Property House – Topeka State Mental Hospitial
Topeka State Mental Hostpital – Main Building
Liberty Hall Theater – Lawrence Kansas
by Bruce Garrett | Link
Tuesday September 20, 2005
That Sound Of Fate Knocking At Your Door…

Whatever excuses Smid is trying to sell, it looks like Tennessee isn't buying…
State says homosexuality reversal group violating law

NASHVILLE, Tenn. -- The state Department of Mental Health and Developmental Disabilities has ordered the closing of what it calls two unlicensed personal care facilities run by a Christian group that counsels gays to give up homosexuality.

The state inspected two facilities in Memphis on Aug. 19 and determined Love In Action International Inc. was providing housing, meals and personal care for mentally ill patients without a license, according to a subsequent letter to the organization from the Department of Mental Health.

The department gave Love In Action until Sept. 23 to cease operation of the facilities and apply for a state license.

Love In Action spokesman Gerard Wellman declined Monday to answer questions about the state's allegations.

"We will be commenting when the time is right," or when the case is past its initial stage, Wellman said.

Lawyer Nathan Kellum responded to the state on Sept. 14 with a letter acknowledging Love In Action had received the state's notice and promising to respond fully by Sept. 23.

"The issue is these being supportive care facilities," state spokeswoman Lola Potter said Monday. "Supportive care must be licensed."

Former Love In Action client Peterson Toscano said Monday that a house manager for the program told him one of the manager's responsibilities was dispensing drugs that had been prescribed for participants.

"He told me that it was to keep people from misusing the drugs," said Toscano, who is now a writer and performer living in Hartford, Conn.

Under state regulations, facilities that dispense medication to patients require a license.

The Love In Action facilities were still in operation Monday, Potter said.

If the organization were to continue operating the facilities past the Sept. 23 deadline, it would face criminal penalties that include fines of up to $500 and six months in jail for each day the facilities are determined to be in violation of state laws, Potter said.

The Department of Mental Health's current action is not the first time Love In Action has drawn the state's attention.

Earlier this year the Department of Children's Services investigated a child abuse complaint against Love In Action that was found to be unsubstantiated.

In August the Department of Health determined the group did not need to be licensed as a drug and alcohol treatment program.

John Smid, Love In Action's executive director, said then that his group does not provide psychological, drug or alcohol counseling, but seeks to help people overcome sexual problems through a stronger Christian faith.

Counseling that would be regulated by the state is "really not our focus," he said.

Love In Action's work, particularly with teenagers, has drawn protests from gay rights advocates
Love In Action's work… What a crock. They're not "working" with gay teenagers, they're abusing them. Yeah…that's drawn a few protests. It's also drawn them the undying emnity of everyone with a functioning conscience.
by Bruce Garrett | Link
Monday September 19, 2005
My first day on the road was not wonderful, but it seldom is. I never feel like my trip really starts until I get out onto the plains. The first two days are always just covering ground until I can get there. I have two routes out west that my family always refers to as the southern and northern routes…basically I-40 and I-70 respectively…and I know them so well by now that I am starting to get a little too lackadaisical about driving them, and this time it cost me. I was blithely driving down what I thought was I-70 in Pennsylvania, listening to tunes on my iPod and got sidetracked onto 76 somehow, and didn't wake up to what was going on until I'd crossed into Ohio (hey…where the hell is Wheeling…???). I ended up driving through Akron and then down I-71 to Columbus and back to I-70. Figure it cost me about two hours of drive time. Next time I'll pay more attention.
I'm starting to get too familiar with the little spots along the way that I usually bed down for the night at. The first day's drive, if I go I-70, always gets me to someplace around Indianapolis. I had to spend a little more time on the road to get there this time, but I got there and found the place just past the airport where I usually stop, and it was pretty much like it's been the last several times I stopped there. I need to find other places to stop, before I find myself on a first name basis with the clerks at the convenience stores near the motels there.
The second day out I usually stop somewhere near Hays, Kansas. This time I stopped in Topeka, to spend some time with a friend I'd made at the Memphis protests. Bob is a character…a really nice guy with the kind of quirky sense of humor I like, combined with a perfect willingness to confront hate mongers (like Fred Phelps!) and Do something to make the world a better place. When I arrived in town it was getting late and I suggested we go grab something to eat. Since I don't know my way around Topeka, he took me on a brief tour first, starting with all the closed down mental hospitals. Topeka, he tells me, is the "Mental Health Capital of the World". Did I mention that he's a character?
Well, if I wanted some good photo material, he sure gave it to me. The second place he took me to was an old Victorian style structure that could have almost come right out of a Steven King story. It was surrounded by various closed down structures in a kind of half military, half hospital architecture that was eerie weird and fairly screamed at my camera to take their pictures. I'm going back this morning with the digital to take some I can post here. It was amazing.
I'm taking a time-out from my road trip to stick around another day and visit Lawrence with him and a friend who is going to college there. Then it will be back on the road west. I still haven't decided yet which way I'm going through the Rockies…either through Denver and to Grand Junction, then to Moab and Monument Valley, Window Rock and Gallup, or jig down to La Junta and take that road AAA says is scenic to Trinidad, and then to Santa Fe and get to I-40 that way. Gas as so far not been a problem (expensive yes…but not as bad as I'd thought…it's running about 2.55 to 2.68 a gallon between Indianapolis and Topeka), but I don't know how it is off the main roads. But if I learned anything from my little side trip to Akron, it's that I need to stay away from the totally familiar spots, or I just stop paying attention.
by Bruce Garrett | Link
Saturday September 17, 2005
My vacation finally arrives today…yay!
I'm hitting the road, starting in a few minutes actually, for California and points west. The cartoon will continue to be posted, but at a slightly irregular schedule from now until after the first week in October. Gas prices permitting, I'll be wandering some of my favorite places in the four corners area, and then visiting family back at the old Garrett stomping grounds around Oceano.
I'll keep you all posted. This first day's drive should get me to somewhere near Indianapolis. It's always just the prologue…I don't really consider myself away until I get onto the great plains. I am so looking forward to taking my new five speed Accord across those wide open spaces.
Here's how a techno-art geek travels: One suitcase of clothes and toiletries. Four camera bags (Digital Minolta 7hi, 2 Canon F-1 bodies and lenses (one for color and one for tri-x), the Hasselblad and its 2 lenses and 3 film backs, the Mamiya C-330 and it's 2 lenses, various light meters, filters, batteries, lens hoods, viewfinders…), and a separate cooler for dozens of rolls of color and black and white film in 35 and 120 formats. A box with my travel drawing board and parallel and pads of blank Bristol board. Another box with my Wacom digitzer in it. A suitcase with my scanner and some drafting tools packed in it. Another suitcase with various cables, power strips, chargers, and my Mac G4 Powerbook. All that goes in the trunk, along with my AAA travel guides. In the passenger compartment goes my iPod, my iPod holder and a charger that allows me to play the iPod through my car radio. And a small solid state cooler that is powered through the cigarette lighter. The Honda has two of those, which they take pains to say are for power usage, not as cigarette lighters: one of which is located down at the bottom of the armrest accessory compartment. A small food tray sits on the passenger side and my road Atlas in the map compartment.
If I ever find a boyfriend who wants to do these road trips with me someday…I swear I don't know where he's going to put his stuff…
by Bruce Garrett | Link
Notice To All Love In Action Survivors…

Peterson Toscano is putting out the call for former participants of the Love In Action ex-gay program for a data gathering project:
Calling all Fomer LIA Participants

Jeff Harwood and Bob Painter, fellow former LIA participants, are pulling together data on all Love in Action participants who attended the Memphis-based program from 1995 to present. They have an impressive list that includes first names of participants, how they left the program and current status (gay/ex-gay/unsubstantiated). About 40% are unsubstantiated. If you attended LIA or know someone who did, please Email me and I will pass the info along to Jeff and Bob. In sharing of the findings, no one's name will be included, and your personal info will remain confidential.

Please include name, dates in the LIA program, how you exited the program, and your current status.
Thanks.
If you have been through this program please consider participating in this. I have no doubt that you can trust Peterson when he says your information will remain confidential. Digging up old wounds like this (or fresh ones if this was a recent event in your life) can be painful and very stressful I realize. But these outfits get away with much that they do because of the veil of secrecy they shroud themselves in. Nobody on the outside knows exactly what is going on inside, or how people are able to cope with their lives after release. The news that they are prescribing and dispensing prescription antidepressants and other psychotropic drugs only came out recently, when a former insider finally came forward with that information. If you were there, you can help stop the pain and suffering, by sharing what you know about what went on inside while you were there, what happened to you, and what is still happening to you because of it.
Even if your story is not all that bad, or you have managed to put things behind you and get on with your life, your pieces of the puzzle can be more important then you know. Since the operators of this camp won't life the curtain, we can only depend on those who have been behind it themselves to tell their stories, and from that, hopefully, assemble the larger mosaic that tells the whole. Please, if you can, come forward and tell yours.
by Bruce Garrett | Link
Friday September 16, 2005
Fraud? Oh Surely Not. We're All People Of God Here…

The story is slowly breaking now, that two pretty non-trivial problems have been dug up for John Smid, and Love In Action. Via E.J….
Apparently, among the laundry list of problems that explain the core of Love In Action's inability to become licensed, is serious medical malfeasance. I have learned today that Love In Action has been dispensing medication to people with mental illnesses, and the Tennessee Department of Mental Health & Developmental Disabilities is none too happy about this. A story should be forthcoming regarding all of the potentially damaging stuff facing Love In Action, but inevitably it comes down to a couple of minor bullet points:

Potential insurance fraud
Prescribing medication without a license
That first one could send people to jail. Hey John…it might already be too late to change course now. Remember what happened to Jim Bakker? All those moments in the past, when a glimpse of the terrible pain you were inflicting on other people got past your dimestore conceits, your barstool piety…all those moments in your past when you could have listened to your conscience, instead of just shoving it deeper and deeper into the closet with all the rest of those things God gave you that make us all human, and that you loathed because they reminded you of how human you are…all those moments of regret in your future…
Lord...lord...why hast thou forsaken me...?

But I didn't. I warned you. I warned you over and over again.

All that pain you brought into their lives. All that pain you made them live with. The look in their faces as their hopes and dreams and the possibility of love died inside of them.

Those were warning signs. I waved them in your face. Repeatedly.

You didn't listen.
by Bruce Garrett | Link
Thursday September 15, 2005
"Coming Out" – Artwork By Howard Cruse

One of the good things about having a job that pays very well, well enough that you can afford to pay your bills and still have a little left over, is that you can spend it on things that you hope will make the world a better place. When the situation with Zach, the Memphis teenager who was forced into an ex-gay program after he came out to his parents, blew up, I began to think more and more about ways of getting people to see the reality of the lives of gay teens, and to be concerned that they are given the same chances everyone else is, to live whole lives. Bad as things were when I was that age, in some ways now it's worse for gay teens today. I could at least keep my head down somewhat, and come out to my peers at my own speed, while what looking back on it were obvious signs of my sexual orientation went right over their heads. Gay teens today just don't have that option. They are vulnerable in ways I never was. The hostility and abuse they experience, even from teachers nowadays, can be brutal. And it is so soften ignored and overlooked by the mainstream news media, that people generally don't know it is going on, and that it can be as bad as it is.
Willie Hewes created the fantastic Free Z comic. I did a number of my own political cartoons on the subject of Love In Action. I wanted to see art put out in the public square that brought the reality of the lives of gay teens into view, art that connected with people at a gut level. Then one afternoon while I was browsing the web site of cartoonist Howard Cruse, I saw where he had produced on commission, an absolutely lovely piece of artwork for the 150th anniversary of Walt Whitman's classic volume Leaves of Grass (I wish he had a perma link to it…but it's there on his "My Doings" page as I write this…).
I've had a casual correspondence with him for some time now (he is an avid space program and Hubble Space Telescope supporter), and he's given me some much deeply appreciated encouragement on my own cartooning efforts. So while stressing out and clawing my way through the whole Love In Action/Refuge situation, I wrote him asking if he would be willing to produce some artwork on commission, that made a statement about the struggle it can be sometimes, for gay teens just to get on with their lives. I suggested a topic: that terrible moment, right after you've just come out to your parents, but before they've reacted to it. He wrote back and said he was interested, and that the topic I suggested was certainly one possibility.
A few weeks later he sent me a first rough sketch and I knew as soon as I looked at it that he'd gotten it, had hit exactly at that emotional place I was thinking about, and had been stressing over for weeks. If you've ever seen some of his work for Gay Comics, like Billy Comes Out, or his amazing graphic novel Stuck Rubber Baby, you already know how evocative he can get when he wants to.
The finished artwork was just delivered to my house yesterday. It's a large pen and ink drawing in his beautiful, richly detailed line art style. Here's the low rez scan he sent to me before the artwork came…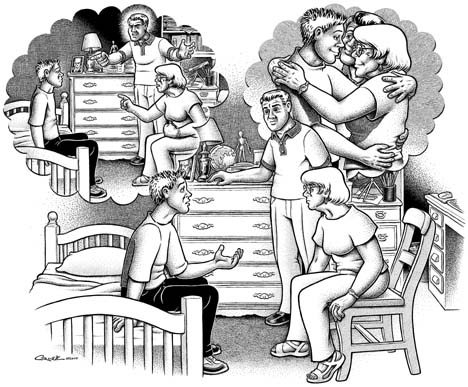 Coming Out
Copyright 2005 by Howard Cruse
Howard has indicated that he's willing to allow allies to pick it up for their sites, but you should include a link to his, please. He also says…
I'll be happy to allow it to be reprinted for free by non-profit, movement organizations or publications as long as the reprints are of reasonable quality. Let me know if such needs arise. No one should ever consider using the low-resolution JPEG for paper reproductions.
I doubly agree. The scan I have here does the artwork some justice, but it is not of print quality and this piece should absolutely only be printed using a high rez scan, which Howard archived before sending me the original. If you are interested in using this piece for your group or for your own publication, contact Howard directly for more info about reproduction rights.
We all do what we can to get the message out. It is thrilling to see now, a body of artwork slowly but surely coming forth from this movement that speaks to the experiences of gay youth and their essential humanity. As time goes on I have no doubt that this voice of art will grow stronger, and more beautiful. You should consider adding your own art to it. Do whatever comes naturally to you. Do you draw? Do you build things? Do you write? Do you sing? Act? Play an instrument? Is the stage the place? A drafting table? An easel? A workbench? Where does your heart go in those still quiet moments? Let it speak. Let it speak to this. You have a voice that needs to be heard too.
by Bruce Garrett | Link
Wednesday September 14, 2005
Gender-Neutral marriage bill (your vote counts)

This came to me from a MySpace user in my friends list. I'm passing it along in the hope that we can all make a difference, or at minimum send a message to Arnold that he can't win another term by making same sex couples into bogeymen the way Bush did.
California Gov. Schwarzenegger's office is accepting calls from anywhere regarding their marriage equality bill. It passed both houses of their legislature, but needs the Governer's approval. As you may know he thinking about his political career instead of the people and has said he will VETO it. We need to let him know the people put him there, and the people will remove him.

It's all automated, so you don't have to talk to anyone.

Follow these directions:
1. Call the Governor: 916-445-2841
(This number is listed at http://www.governor.ca.gov)
2. Push: 2 (voice your opinion on legislation)
3. Push: 1 (gender-neutral marriage bill - Senate Bill 849)
4. And push: 1 to support marriage equality
PS - You don't have to be a Californian. Let California fight the battle and the rest of the Nation will follow. We are the LEADER in Equal Rights!
by Bruce Garrett | Link
Tuesday September 13, 2005
I heard late last night that the state of Tennessee just sent a second letter to Love In Action telling them they are still not in compliance with state licensing laws and to get a license by this coming Thursday or cease operations. E.J., who is close to the situation in Memphis:
According to a confidential source, an investigation started in early July by the Tennessee Department of Health has yielded the decision that Love In Action is in continued violation of the State of TN Dept. of Health's facility licensing requirements. In two strongly worded letters issued to Love In Action, the department is demanding that the facility at 4780 Yale Rd. become compliant with the State of Tennessee's licensing requirements or face a state ordered closure of their facility. A first letter sent to the facility by the department was returned unanswered by Love In Action. A second letter demanding full compliance grants the facility until this coming Thursday, September 15th to fulfill their licensing obligations or face mandatory shutdown of the facility.
Now that was a nice birthday present! There is more on E.J.'s web site. Go read it.
This is good news. I'm with Wayne Besen when he says that these places just need to be shut down. The little good they do can be done by licensed mental health professionals, and the harm they do is tragic beyond measure. And it was bad enough when they confined their quackery to grown adults. Now they're taking in helpless gay teens who are perfectly fine with themselves, specifically to make them fear and distrust, and eventually hate their inner selves. That is child sexual abuse. There is just no other term for it. These places need to be shut down. In a just world, the people who inflict this on children would be thrown in jail too.
[UPDATE…] There is more from The Queer Action Coalition. Seems the news was being passed on by Peterson Toscano who got it from a source. Peterson is himself a survivor of LIA, and various other ex-gay groups.
I am hoping that right now John Smid wishes he never got it into his head to drag gay teens into his soul crusher against their will…but I know he just thinks the devil is persecuting him. My prediction is that if nobody stops him, he's going to keep bringing kids into his little camp…and they'll keep getting younger and younger all the time, until some crisis finally puts a stop to it, and perhaps even gets him thrown in jail.
by Bruce Garrett | Link
Saturday September 10, 2005
Lite to no blogging over the weekend…

Hey…my little Coming Out Story is getting some word of mouth already! Cool! So I'm going to be spending most of the weeking at my drafting table working on it, and this week's political cartoon. I'll have my plate full, because I also have many household chores that need doing (I have to reseal my backyard deck for one thing…now…before my vacation…because when I get back cold weather will be setting in…)
Don't think I'll have a new episode up by Monday…but probably sometime in the middle of next week. Stay tuned…
by Bruce Garrett | Link
Friday September 9, 2005
Hey…Genius…The Voters Also Voted For The Legislators Who Voted For Same Sex Marriage…

Some people here think I'm a tad too harsh on republicans, that I paint them with too broad a brush. Here, Atrios explains Exactly why I am laughing in their collective faces…
Arnold proves that like the rest of the variations of the mythical moderate Republican, they only exist as a media fantasy.

Pro-choice and pro-gay Republican governors never actually do anything but pay lip service to the idea in order to obtain fawning profiles in the media in the states (New York, Mass, PA, NJ, California) where such beasts go over well. When it comes to actual policy, they're just as bad as the rest of the haters.
Exactly. There are no liberal republicans. There are no moderate republicans. None. There are only George Bush republicans. And you can tell a George Bush republican, by the simple process of determining whether or not there are any principles or values…any at all…that they wouldn't throw overboard for votes, or to hold onto power. When you've drilled down to zero, you've found a George Bush republican.
For years now the republicans have been bellyaching that gay rights were being forced onto the voters by so-called activist judges (as if their darling Roy Moore isn't himself an activist judge…). They've been bellyaching that courts that impose same sex marriage are anti-democratic. Fine. Now we have seen a democratically elected state legislature pass a same sex marriage bill. And what does its republican governor, who has always claimed to be a supporter of gay rights, do…?
"We cannot have a system where the people vote and the Legislature derails that vote," the governor's press secretary, Margita Thompson, said in a statement. "Out of respect for the will of the people, the governor will veto (the bill)."
Hey…Ah-Nold…genius…the people voted for the representatives that passed that bill. They also voted for you because you kept telling them you weren't from California's lunatic right, like Pete Wilson, Bill Simon, and Darrell Issa. But you lied to them. The second you got into office, you surrounded yourself with people from California's lunatic republican right. You've been governing exactly like Pete Wilson or Bill Simon would have ever since. And now your poll numbers are in the tank, so you have to shore up your right wing support. How to do that (think…think…think…)… Oh…right…kick the gay community in the face. That always helps energize the base.
Face it…if the voters put same sex marriage into the California constitution, your party would be in both federal and state court the next morning, arguing that they should overrule the will of the people, and take it back out again. And every single motherfucking jackass who still calls themselves a moderate republican will be there by your side, supporting the party's ongoing attacks on the lives of lesbian and gay Americans, all the while mouthing meaningless platitudes about how they really don't hate gays, really, really, really they don't. There are no moderate republicans. They don't exist. Maybe they did once upon a time, long long ago, in a galaxy far, far away. They don't exist now. There is no such animal. Only urban legends and myths. There are only George Bush republicans.
by Bruce Garrett | Link
Thursday September 8, 2005
What I Think Of Christian Rock

While MySpace surfing the other day, I saw a reference to a Christian Rock group that put me in mind of something that happened to me some years ago. Whenever anyone asks me what I think of Christian Rock, I ask them if they have time for a little story…
It is 1981, and I am a longhaired twenty-something out for a hike along the trails around Sugerloaf Mountain near Comus, Maryland. I am alone, with only one of the new Sony Walkmans for company. I am well into my Bruckner phase, and in the Walkman is a cassette I'd recorded the previous day with his Symphony 8 and the Te Deum. It is September, my birth month, and the air is clear and crisp as it only gets in the Washington D.C. suburbs during the beginning of spring and fall. The sky is a deep cobalt blue, flecked here and there with threads of high sirius clouds. I walk lightly with a branch I found at the trailhead like a staff, my hiking boots clomping over a narrow trail that winds through the woods, around and up the mountain to a little park on it's summit. As I walk a pair of headphones fill my world with wonderful, evocative, richly textured symphonic classical music. I am in love with my Walkman. Years later, I would rediscover that love in a little white iPod.
I reach the top of the mountain. The little park is empty. It is just me and Bruckner. I plop myself down on a rocky ledge that faces south toward the Shenandoah valley. It is a lovely view. In the distant haze I can see the northern end of the Shenandoah mountains reach toward the horizon, and go over it. There are several turkey vultures in the sky below me, circling idly on a random updraft. Through the rolling hills of the Maryland Piedmont I can see the Potomac river glistening in the late afternoon sunlight. A ribbon of smoke floats eastward from the smokestack at the Monocacy river power plant. I take it all in, and Bruckner's deeply spiritual music seems to make the very air around me sing. Life is good. It is awesome.
The music ends, and I take off the headphones. There are people behind me.
I turn to find that my quiet spot has been invaded by a crowd of picnickers. I figure them for a church group, since the boys still have their Sundaywear on, and their hair slicked down. Only somewhat more disturbing then the fact that a crowd of people were able to get behind me while I was listening to the Walkman, is this kindly older lady, sitting just a few feet from me, looking straight at me with that expression that at 27 I've come to know and love…
Incoming proselytize!
She smiles a perfectly transparent smile at me, and says, "That must be very nice music you're listening to. What is it?"
I am dressed in cutoffs and a Hudson Bay Outfitters t-shirt. My hair is about as long as it gets, almost halfway down my back. I have my blue bandanna tied around my head, 70s fashion with the ends of the knot trailing down just behind my left ear. I am in my golden earring and lambda necklace stage of outedness. My friends tell me I have this perpetually bewildered look on my face when talking to strangers, and I know a hook when I hear it, but I look her in the eyes and answer her question seriously. "The Te Deum, by Anton Bruckner, Opus 103, Conducted by Zubin Mehta and performed by the Vienna Philharmonic."
Her eyes glaze over. We stare at each other for about a second. Then the kindly smile reappears and she says to me in all seriousness, "That's very nice, but I think on the Sabbath we should listen to music that praises God…don't you?"
Okay…I'm outta here…! I get up, nearly dropping the walkman, and head back for the trail. Behind me I hear the woman say, "Where are you going?"
"Into town to buy some." I reply. My friends tell me I can be a brat sometimes. Sometimes I don't care.
I wonder if Jason and DeMarco get much air time these days on stations that play Christian Rock. Just curious.
by Bruce Garrett | Link
Wednesday September 7, 2005
A Coming Out Story…Episode 2. Libidos are not easily fooled…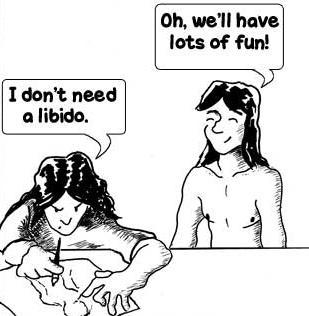 by Bruce Garrett | Link
This entry from KOS says it all. First he quotes Joshua Marshall:
On the Al Franken show this afternoon I mentioned this article from today's Salt Lake Tribune which tells the story of about a thousand firefighters from around the country who volunteered to serve in the Katrina devastation areas. But when they arrived in Atlanta to be shipped out to various disaster zones in the region, they found out that they were going to be used as FEMA community relations specialists. And they were to spend a day in Atltanta getting training on community relations, sexual harassment awareness, et al. This of course while life and death situations were still the order of the day along a whole stretch of the Gulf Coast.

It's an article you've really got a to read to appreciate the full measure of folly and surreality.

But the graf at the end of the piece really puts everything in perspective, and gives some sense what the Bush administration really has in mind when it talks about a crisis. The paper reports that one team finally was sent to the region ...

As specific orders began arriving to the firefighters in Atlanta, a team of 50 Monday morning quickly was ushered onto a flight headed for Louisiana. The crew's first assignment: to stand beside President Bush as he tours devastated areas.
KOS sums it up…calling it the most fucked up thing ever done by this president…
Bush's use of firefighters as human props doesn't win the "most fucked up" prize because it was the most costly for the nation -- the Iraq War wins hands down. It doesn't win because it caused the most deaths, or damaged the reputation of the U.S. the most, or harmed national security by outing undercover CIA agents. In the greater scheme of things, this may seem as small fry compared to the long stream of serious failures in this White House.

It's the most fucked up because it is easily the most crassly political act ever taken by this administration. Bush is so thoroughly a PR vessel that he can't even tour a disaster zone without his human backdrop. He's been a PR marionette for so long -- clear brush for the cameras! -- that he's become thoroughly incapable of keeping it real. God forbid he try to connect with people, get a better understanding of their efforts to cope with real disaster. That's not worth his time. Nope, it's got to be turned into a frickin' Bush campaign commercial. Everything is political. Everything.
I don't think it's because he is a PR marionette exactly. Its that everything is about him. The presidency is about his personal glorification, not making America a better place. He is about being president, not about governing. That is to say, he is about being the man at the top…the one everyone else has to look up to. But when your inner self is as empty as a raided treasury, you have to borrow respect from people who have earned theirs. Firefighters have always had, but especially since 9-11, a heroic status in American culture. So Junior walked into New Orleans wrapped in firefighters.
by Bruce Garrett | Link
From Kevin Drum of the Washington Monthly:

The Washington Monthly: NORTHCOM AND KATRINA....Last time I checked, naval officers aren't in the habit of criticizing their commander in chief no matter how many punches they have to absorb in the process. It appears, however, that Lt. Commander Sean Kelly, a Pentagon spokesman for Northern Command, didn't get the memo. Asked why Northcom hadn't reponded to Hurricane Katrina more quickly, he accidentally told the truth:

Northcom started planning before the storm even hit.... We had the USS Bataan sailing almost behind the hurricane so once the hurricane made landfall, its search and rescue helicopters could be available almost immediately. So, we had things ready. The only caveat is: we have to wait until the president authorizes us to do so. The laws of the United States say that the military can't just act in this fashion; we have to wait for the president to give us permission.

So why didn't the president issue the orders?
There are levels of incompetence that easily clear the "criminal negligence" bar.
KOS has a great pictorial post up of the timeline in this disaster. Titled Bush's Response In Pictures it is a must-see.
by Bruce Garrett | Link
From KOS diarist Hunter, a wee peek into that open sewer the American right calls a conscience. First Steve Sailor of VDARE, an organization on the Southern Poverty Law Center's hate groups watch list, avers…
It also should have been expected that a large fraction of New Orleans's lower class blacks would not evacuate before a disaster. Many are too poor to own a car, or too untrustworthy to get a ride with neighbors, or too shortsighted to worry...

In contrast to New Orleans, there was only minimal looting after the horrendous 1995 earthquake in Kobe, Japan--because, when you get down to it, Japanese aren't blacks.
…which John Derbyshire over at the National Review seconds:
Under the circumstances, to say, as Steve Sailer does, that African Americans "tend to possess poorer native judgment than members of better-educated groups," and "need stricter moral guidance from society" does not seem to me very outrageous.
The circumstances being having to live with an empty void where other people have a conscience…but no doubt he sees them differently from inside the sewer. They all do. Steve Gilliard has a message to all those black conservatives who thought kissing junior's ass would get them or their people anything. The Log Cabin Republicans have been kissing his ass for years now, and all its gotten them is the Federal Marriage Amendment.
by Bruce Garrett | Link
Via KOS, this from the Texas Observer, on Barbra Bush and Junior:
The only time he showed any sign of anger was when he was asked about then-Governor Ann Richardsí comment about his father being "born with a silver foot in his mouth." The blue eyes narrowed as he responded to the reporter who asked the question. "It was mean and uncalled-for," he said. "It didnít bother my dad. Heís lived with ëDoonesbury,í so heís used to that. But it hurt my mother." Governor Bush talks like his father, who was equally prone to malapropisms and non sequiturs, but he thinks like his mother, whom Nixon admired because, he reportedly said, "she knows how to hate." Which is a way of saying that George W. believes grudges should be transgenerational and involve corruption of blood and children avenging the wrongs visited on their parents.

On that afternoon in New Orleans twelve years ago, Bush was clearly itching to get even. And that was just for a slight aimed at his father. What if W. himself loses the presidency? I think we all know what: If George W. Bush loses the election next month, he will come back to Austin looking to settle some scoresñBarbara Bush-style. And anyone who thinks the Texas governorship is a weak office is going to learn a little something about the exercise of power by the masterñnot George W. Bush, but his chief strategist Karl Rove. Theyíre keeping lists. Of every insult, no matter how small. Of every criticism, no matter how fair. Of every news clip. Of every joke, no matter how innocent.

...

This reporter speaks from some experience concerning Rove and lists. In April of last year I was a panelist in Boulder, Coloradoñat the Conference on World Affairs, a wonderful liberal gabfest that longtime participant Roger Ebert refers to as "the leisure of the theory class." Having co-written with Molly Ivins a book on Bush, I was called upon to talk about Bushís record in Texas.

On one panel of political reporters, Fox News reporter Jonathan Broder lamented for the day when loyalty to party, candidate, and ideology meant something. He referred to Mark McKinnon, who had made the switch from Ann Richards to George Bush without blushing. In his biographical sketch of McKinnon, who had graduated from high school in nearby Denver, Broder erred on one minor detail, to trivial to mentionñfor most listeners. After the panel discussion ended, we were approached by a small, utterly charming woman who pointed out Broderís error. "Iím Markís mother," she said.

When it was my turn to speak on a later panelñabout Roveñ I recalled that he had lived in Utah, which at the moment didnít seem too far away. "Before I start," I said, "I would like to know if Karl Roveís sister or wife is in the audience." When the scattered laughter ended, I delivered my remarks on Rove. A week later, in my office in Austin, I received a one-sentence handwritten note: Sir, Not a sister or a wife, but my aunt, armed with a tape recorder. It was from Rove.

"Isnít that funny," I thought. And then: "Or is it?" In the Sicilian and Calabrese neighborhood where I grew up in South Philadelphia, an offending party was sent a half-dozen dead fish wrapped in newspaperña warning that, while edible, wasnít nearly so easy to file as a brief personal note. In any case, the implication is the same: Theyíre keeping score.
And of course Bush didn't loose the election…yet he proceeded to act as if he had anyway…furiously settling scores the instant he came into power. From the moment he sat down in the oval office, he has governed as though his reason for becoming president of the United States was to get even. Getting even with everyone who disrespected him. Getting even with everyone who disrespected his father. Getting even with democrats, with other republicans, with reporters, with civil servants, with anyone who questioned, or even glanced sideways at his absolute right to have his way. This is how you behave when you know beyond a shadow of doubt, that the world revolves around you.
This is why Bush could strum a guitar and eat cake while the people of two states were screaming for help. This is why he could pull resources out of the search and rescue operation, and set up phony food distribution points to pose in front of for a photo op. This is why people died by the thousands in Louisiana and Mississippi. This is why he can stand by grossly incompetent cronies even as they keep making the situation worse and worse. They're loyal, and loyalty is what counts, not how many American lives have perished because you couldn't do your fucking job. Bush didn't want to be president to make this nation a better place then he found it, but as a means to self gratification and self glorification. And to get even. And he leads a political movement whose only purpose, whose only moral values, are self gratification, self glorification and getting even. This is why the political smear machine was in high gear, long before relief operations along the gulf coast were getting organized. This is why The United States of America is less prepared, is less able to face a national disaster now, then before 9-11. They didn't claw their way into power in order to govern, but to get even. Every time events have forced them to at least try to govern, they've botched it. They can't govern, they don't know how to govern, because governing just isn't a concern to them. Getting even is. They know how to get even.
by Bruce Garrett | Link