August 1st, 2023
A Coming Out Story – Episode 37 Now Live
Wherein Left and Right brains have a no meeting of the mind…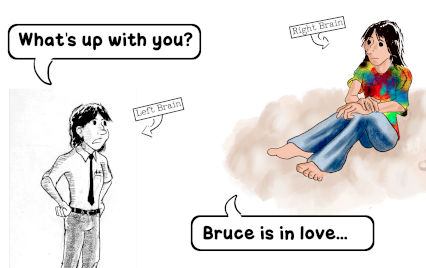 I can laugh about all this now, all these years later. But it was no joke while it was happening. I can make the various parts of my consciousness embody as cartoon characters and get playful with it (cartooning is Fun)…and I was a Lot luckier than most of my generational gay peers…but this is pretty much how it went for a while.
I was in love…it was wonderful. And it was alarming. I thought I was above all that mushy love stuff. And then it happened to me. And in that moment I understood why all that dating and mating stuff didn't appeal to me.
I was never shown a wholesome same sex romance, never told that it was possible.
I wasn't quite ready to face it. For years I was in denial. And then I got shoved into it. This is why I can really relate to the Cupid in Rick Riordan's novel, House of Hades…and to Nico in that moment…
"Stop t!" Nico yelled. "It's me you want. Leave him alone!"

Jason's ears rang. He was dizzy from getting smacked around. His mouth tasted like limestone dust. He didn't understand why Nico would think of himself as the main target, but Cupid seemed to agree.

Poor Nico di Angelo. The god's voice was tinged with disappointment. Do you know what you want, much less what I want? My beloved Psyche risked everything in the name of Love. It was the only way for her to atone for her lack of faith. And you – what have you risked in my name?

"I've been to Tartarus and back," Nico snarled. "You don't scare me."

I scare you very, very much. Face me. Be honest.
Really could have benefitted from having those books back then…but it was 1971.
A Coming Out Story – Episode 37, Here.