July 25th, 2023
"Everyone Has The Wrong Impression Of Cupid…"
I snapped up a copy of The Sun and The Star the moment I saw the cover art and looked at the synopsis…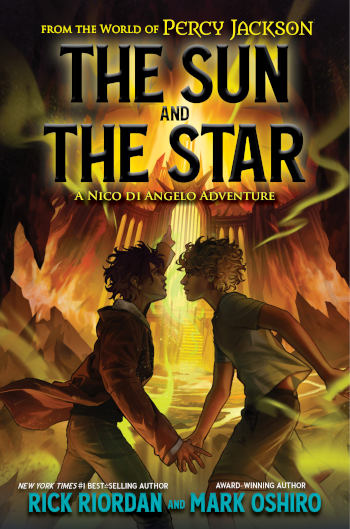 …because at 69 I am still starving for stories of gay love and romance, and even though these books are aimed primarily at younger readers, I can still read them and maybe the gay teenager I once was will finally have the stories he needed to grow on. Also, it's good to support authors that give gay kids stories to dream on.
The books are part of the Percy Jackson and the Olympians series of young reader novels, and Nico and Will apparently start out as background characters who gained in popularity with the readers. They don't start out as boyfriends, but by the time this book came out they had become a couple.
And I've been digging into the story arc of these two, and I see now that there is at least one book I need to read first, before I go onto this one. It's the fourth book, The House of Hades. I think I should read this first, not only to get a better sense of the entire series and it's characters, but also because there is a scene in it that, so it seems, really gets to the heart of the character Nico di Angelo, son of Hades, and his inner struggle. Nico, it seems, has had a very hard life, and the process of coming out to himself has only made it worse. It's a scene where Nico has to confront the god Eros/Cupid to get an artifact they need.
"Nico, you can do this," Jason said. "It might be embarrassing, but it's for the scepter." 

Nico didn't look convinced. In fact he looked like he was going to be sick. But he squared his shoulders and nodded.

"You're right. I -I'm not afraid of a love god."
By this point in the series, Nico clearly has some sort of grudge against Percy. The thinking of the others is it might be because Nico has a crush on Percy's girlfriend Annabeth. But it isn't that. The crush he has is on Percy. Nico's been dealing with it, and with what it tells him about himself, by withdrawing. 
Cupid taunts him mercilessly about his hiding himself from the others, and hiding from himself, over his crush on Percy and the fact of his sexual orientation. The god forces Nico to admit the crush he has on someone who could never love him back that way. There is fan art representing this scene, but in the book there's a buildup to it that makes it even more powerful.
"Is this guy Love or Death", Jason growled.

Ask your friends, Cupid said. Frank, Hazel, and Percy met my counterpart, Thanatos. We are not so different. Except Death is sometimes kinder.
This is not your Hallmark Cupid…
Poor Nico di Angelo. The god's voice was tinged with disappointment. Do you know what you want, much less what I want? My beloved Psyche risked everything in the name of Love. It was the only way for her to atone for her lack of faith. And you – what have you risked in my name?

"I've been to Tartarus and back," Nico snarled. "You don't scare me."

I scare you very, very much. Face me. Be honest.
Wow. Just…wow… 
If this invisible guy was Love, Jason was beginning to think Love was overrated. He liked Piper's version better – considerate, kind, and beautiful. Aphrodite he could understand.  Cupid seemed more like a thug, an enforcer.
Lots of us have probably met that Cupid at one time or another. Gay men of my generation especially. If you haven't, consider yourself very, very lucky.