July 1st, 2023
Winter (in) Summerland…The Dark Side
Facebook gives me memories. Today's remind me that I was seeing trouble ahead just a couple years after I reconnected with him…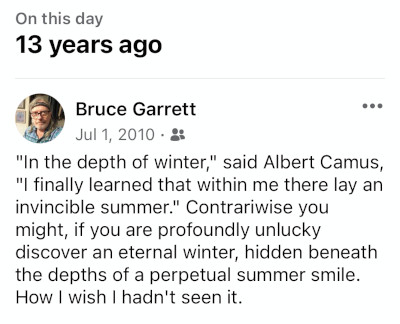 I remember this. We'd fallen into a pattern where I'd hang out for a bit after closing and he'd come over to my table and we'd chat for a bit. Some years later I worked up the courage to ask him why we couldn't just hang out maybe on one of his days off and he told me straight up that wouldn't happen because he'd made his allegiances and he had to stay inside his comfort zone. So those little after hours chats were all I ever had with him. And almost right away I began to see a darkness within that stunned me. In my hopelessly twitterpated state that was the last thing I expected to see.
It really shook me…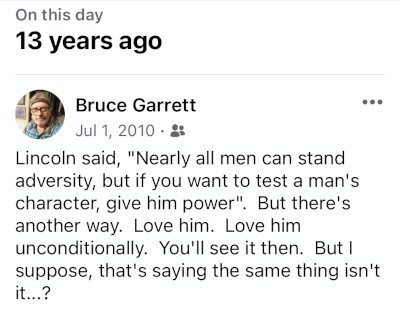 All those years after high school I'd put him up on a pedestal in my memories, and then thirty years later, with that much more life under my belt, I saw the person. And I saw what the world had done to him. And it wasn't as if I hadn't seen that before. By that time I'd already been years working with others in my tribe fighting against ex-gay therapy cults like Love In Action and Exodus and I'd listened to the stories of people who'd been put through all that firsthand. It made me angry and it made me determined, but it was easy for me to keep the hurt tucked safely in a place far away from my own personal life. I had escaped all that through luck and my innate stubbornness. But I hadn't really. I glimpsed it that day and it stunned me and there it was, tapping me on the shoulder, letting me know that none of us escaped being damaged by that torrent of hate we all had to live under. There I was, out and proud and unashamed and willing to take the hits I had to take to live an honest life. And in that moment I saw how much, really, all that mattered. It didn't. If the world can't cut us directly, it'll cut the ones we love and that does the job equally well. None of us escaped it. Not a one.
After high school he vanished from my life and I went on to have a few major crushes, and fell deeply in love two more times. Once disastrously to a straight guy and once more to a gay who mostly just needed someone to fuss over him for a while. I was serious and he was casual and he told me we were just friends with benefits, and that was the end of my quest for love and joy. And the only one among all these who wasn't damaged in some way by the climate of hate was the straight guy.
I try so hard not to hate the world back. I see all the expressions of love and support during Pride month this year and it helps a lot. I was basking in it a few weeks ago in Walt Disney World, and its surrounding communities. It made me feel fully human and recognised, in a way I just couldn't when I was a teenager. 
But then I remember what happened…