May 18th, 2023
Getting Ready For Gay Days…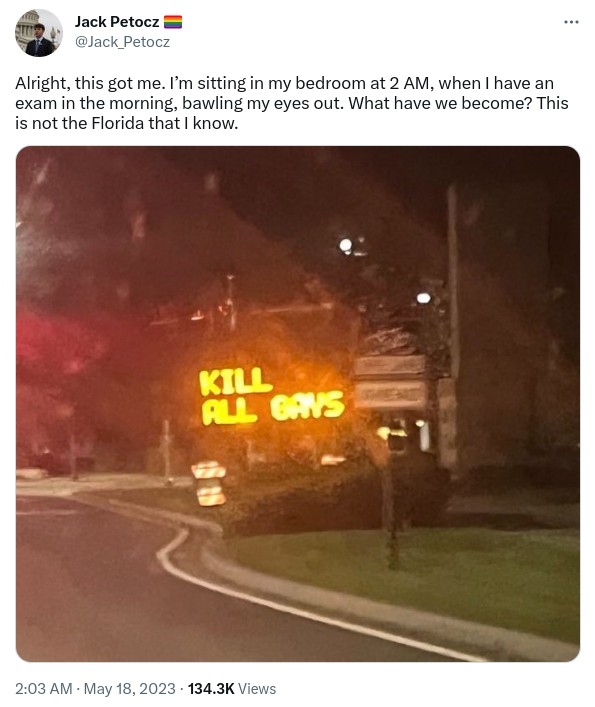 This happened in Orlando the other day.
It's just a couple weeks to Gay Days in WDW and this is one reason why I'm going there with my cameras. Mostly I just want to enjoy the parks, and being able, finally, to go whenever I want now that I'm retired. I think I want a Disney weekend…okay, let's just go…no need anymore to request vacation time… It's been something I was looking forward to. The park reservation system and the fact that it's difficult for single diners to make dining reservations at my favorite places made me question if I was ever going back again. But I think I've worked through all that now. I have my annual pass again and selling my DVC points gets me back to making stays in the basic and mid tier park resorts where I can make reservations on the fly whenever I want, which is nearly impossible at a DVC resort. So I'm back in my comfort zone there.
But Gay Days this year is a special case given all the hate mongering going on down in Florida. So to have some Mouseketeer fun with all the other red shirts in the parks isn't just a good time this year, it's an act of defiance. Yes, we are Disney people too. And I want to show my support for Disney since they're taken a lot of static for supporting us. But also, I want to document what is happening down there, in my own way, with my own eyes.
(As a side note, I'm working on getting another photo gallery up here of the stuff I took during the Love In Action and the Love Won Out protests.)
Security is something you almost never even see at WDW, except at the park entrances where screenings and bag checks take place. Once inside the park you might think it isn't even there at all. But I've seen it appear…suddenly out of nowhere…once.
It was in front of La Cava del Tequila inside the Mexico pavilion at EPCOT World Showcase. Someone, probably having had a little too much to drink, got upset at the wait to get in (it's a pretty small bar with only a few tables), and started causing a loud angry scene, and so I was told later got physical with another guest. He was instantly surrounded and spirited offsite.
And it's easy for their security to come out of nowhere because there are usually dozens of hidden entrance/exits for the cast members to come and go so they can go about their work. Walt Disney wanted all the mechanics of making the parks work kept out of sight so as not to spoil the illusions he was creating. Magic Kingdom is built on top of a network of tunnels, they call them utilidors. And everywhere in the parks are scattered little out of the way doors and passages marked "Cast Members Only". And the really interesting part of it is nearly none of them are hidden in a way you might expect. Instead, the scenery is such that your eyes are always directed away from where they are.
And according to a certain someone I used to know who worked there, cameras are everywhere.
So I'm hoping that first weekend in June their security is on their top game. I want everyone to have a good time. I will be very satisfied if the only photos I get are of happy Gay Days Mouseketeers. Because that is a message people still need to see as a counterpoint to all the lies that are surely coming before, during and after the event.
As you can see there, outside the parks it's probably going to be brutal. I may try to get a few shots of it, but I will have to be very Very careful.