May 16th, 2023
The More Things Stay The Same The More They Stay The Same
This came across my Twitter feed today (Yes, I still lurk there…)…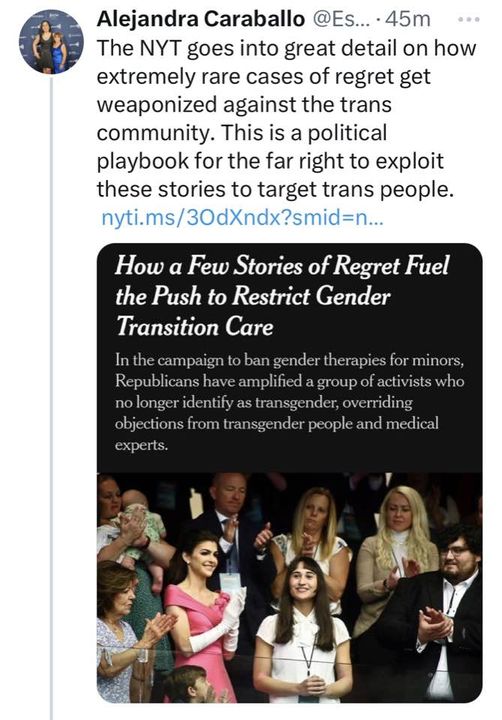 Yeah…it surprised me too considering it's from the New York Times. That is, the same New York Times that just a few weeks ago was still carrying water for the TERF battle against transgender people, and threatened staff reporters who signed a letter publically protesting their anti-trans coverage with write-ups in their employee files. What has changed? Who knows? Who cares? It's the New York Times. Not just the gold, but the bitcoin standard of journalism.
Some of us still remember how for decades the New York Times refused to refer to gay and lesbian people with any other word but "homosexual", long, long after other media began using "gay" and "lesbian". They have standards to uphold. What are those standards? That's not news that's fit to print.
But this…this speaks perfectly to how cut-and-paste the right wing attacks on transgender people map to their attacks on gay and Lesbian Americans decades ago. This is Ex Gay claptrap repurposed and aimed at transgender rights. Back in the day they threw up "I Questioned Homosexuality" billboards…not in the gayborhoods across America where you might think they'd want to spread the Good News but in the swing states where family and friends of gay and lesbian Americans might need an excuse to put a knife into their neighbor's hearts. They founded PFOX (Parents and Friends Of eXgays) as a counter to PFLAG, and wherever gay people told their stories in the media, PFOX demanded ex gays be equally represented. They created professional psychological shell organizations that invented diagnoses out of thin air, like Same Sex Attraction Disorder. Get it? Get it? We're not gay, we're SSAD!
So it goes. Now hear the same old song and dance with a few transgender verses added. Nothing is new in the human gutter, it only has a new coat of paint.