March 25th, 2023
Why I Am Not (totally) Boycotting Florida
Once upon a time not all that long ago, you could not find any merchandise anywhere in any of the Disney parks with anything like the gay pride rainbow on it, let alone the older lambda gay activists used to used as their symbol. Gay Days began in Disneyland back in the 70s as a response to same sex couples being thrown out of the park for dancing along with the rest of the couples. We did a "zap" and hit the dance floor en masse, everyone in on it wearing red shirts so we would know who was there for the zap. It worked, and after that it became a yearly thing that eventually spread to all the parks.
A certain someone who used to work here at Disney World once told me that gay days was one of their biggest yearly money makers. But there was no official recognition. Whenever culture warriors bellyached about it Disney's response was that they're in the hospitality business and everyone was welcome.
Back then the closest thing to a pride rainbow you could find around here was a specific Mickey pin with the peace rainbow on it that was close enough that gay visitors would wear it.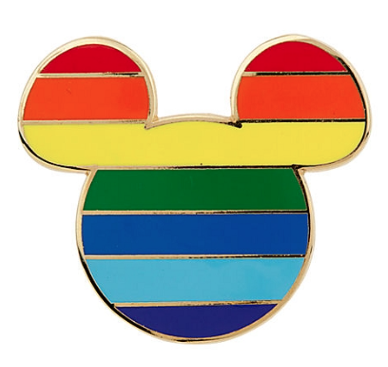 That was all there was for us. But in every other way the parks and the cast members made us feel welcome here during gay days. We had private parties at Typhoon Lagoon. We had hotel chains all around the parks vying for our business. Gay Days itself became a business. But coming out and actually acknowledging us was a step too far for corporate.
Then the massacre at the Pulse nightclub happened. It shocked the entire city, and especially the park workers and management. It seemed like everyone here either knew someone who was there that night, or knew someone who knew someone. I'd had a vacation planned for the month after and I saw the lingering shock on everyone's faces here. And I heard stories. Horrible stories.
That changed things. The very next year they retired the peace rainbow mickey, and actual Pride rainbow merchandise appeared. And it seems that every year they add something new to what they're calling here the Pride Collection. I especially like my coffee mug at home that says, "Belong, Believe, Be Proud."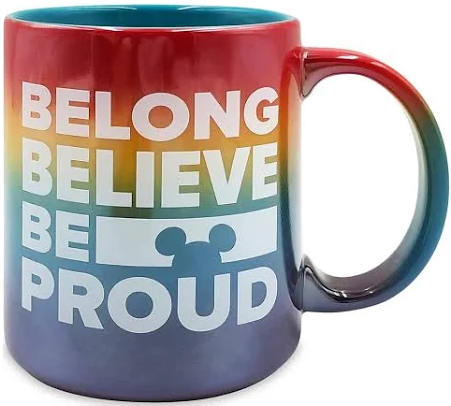 It's a slogan they're putting on other items now too.
Disney has taken a lot of grief for speaking out against DeSantis' Don't Say Gay law, and it looks very much to me like they are Not backing down and I am not going to walk away from the Parks simply because they are in Florida. And I'm pretty sure the DeSantis crowd remembers the day Pulse happened a little differently than the rest of us do, if at all. I remember some pulpit thumper yapping that he was sorry more of us weren't killed that day. Given all the vitriol that's been vented toward us since Disney spoke out I am certain it'll be lots worse this coming June. There will be demands that the Pride merchandise go away. There will be demands to keep LGBT guests out of the park, or at least toss any of them out for something as simple as holding hands in public. Given the blood thirsty rhetoric coming out of the Florida GOP there could easily be violence. I am tempted to delay my California trip until after Pride just to come down here and document the goings on with my cameras.
So. I can appreciate the position that I shouldn't be contributing to the Florida economy while the governor and the statehouse are so nail spittingly hostile toward us. But I am standing with Disney, because Disney stood with us, and still is. And if that bothers anyone I am not in the least bit sorry.
Here's what I saw yesterday while strolling in Hollywood Studio.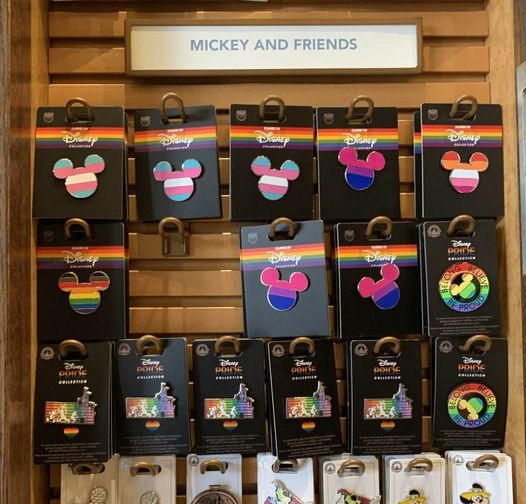 A couple teenage girls, vaguely goth-ish, saw this and one of them remarked on how amazing it all felt to her. I saw the look of joy and wonder on her face. She looked like she'd been lifted up like she never had before. I remember how it was for me.
They can turn Florida into a ghetto of hate, but there is a world outside its borders and it's a small world after all. And there really is a great big beautiful tomorrow shining at the end of every day. And we will not be shamed into silence anymore.
Belong, Believe, Be Proud.