March 15th, 2023
Mr Fixit Does Not Give Up Easily
I can be stubborn. And especially when it comes to something like this. A few years ago at the Marketplace Co-op in Disney Springs I saw a display selling customized protective cases for your smartphone. You could get one with all sorts of Disney artwork on it, and you could buy it with your name printed on it. They had a machine that printed them up to order right there. In the display was one of their Disney Pride examples.
You have to appreciate how Disney's marketing to gay folk makes a kid that came of age when I did feel. Sure it's commercial, but I was there the month after the Pulse shootings and I saw how shocked everyone down there was. All that down low wink, wink unspoken acceptance of their LGBT guests changed almost overnight. It's a small world after all.
So the moment I laid eyes on that smartphone case I had to have one.
It's been on my iPhone Xs for years, but suddenly last December its plastic frame started breaking apart. I was in California and my brother did his best to glue it back together for me. When I got it home the frame simply started breaking apart in other places. I've had this experience before with other things made of this hard plastic, and I knew it would only get worse.
Many years ago I bought what was then a very expensive Minolta dImage 7hi. At the time the first affordable digital cameras were coming out and that Minolta had excellent specs. It was a great little camera, I took it with me on a bunch of road trips. But it was made of this same sort of hard plastic that just starts falling apart all of a sudden.
So there was no fixing that smartphone case and I started looking for a replacement. Disney sells a bunch of Pride merchandise including smartphone covers, but the iPhone Xs is so out of date now I couldn't find another one. I tried looking for something like it from a third party but ran into the same problem.
Apparently the Xs is already vintage. It's even hard to find generic cases for it, but I figured I'd try one of those and simply move the custom printed back panel to a new case. It took a lot of searching but I finally found a case that had a transparent back cover that I thought would do the trick. But…no. When the case came I discovered that it was so tightly fitted to the phone I couldn't put the Disney Pride insert into it and close the case around the phone again. It was too thick. And…being made of that same hard plastic, it was also beginning to come apart at the edges.
So I went though the usual period of being distraught and then getting all stubborn. Okay, thinks I…maybe I can scan in the artwork and print it out on a piece of photo inkjet paper.
A little scanning and GIMP-ing and printing, a little X-Acto work (all those years spent as an architectural model maker still come in handy…) I had my new Pride insert. It fit…barely. And what I ended up with was artwork that was actually more vibrant than the plastic insert I got at the Marketplace Co-op.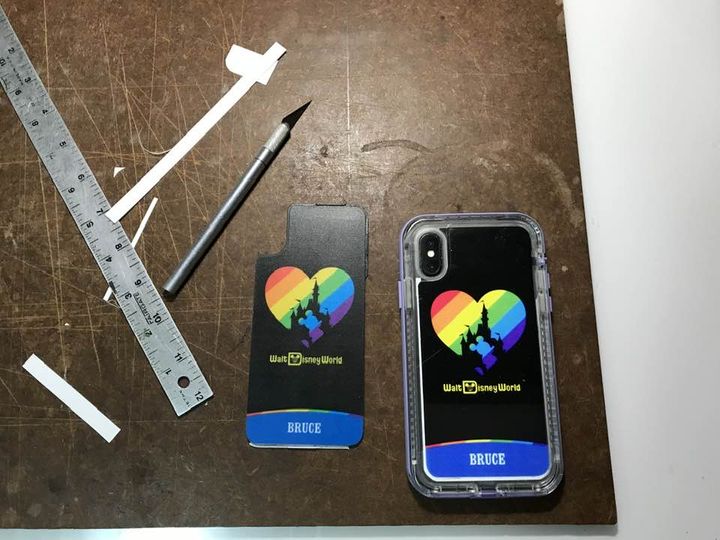 I ever get a new iPhone I can probably copy the artwork to a new sheet of photo paper and put it into whatever generic transparent case I can find for it. I'm set. Yes, there are other newer designs out there for the new iPhones, but I like this one.