March 11th, 2023
Yet In A Way They Really Are Made For Each Other
This is bouncing around on the schadenfreude channel…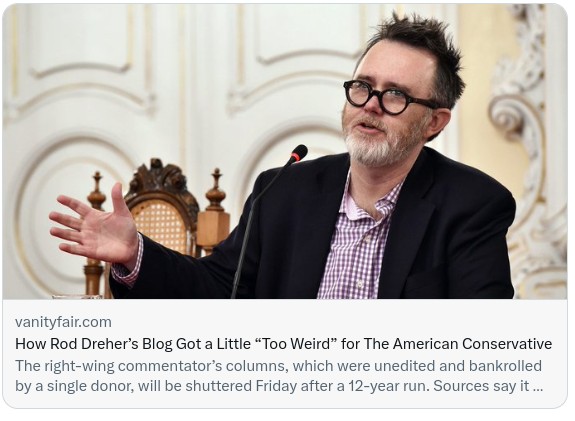 Go read it Here. You wouldn't need to have Mentor of Arisia's visualization of The Cosmic All to know this was going to happen eventually. But you would have had to know where Dreher was getting his money from. Now we do. We can adjust our visualizations accordingly.
Seriously…what's really significant about this article is something the public really needs to be more aware of. A good many of these high profile right wing republican pundits are funded entirely by a single hyper rich benefactor. Usually those benefactors stay behind the curtains and the pudit is seen to be paid for their work by the publications their columns appear in. But…no, and Dreher's case is instructive. Most if not all of the right wing swamp publications operate at a loss. They get funding in various discrete ways from those same hyper extreme, hyper rich benefactors. Now we know those same benefactors also pay the columnists they love outright as well. Dreher's columns appeared in The American Conservative, but his paycheck came exclusively from the hyper rich and hyper extreme Howard Ahmanson.
Ahmanson came across my radar long ago as a source of funding for anti-gay and religious extremist politicians and political action groups. Back then he was a supporter of R.J. Rushdoony's "Christian Reconstructionism" movement, an offshoot of Calvinism, which holds that the second coming doesn't happen until after God's kingdom is established here on earth, neatly reversing what evangelicals believe the end times timeline to be. Reconstructionists intend the world to be governed by Mosaic law wherein blasphemers, adulterers, homosexuals and disobedient children, among others, would be stoned to death. Ahmanson almost never gives interviews…apparently he suffers from Tourette's Syndrome…but as I recall, in one he averred he had moved on from Rushdoony. But who really knows?
That Ahmanson found joy in Dreher's writing is highly unsurprising. That the breakup came when Dreher couldn't stop himself from talking about black men's dicks is also in its way unsurprising, given the rumors surrounding Dreher which I won't repeat here. It You could say it was preordained.