February 10th, 2023
Reclaiming Our Humanity And Our Past
I've been reading and saving copies of the Gay & Lesbian Review since it was The Harvard Gay & Lesbian Review. It's a literary journal and its given me pointers to lots of good reading that I would never have known about otherwise. Bunch of what's on my "gay studies" bookcase are there because of something I read about in this magazine.
Sometimes it takes me a while to get around to opening an issue though. I only sat down with the November-December 2022 issue yesterday. That issue's theme was the 50 year anniversary of the delisting of homosexuality as a mental illness in the American Psychiatric Association's Diagnostic and Statistical Manual. It's an event the secular and religious right routinely lies about so it bears retelling, and especially from people who were directly involved. Five really good essays about it in that issue.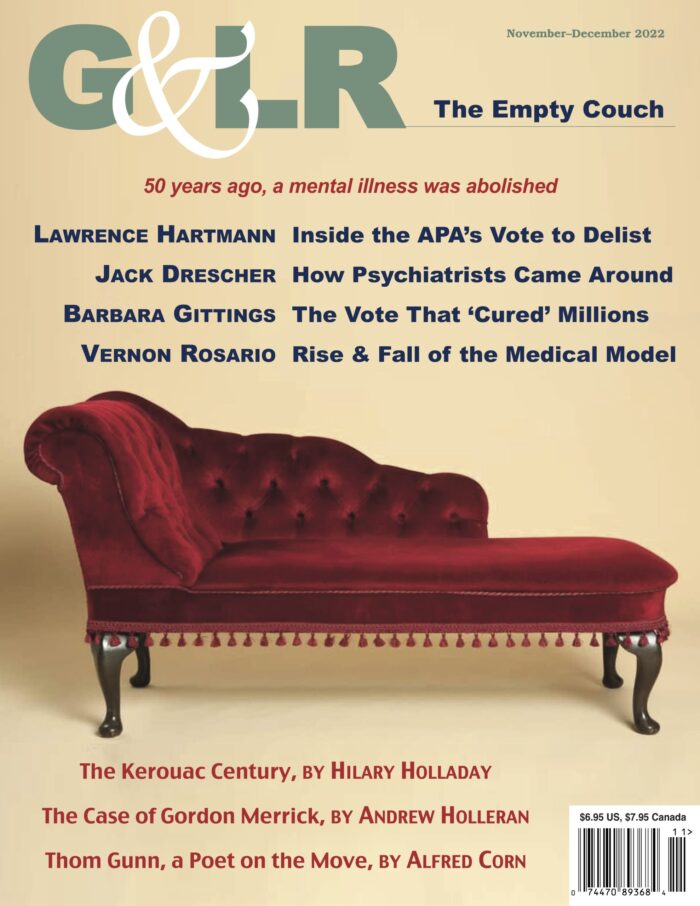 But tucked within its pages I find another book I want on my bookshelves.
This is the sort of thing I'm gratified to see more and more of every year. This history of our very existence was hidden from sight for so long, because it had to be, because if you were outed, like Len eventually was, the consequences could be anything from you had to leave town like Len did, or you were sent off to a mental institution, or you were found dead somewhere.
When I came out to myself in 1971 I had no clue about any of this history. It is slowly emerging as boxes of old photographs are uncovered and shared with scholars who dig deeper into it. And of course, the republicans are doing their best to keep this history from being taught wherever they have control of the statehouses. We have to be invisible, else people will see that we're as human as anyone else.