November 21st, 2022
Active Shooter – Active Resistance
The BBC reports…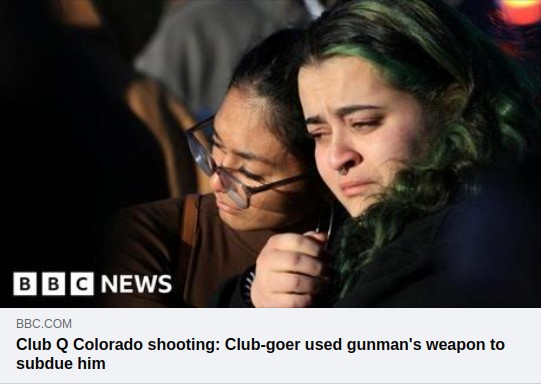 Colorado Springs Mayor John Suthers said one patron grabbed the attacker's own gun and hit him with it during the shooting in Club Q on Saturday night.

Another club-goer reportedly helped to keep the gunman pinned down until police arrived.

The gunman killed five people and injured 25 more before being arrested.

The suspect, named by police as 22-year-old Anderson Lee Aldrich, is now in police custody.
I think something changed, similar to what changed after 9/11, in that passengers are lots more willing fight back now. The old advice to just remain calm and don't do anything that might provoke the hijackers really doesn't apply anymore. Since the Pulse massacre probably something like the same effect is happening in our spaces. And given the stereotypes people buy into about us, I'm wondering how surprised this shooter was that he ended up pinned to the floor getting beaten with his own gun.
I'm hearing calls now for the community to arm itself and while I've no trouble with people doing that so long as they're willing to accept the responsibility, I really don't think places that serve alcohol and guns are a good mix. But there is something else that I could wish some group on the level of ACT-UP or GLAAD might step up and do and that is offer the community training on what to do in an active shooter situation.
The Institute gave us that training and I would strongly recommend it to all of us in the community. But it costs money to bring someone who knows the subject to come and teach it to groups of us. Someone with deep pockets should step up.