November 20th, 2022
They Have Always Been This
Twitter, perhaps in its dying breaths, still provides interesting rabbit holes to dive down. Today it's this post from Samuel Perry, who lists himself in his profile as: Sociologist | Studying Religion & Power | Author: Growing God's Family; Addicted to Lust; Taking America Back for God; The Flag & The Cross. But it would be a mistake I suspect, given his other posts to assume he's completely on board with the white evangelical power grab. And especially not this post:
Little something to remind Christian Right Twitter as they trash French for this post. White evangelicals went from 60% saying privately immoral officials couldn't be ethical in office to 17% & the only thing that changed was opportunity. Your moral compass points toward power.
To which he adds this graphic…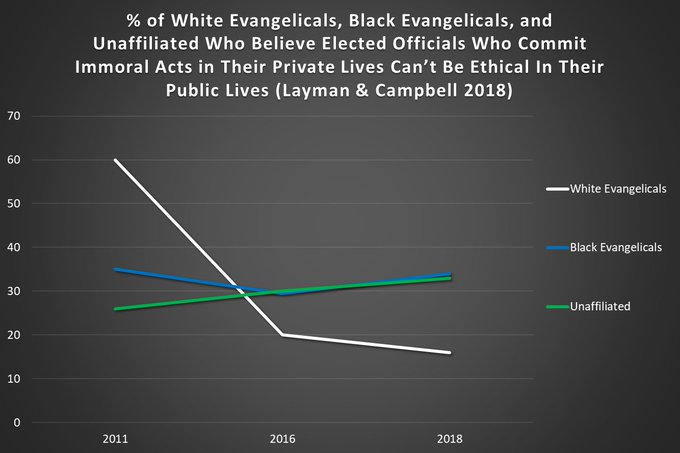 He also put up this a few hours later…
Following Jan 6, White evangelicals were the only group where a huge majority said banning Trump was wrong. But they're also the only group where a majority says social media cos. shouldn't remove aggressive content from elected officials even if it may provoke violence.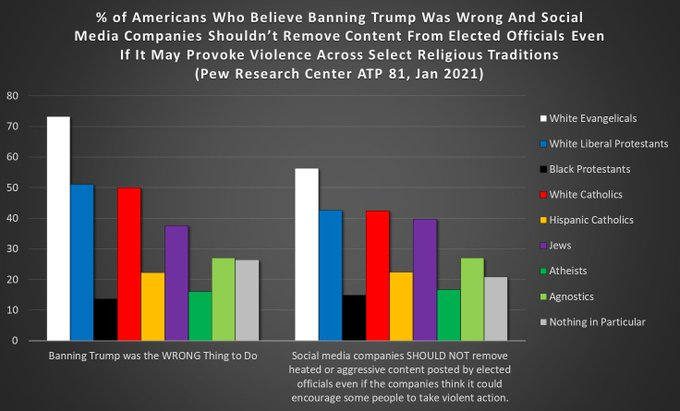 It's easy to shrug your shoulders and say so what, we always knew where they were. But this needs, especially these days, to be thrown back in their faces whenever they start bellyaching about things like religious freedom and same sex marriage. It isn't their freedom they are fighting for, it's their total dominance. And if anything that's been made even more explicit with the publication and widespread evangelical approval of The Case for Christian Nationalism by Stephen Wolfe.
So I decide to go take a peek at what's happening in that thread David French began with…
The magic of our republic is that it creates space for people who possess different world views to live together *and* stay true to different faiths and moral convictions. How the Respect for America Act furthers this vital national goal:
He links to this article in The Atlantic…
Pluralism Has Life Left in It Yet

The Respect for Marriage Act, and the harmony between religious liberty and LGBTQ rights.
It begins thusly:
It's been called the "oral argument that cost the Democrats the presidency." On April 28, 2015, Solicitor General Donald B. Verrilli Jr. stood up in the Supreme Court and argued that the Court should recognize a constitutional right to same-sex marriage. During that argument, Justice Samuel Alito asked him a question that voiced the concern of millions of people of faith. Here was the key exchange:

Justice Samuel Alito: Well, in the Bob Jones case, the Court held that a college was not entitled to tax-exempt status if it opposed interracial marriage or interracial dating. So would the same apply to a university or a college if it opposed same­-sex marriage?

Solicitor General Verrilli: You know, I—I don't think I can answer that question without knowing more specifics, but it's certainly going to be an issue. I don't deny that. I don't deny that, Justice Alito. It is—it is going to be an issue.

With that response, General Verrilli confirmed a growing sense of alarm in theologically conservative Christian circles. If they continued to maintain that marriage is a union between a man and woman, would they be treated as bigots? As the equivalent of white supremacists?
Let us say, after all the years that have passed between then and now, with that subset of the American population growing less and less inclined to maintain pretenses, that whatever alarm they may have felt wasn't they would be treated for being what they so plainly are and have no trouble whatever being, but that their scapegoats, their hated Other would be granted equality in the eyes of the law. Yes, that had implications for being able to make their stepping stones to heaven out of our lives, out of our hopes and dreams. It simply could not be allowed to stand.
So then, the stacking of the US Supreme court with more Alitos. 
To really appreciate what is going on in that David French thread it helps to know a wee bit about the man…
In August 2017, French was one of several co-authors of the so-called Nashville Statement, which affirmed "that it is sinful to approve of homosexual immorality or transgenderism and that such approval constitutes an essential departure from Christian faithfulness and witness." [Wikipedia] 

The Nashville Statement:

Affirms that God designed marriage as a lifelong union between male and female, and that marriage "is meant to signify the covenant love between Christ and his bride the church"
Denies that differences between men and women render the sexes "unequal in dignity or worth"
Denies "that adopting a homosexual or transgender self-conception is consistent with God's holy purposes in creation and redemption."
Denies "that the approval of homosexual immorality or transgenderism is a matter of moral indifference about which otherwise faithful Christians should agree to disagree."
Affirms that "Christ Jesus has come into the world to save sinners and that through Christ's death and resurrection forgiveness of sins and eternal life are available to every person who repents of sin and trusts in Christ alone as Savior, Lord, and supreme treasure"
And yet, Trump was a bridge too far for him. And that of course, meant his immediate exile from the fellowship of Sauron's ring. A lot of the pushback goes something like this…
Pluralism is your idol, sir.

You would have been a 'faithful servant' of Julian the Apostate, David. Don't spend your 30 pieces of silver all at once, Judas.

Are we sure 2015 David French wasn't just as much a simp to secular pluralism and just didn't have the opportunity to approve of such evils?

Repent and seek Christ.
This commenter almost gets it…
My goodness. 2015 David French Eviscerates 2022 David French. Makes me sad, Trump did break him.
What Trump did was give him, and others like him, a choice: take the remaining shred of humanity within you around behind the barn and shoot it, or take a step back from the abyss. 
Pluralism cannot coexist with Christian Nationalism and they know it. They have always known it. They have always despised the concept, and along with that, democracy. They may love the America of their totalitarian fever dreams, but they will fight democracy to their dying breath, and especially The Compromise: that everyone has the right to practice their religious beliefs in their churches, and in their homes, but in the public square, and in the marketplace, we are all Americans.
My money is as good as yours. I have the same right to speak my mind as you do. In the public square and in the marketplace, the government takes no sides apart from the democratic necessity of Equality, Liberty and Justice. For all. This, it must enforce. So we can all be Americans. Having to bake that cake for a same sex couple is the price you pay for government not stomping into your church and burning your holy texts.
But there are those who think that price is too much to pay for an America where we all live together in peace. Because God is on their side and the holy text that will burn are not theirs, but yours. They are the chosen ones. They have the only true religion. And God wants them to grind the heretic underfoot. Because God hates the Other as much as they do. And they are on the march.