October 27th, 2022
Once Upon A Throwback Thursday. . .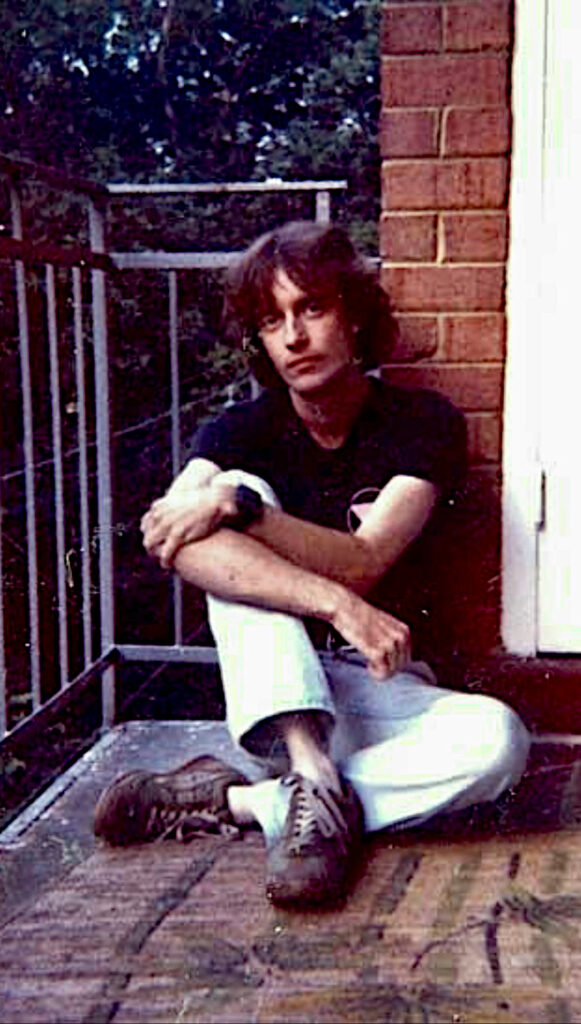 Throwback Thursday (are we still doing that?). This is from an old Polaroid a friend probably snapped of me while I was sitting on the balcony of the apartment in Rockville (now North Bethesda!) mom and I lived in during the 60s/70s/80s. I would have been in my twenties. I would have still had the Pinto and probably was working at the Best Products just on the other side of the fence between them and the apartments.
I can tell a lot about the timeframe that this was taken because it has to be sometime in the mid 70s, before that awful couple years I wrote about yesterday. It's in my face. I look at this and see someone still comfortable in the life he has, confident that even better times are just around the corner. A boyfriend. A good job that paid well (I was going to be a newspaper photographer). A place of my own. Everything was still possible.
As to why I had it taken…I'm not sure. This would have been before the microcomputer days, let alone the Internet, so it wouldn't have been to post to an online profile. This is a Polaroid, I had no scanner then, and getting copies off a Polaroid wasn't simple. So this was a one-off. I think I had it taken just to have a couple of me that I actually liked. There are a few other poses in the set but I liked this one best. Which explains why it's a Polaroid: I could look over each one and decide if I needed another.
The problem was always that I didn't have many of myself that I liked. By then I was well aware that I wasn't very good looking, but every now and then I saw a good photo of me so I wasn't overly concerned about my looks at that age. My teeth were very crooked though, and I was extremely self conscious about that. In every photo of me from that period I'm always smiling with my mouth closed. You almost can't see the smile here, but it's there in the corner of my mouth. That problem wouldn't get fixed until I was in my thirties when a friend kindly financed some dental work for me and pointed me to a super good dentist.
This image is from a time before the Internet, personal computers, cable TV, and cell phones let alone smartphones. I'm pretty sure this was before 1977 and Anita Bryant's rampage on gay civil rights in Dade County Florida. I had listen to my shortwave radio to get the result of the vote in Dade County because none of the mainstream network news companies bothered to cover it until much later. News for and about gay Americans was not fit to print in those days. If I wanted that news, and I didn't want to drive into DC to the Lambda Rising bookstore, I had to go to a seedy adult bookstore in Wheaton and walk past racks of pretty hard core heterosexual pornography to get a copy of the Washington Blade and The Advocate. The subway wouldn't be built out beyond the beltway in Montgomery County until 1978 when the station at Silver Spring opened. After that I could drive into Silver Spring and hop on the Metro to get to DuPont Circle and Lambda Rising. When the Twinbook Metro station opened in 1984 I could just walk from the apartment to the subway and it was a straight shot down the red line to DuPont Circle and back.
I was so happy not to have to go past those heterosexual porn magazines ever again. I mean…okay…whatever floats your boat. But…jeeze… And yet, in many quarters of American culture, not just the pulpit thumping churches, but also mainstream news media, TV, movies, and magazines, the youngster you see in this photo was regarded as a deviant threat to American society, family values, and civilization itself.
That is the world you are seeing in this image. TVs still had vacuum tubes, telephones had a wire connecting them to the wall, you got your news from the morning or afternoon newspaper, or the nightly network news broadcasts around dinnertime. Am radio played mostly music or sports, music came on vinyl LPs or cassettes, big box department stores were still a thing, and bookstores and newstands were everywhere, but you couldn't get any gay publications in them because gay people like the kid in this photo were almost universally regarded with contempt and loathing. But the kid you see there was still pretty confident of his future. Bright eyed and bushy tailed and ready to meet tomorrow. He never found a boyfriend.