February 18th, 2008
Teach Your Children Well…(continued)
Reverend Ken Hutcherson, founder and senior pastor of the Antioch Bible Church near Seattle Washington, and one of the three leaders of the hate group, Watchmen on the Walls, is on the warpath over the Gay-Straight Alliance in his daughter's school…
This poster is hanging in the window of a classrom at Mt. Si High School!

It's time we wake up and realize we are in a culture WAR!

When teachers are allowed to hang posters like this in our local school, we've got a big problem. It's time to take back our schools.

Pastor Hutch
Timothy Kincaid, over at Box Turtle Bulletin, has more. Apparently Hutcherson is upset that his daughter is being called a stressful presence while "monitoring" those GSA meetings. I can't imagine why, other then that those kids probably know full well that everyone who attends those meetings, and everything that is said, is being reported right back to Hutcherson, and for all anybody knows, other members of The Watchmen on the Walls. They might as well be holding their meetings in Hutcherson's church.
Meanwhile…back in Oxnard…
The Goths in their black T-shirts were there. So were the punks with fluorescent hair and multiple piercings.
There were even a few adolescent boys carrying skateboards among the nearly 1,000 Oxnard youth and other supporters who turned out Saturday for a hastily organized peace march to pay tribute to Lawrence King, 15, the Oxnard student shot to death in a classroom last week.
"Larry, Larry, Larry!" the crowd chanted before marchers clasped hands in a moment of silence for the fallen student.
There were no bullhorns, no speeches and no politicians. Just a mass of mostly adolescents wearing bright clothing, carrying signs and singing John Lennon's "Imagine" and "Give Peace a Chance."
The size of the turnout surprised police, school officials and even the two Hueneme High School sophomores who put the event together just three days ago, spreading the word with fliers, cellphone calls and MySpace bulletins.
"We were expecting maybe 100 or 200 people," said Courtney LaForest, 16, as she gazed at a broad "peace circle" formed by march participants at Plaza Park in downtown Oxnard. "This is incredible."
Courtney said the turnout reflected a community's anguish over a senseless shooting that has destroyed the lives of two young men. It was also a public plea for tolerance on school campuses for those who are different, she said.
However, "Pastor Hutch" and his friends think it's time people realize they're fighting a WAR! And The enemy…? Right here…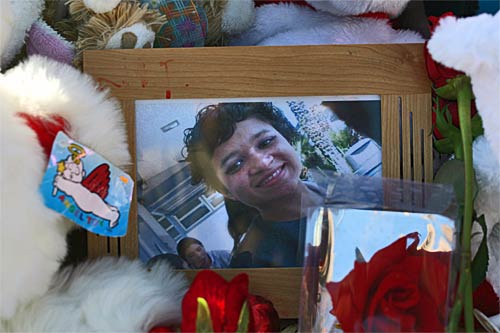 And…here…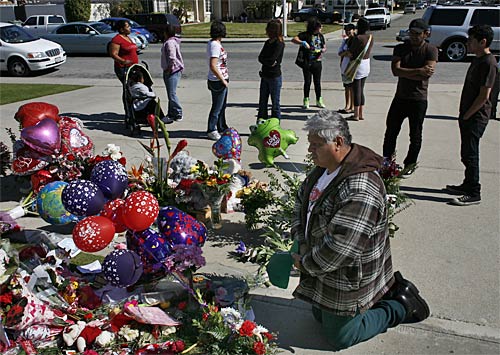 And…here…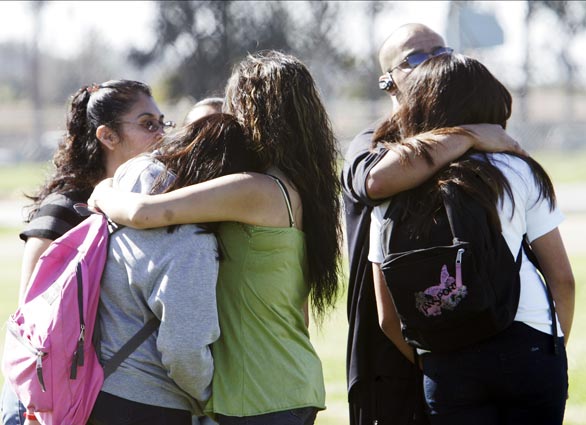 Children are being shot by children. Parents are burying their children. Their friends are being torn apart by shock and loss and grief. And Hutcherson says we're in a WAR! No shit Sherlock. Two bullets to the head killed a sixteen year old boy and took away from this poor world everything he might have given to it, every moment of friendship and joy and love, every laugh, every smile. Gone. All gone. In an instant. And Ken Hutcherson's words, and those of his fellow KulturKriegen, were the gunpowder.