September 3rd, 2022
Baggage
There's the baggage you carry that's yours, that got dumped onto you at some point in your life, and then there's the baggage you carry that belongs to others. Oftentimes you will be told that you don't have to carry someone else's baggage too. But letting go of theirs is not always easy, let alone possible. More often than not it's easier to let go of your own, because that's something you have control over. 
I retired last February, spent some time with my brother out in California, then came back to my little Baltimore rowhouse and began the work of integrating what was in my office at the Institute into my house. In my previous post, Walking Through Hell To Get To Heaven I mentioned that after working for 23 years and a few weeks for the Space Telescope Science Institute I'd managed to get a few awards and recognition for the work I did, along with some photos with the astronauts, and that now I was trying to find a place for it all on my den walls.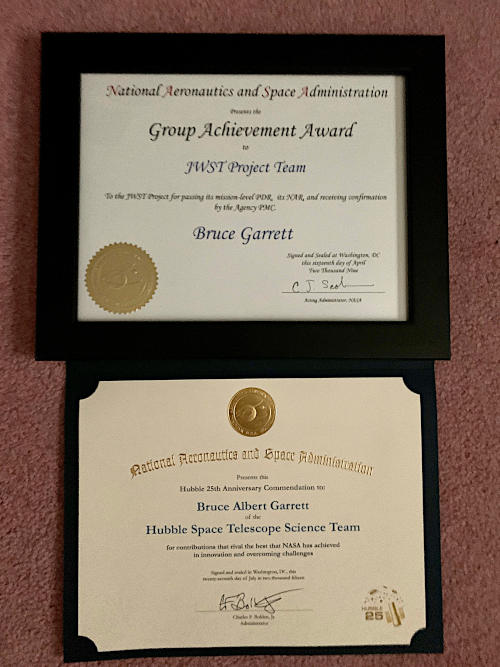 It's been going through all that, seeing for myself the evidence of work I did on Hubble, James Webb, and Roman, over the course of nearly half my adult working life, that I think I've finally shaken off the low expectations laid on me when I was a kid. I'll be 69 in a few days. It's taken that long, and seeing that I might not have enough room on my den walls for all my awards and certificates.
I'm still the weird art kid I always was, still the techno nerd, still the guy in the conversation who can pull out all sorts of strange references out at a moment's notice because he sees a connection others probably just find…you know…Weird. It's taken me this long to allow myself to be that and not let that Weird Geek Kid baggage attach to me anymore. I'm retired. I don't care. You get this close to the end of the road and it improves your perspective about things like that.
Homophobia for example. For most of my adult life I believed that I avoided a lot of internalized homophobia because it was falling in love with a classmate that woke me up to the reality of my sexual nature. But while I never hated myself, never felt the least bit of shame about it, the cultural hatred and contempt still left its mark. You get the boot from one workplace after another when they find out they hired a faggot and eventually you come to expect it. Low expectations again. And I have met lots of gay men who were smart, kind hearted, hard working, thoroughly decent people living well below their potential because striving for something better just hurt too much. 
All my adult life I searched for someone to love and cherish and make a life together with.  Someone decent, honest, responsible. Someone that in a better world I might have met at a church social or youth retreat or a coffee house like The Lost And Found. But the good boys of my generation were terrified. They didn't want their parents to hate them, the didn't want God to hate them. And should their parents have found out anyway, and told them to pack themselves off to a therapist or a nice ex-gay ministry, they'd pack their bags and dutifully headed to the nearest one. Yes mom, yes dad, I will put my heart and my soul and whatever fulfilled and contented love life I might have had, put them in this little coffin and bury it. Because I am your good son.
They talk about sin. I don't think they really get the concept. Sin is telling a kid they're worthless and making them believe it. Sin is poisoning a kid's ability to love and accept love from another right at the cusp of their adulthood. 
We all carried that baggage to some degree back then. And still do. For many in my generation it will always be a time before Stonewall. But the painful thing to realize is we carry each other's baggage too. I carry your baggage, as well as mine. In our solitude. In our loneliness.