July 22nd, 2022
20 Years…Well…Actually 23…
Finally! My 20 Year Service Award came. They FedEx-ed it to me a few days ago. I was sincerely afraid I would never get it because it is the kind of thing that routinely falls through the bureaucratic cracks at other workplaces. But they remembered me…and I have to assume everyone else that didn't get theirs in 2020 because of the COVID lockdowns. 2020 was when I hit the twenty year mark.
I've never worked so long anywhere else. Partly that's because gay guys tend to get the pink triangle…I mean Slip…once management figures out why you're expressing an insufficient interest in the opposite sex. But also because who in their right mind walks away from a job like this one? For twenty-three years I worked somewhere they harvested light from near the dawn of time and gave it to astronomers, physicists, and other researchers to study. We were Space Explorers. And I was part of that team. Not an astronomer, not a physicist, simply a computer systems engineer who helped them. But I was part of it. I helped test the Mission Operations Center systems. I conducted tests across the deep space network. Just basic end to end testing, and only for a short period before the Goddard flight engineers took over, but I spoke instructions over the Deep Space Network. I had to learn how to use the systems in order to test them, and then for several years prior to launch I tested them. I managed the telemetry stream from the initial cryovac tests, first from Goddard and then the big full up OTIS test in Houston. I maintained the telemetry streams from all those tests and cataloged the data so other engineers could use it to develop the flight systems. I helped with the playbacks. I did performance testing on the final system designs. I watched a spacecraft being born and speaking its first words. I did that. I was a Space Explorer.
It's still so…amazing to look back at what my life eventually became, against all odds and expectations.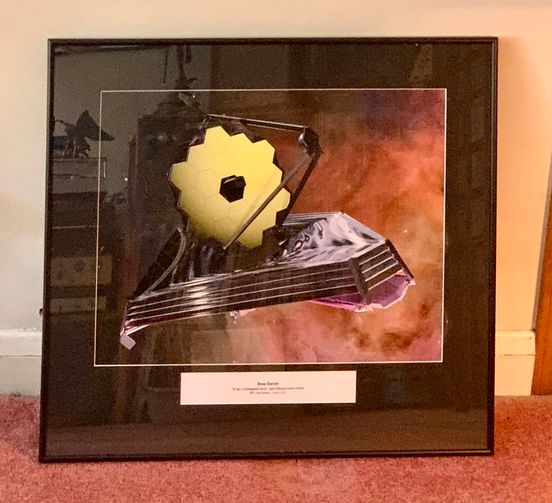 So now I have a complete set of service awards to hang on my den wall. I have 5, 10 and 15 year awards and they are all like this one except they're beautiful Hubble photos. For the twenty I asked for this artist's rendering of JWST because I knew I would be retiring after launch and I wanted the set to end on the project I was working on when I retired.
23 years I worked there…almost half my working life. It's been amazing. I was the kid without a dad, living with his mom on the other side of the tracks. But the techno geeks and freaks in the nice neighborhoods on the other side recognized a member of the tribe in me, and kept encouraging me to go for it when I had my doubts. We are still a tribe.
Somehow I need to rearrange the STScI memorabilia on my den wall to accommodate all four of these. It's do-able if I remove the shrine to my three strikes. Maybe I should do that. Do I really need that shrine in my den? Maybe. That's also a part of my life, if not the best one. What do You think, LonerNoMore?