July 10th, 2022
If Only I'd Gone To Art School After High School…
The amount of concentration I need to sustain to do any sort of drawing quickly becomes exhausting. But I am retired now and I can put a day's work into it, if a bit haphazardly. I have to walk away from the drafting table frequently just to let my mind wander.
This next episode of A Coming Out Story involves a lot of drawing because it is so important to me to get the feel of what is happening in it right. In most other episodes can use a few tricks to make the going faster. For instance, in the previous one I drew a background once and then copied it into every panel. And for every episode that takes place in the school, I've got a long drawing of a hallway with lockers and water fountains and classroom doors that I plug a section of into the artwork. But in this episode, every single panel but one has to be 100 percent original artwork. And the amount of concentration I need to sustain to do any sort of drawing gets very exhausting.
It would probably not be so bad were I a trained artist. But I am self taught and I am not kidding about being a hunt and peck draftsman. The electric eraser gets more use than the pencil. Some days I wish I'd moved mountains to get myself into the Maryland Institute College of Art. But then this entire story is about one of the other central regrets of my life. So it goes, as the Tralfamadorians say…
I've given myself a goal of getting the pencils done for one panel a day, or hopefully one entire strip, which this episode are all two long panels each. That gives me eleven days to finish the pencils at most, or less if I can do two. But that's less likely so it's not going to happen at lightning speed. But the pencils are the hard part. Once they're done the rest of it goes pretty fast.
I need to get this story finished. I'm feeling my energy levels dropping in a scary way, since spring. And there are still maybe another thirty episodes to go.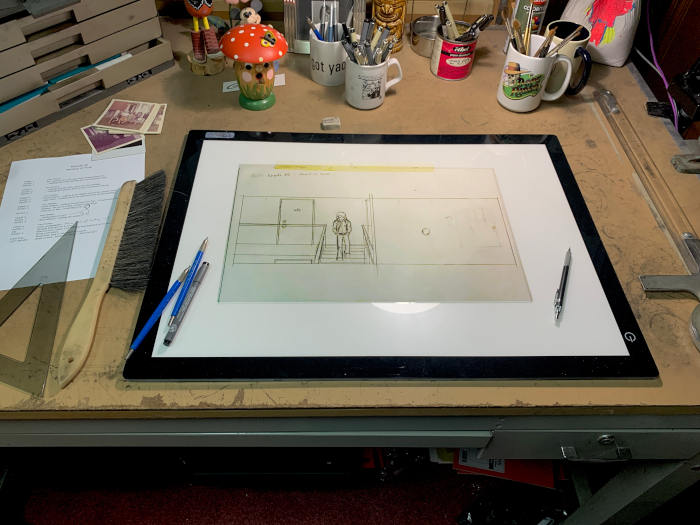 I have a new LED light board now. The large ArtGraph I had for ten years failed due to a poorly designed power switch setup. My first thought was I'd fix it myself, but the unit is not designed to be openable and fixable. After a lot of struggle I managed to peel the top cover off it and saw that it's all riveted together inside and in order to get at what the problem was would take me drilling out a bunch of rivets and probably rendering the until unusable anyway. So I took a look at what it would cost to replace it and well, things have got a lot less expensive and much nicer in ten years, so there's that.
This new one from U.S. Art Supply is thinner, a tad lighter in weight but solidly built, has a variable brightness control, and cost a third what the ArtGraph one cost. Not that I'd buy anything from ArtGraph ever again. The one I had was so solidly built I thought it would last a lifetime, but one bad design decision and the whole thing is trash. In the online chats I've seen people reporting rudeness from their customer service droids when asked about sending things back for repair. So apparently you can't even pay them to fix their products. But after looking inside one I can see their point. It just isn't worth it. As always, you're supposed to be a good consumer and just buy a new one. Which I did. Just not one of theirs.
We've a nice electronics recycling station at the city recycling center nearby. So the old light board isn't just going into a landfill.