May 9th, 2022
Foxy Gay Hustler Posters That Weren't…But Anyway…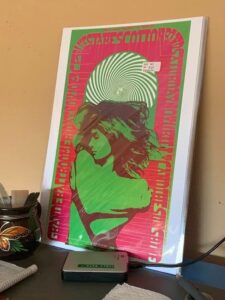 Finding a copy of this poster in a flea market shop in Cambria, even though it's only a smaller sized reproduction, just thrilled me to my bones a few moments ago. I have been wanting a copy of this since I was a young guy.
The first time I laid eyes on it, in the window of a head shop in College Park sometime in the mid 70s, I thought the model was the sexyist long haired guy I'd ever seen. I was working for a department store driving returns for repair to various shops around Washington, and every time I passed by that head shop I made a mental note to go in there sometime when I was off the clock, and ask if the poster was for sale.
Alas, I put it off too long. One day I drove past and the shop was closed down, the insides emptied and the poster gone. I never got a good enough look at it to see what band it was for. The psychedelic lettering was impossible for me to read sitting in my delivery truck at a stop light a half block away. But the image of that sexy naked long haired guy was forever burned into my young gay adult brain.
Some years later I chanced upon a book, a very large trade paperback…I'm not at home now so I can't be sure, but I think it was "The Art of Rock", that had in its pages a history of rock posters, one reprint to a page along with commentary. And there it was…The James Cotton Band at the Grand Ballroom in Detroit. The book's author seemed to think the poster began the decline of the art of the poster, as it represented, in his words, a gay hustler motif. But by then I was used to that sort of disrespect, even from the Summer of Love alumni.
So I kept searching. And searching. Eventually along comes the Internet. And search engines. Finally I see a reproduction of the poster I can download and add to my graphics library. And this is where I find out the model in the poster was…Vanessa Redgrave.
Oh.
Decades later I would joke about it in the second episode of A Coming Out Story…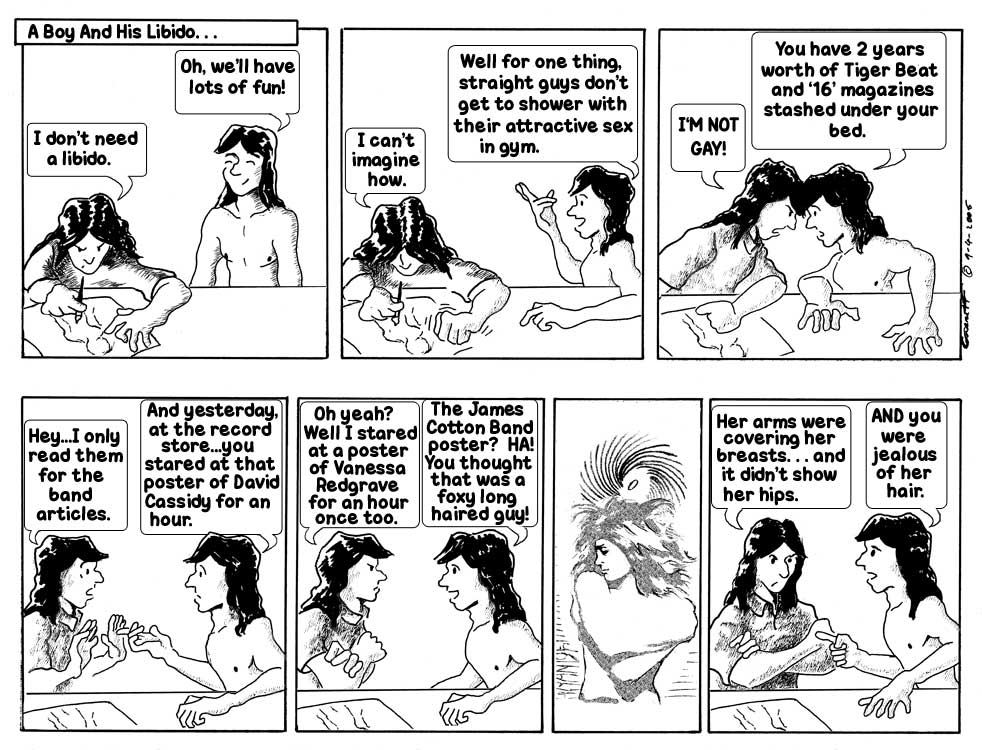 I have this theory that our libidoes glom onto whatever fashions and styles were in vogue when we came of age and our hormones began to percolate. Mine happened in a time of long hair and low rise blue jeans. But my gay libido never strayed into hunk territory, and there's probably a whole 'nother post I should do about that, and all the disrespect gay men who love lithe and handsome and very very cute males get from other gay males who are all about hunk.
So now I know my foxy long haired gay hustler is actually a foxy long haired woman. Fine. I still wanted that damn poster. A lifetime of growing up in a culture that at best wouldn't acknowledge the existence of such as me, if not wipe us out of existence altogether, gave me lots of practise in mental gender switching…usually with flipping the pronouns in the lyrics to songs I heard on the radio, but occasionally in advertising, where I would mentally redraw some of the fashion models I saw as guys, a skillset that would get a lot of work in later years as I pursued my art…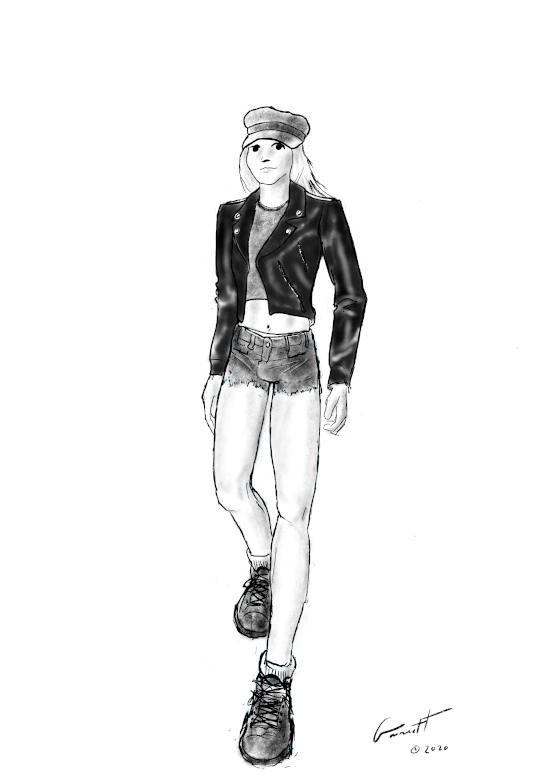 The original model for this was a young women I saw in a google image search…
..which made it easy for me to look at that James Cotton Band poster and still see a sexy long haired guy. Let's hear it for gay hustler motif!
There's a shop just down Falls Road from my house where classic rock posters from a bygone era are auctioned off. Once I asked the guy running it about this one. Oh…the James Cotton Vanessa Redgrave one….yes…that one is very popular…if you can find one in good condition it'll go for about six grand now…
Oh.
This afternoon I took a long leisurely drive up the California coast to a cute little coastal town named Cambria. I wanted to wander around the shops for a bit, and wandered into one with some poster reproductions in the window. I have this stubborn streak that is in constant conflict with my inner pessimism. In the back were racks like the old LP racks with what looked like hundreds of reproductions of various posters all neatly sleeved like classic comic books for sale. I reckoned it might take me a half hour to flip through them all with no guarantee of success. But I got down to it.
Flip… flip… flip… flip… flip… flip… flip… flip… oh, a Rick Griffin classic… flip… flip… flip… flip… flip… flip… another Griffin… flip… flip… flip… flip… flip… flip… flip… flip… flip… flip… flip… flip… flip… flip… flip… flip… Doctor Strangelove… so there are 60s movie posters in here too… flip… flip… flip… flip… flip… flip… flip… I wonder if there are any Victor Moscoso posters in here… flip… flip… flip… Failsafe… I think I'd rather have the Doctor Strangelove one…flip… flip… flip… Jefferson Airplane… flip… flip… flip… flip… if I see that Hendrix poster Bob had over the fireplace I'm buying it… flip… flip… flip… flip… flip… flip… flip… flip… flip… flip… flip… THERE IT IS!!!!!!
Finally. Along with that one I bought a couple Rick Griffin ones and the Doctor Strangelove one. They'll go up in my art room…but the foxy gay hustler that wasn't, but still is whenever I look at it, gets pride of place right above my drafting table.