February 14th, 2022
The Day After Valentine's Day Should Be Ours
Those of us who are single. Those of us who have never found that intimate other. Those of us who crashed and burned on the alter of Love. It's the day after that is ours. The day when the flowers start to wilt and the candy goes stale. There you will find us. The books holding stories of love that never was, waiting forever on the remainders shelves as a last desperate hope for a buyer. The closest thing I ever had to a boyfriend told me we were but merely friends with benefits. Swell if that sort of thing suits you. Too bad I was in love. Strike Three!
Today is the most miserable of days for those of us who have been single our entire adult lives. This year I have my pending retirement to distract me from it, so there's that. That, and the fact that I've reached an age now where the need is beginning to wane. Let's hear it for getting old. I tell myself I survived the heart attack because my heart has a lot of experience living with damage.  
But…since I'm seeing so many others sharing their favorite Valentine's Day poems on Facebook today, let me share a couple of mine. Not really Valentine's Day poems you say? Oh my goodness…yes…yes they are!
Because I liked you better
Than suits a man to say,
It irked you, and I promised
To throw the thought away.
To put the world between us
We parted, stiff and dry;
'Good-bye,' said you, `forget me.'
'I will, no fear', said I.
If here, where clover whitens
The dead man's knoll, you pass,
And no tall flower to meet you
Starts in the trefoiled grass,
Halt by the headstone naming
The heart no longer stirred,
And say the lad that loved you
Was one that kept his word.
-A. E. Housman
I'll just quote a couple lines from The Man On The Bed by Debora Greger…
If the heart is a house, he thought,
it is rented to strangers
who leave it empty.
That's a hard one to find to read since it's not been published widely, but it's there in the November 24, 1974 issue of The New Yorker. If you have a subscription you can read it online. I bought a copy from a place that sells back issues just so I could have the entire thing. I think it's a perfect Day After Valentine's Day poem, but that's probably not what the poet had in mind.
Many years ago I did a series of charcoal and ink drawings on a theme of first love, which I'm still really proud of…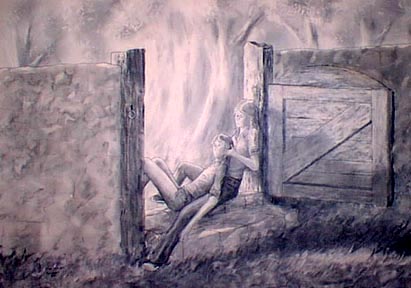 The Old Gate
I was still so sure that I'd find my other half eventually. But that was then, and this is now. Crush #1 and I are not speaking to each other anymore, and crush #3 is living happily with the guy he dumped me for, except you can't really say you were dumped when all you ever were was a friend who provided benefits when called upon. Age brings wisdom. And…heart attacks. Of the physical sort no less. If I'm still alive next year I might restart this blog's annual Valentine's Day Poster Contest.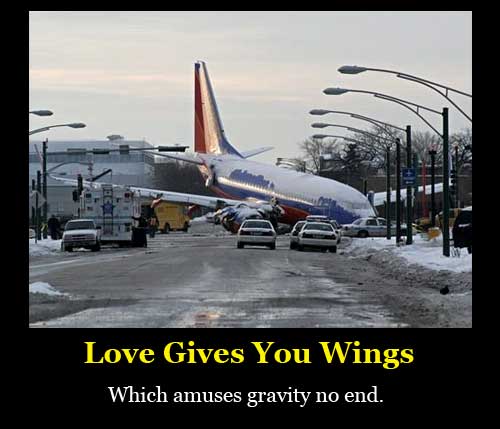 But by then I might be fully across the threshold of old enough not to care anymore. Think of it as being nature's way of saving the quest for love for younger folks who can take a beating. Or culling the herd of the ones that can't. Some nights I have no idea why I'm still alive.