January 29th, 2022
Mirror, Mirror…
It's about time I think, to be breathing a sigh of relief and letting the stress of the past several months slide off my shoulders. The entire process of launching and deploying the James Webb Space Telescope terrified me, but everything about the launch and deployment happened without a hitch. It was a Mary Poppins launch…practically perfect in every way! The surprising immediate deployment of the solar array, only possible if the launch was absolutely spot on perfect, turned out to have been a sign that the rest of it was going to be perfect too. But that entire process terrified me. If any One thing had gone wrong we would not have a telescope, and billions of dollars, and the hopes and dreams of astronomers all over the world would have gone down the tubes. But not only did nothing go wrong, it all went so well that they're estimating we could be good, fuel wise, for at least twenty years, not just the ten that was planned for.
And now…now…it's time for me to say goodbye to this part of my life. I set myself a goal of seeing JWST through to launch. Now that it's happened, and we're all good, I'm just a few weeks from retiring. I can leave on a high note. The plan initially was to retire at the end of December 2021, but launch delays pushed that back to January, and then I was asked to stay another month since January was going to be busy for everyone with the tasks of getting JWST deployed and ready for commissioning. It's time for me to move on.
I'm 68 years old now, two years past a heart attack and feeling my age. I want to have at least some retirement time to do other things with my life before the big sleep. Make some art, explore some highways, walk along some beaches, look at the stars, gaze at some new horizons…while I still can. I'm not sure how I can get 50+ years of working for a paycheck to slide off my shoulders, but I'll give it my best shot. 23 years of that I've worked at the Space Telescope Science Institute, loving almost every minute of immersion in an environment of science and exploration. So many memories to take with me.
Like this one…
The photo below was taken from the observation deck at Goddard, where the JWST science half with the big mirror had been assembled and tested and was being readied for its trip to Houston for testing in the big Apollo vacuum chamber back in March 2017. Those of us working on the project were invited to see the telescope for it's last viewing before it got packed off to Houston. I'd been to Goddard many times prior to this, getting our test servers approved for connecting to the Goddard network, and doing end to end network testing between Goddard and Northrop Grumman in the backup MOC, but it was the first time I was able to actually see the telescope we'd all been working on.
So there I was, snapping off a bunch of shots of that huge mirror when I realized…that if I positioned myself just…so…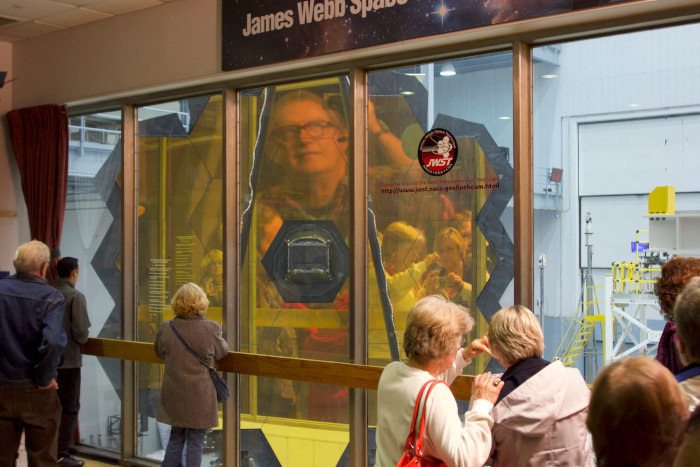 Heh…  Yeah, this was before I started wearing a beard. Here's another shot that gives you a better sense of scale…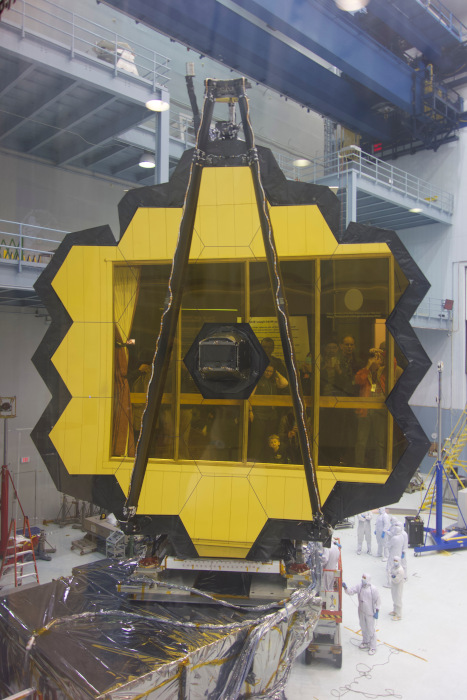 That guy in the orange Sierra Designs mountain parka holding his cell phone up to take a picture is me. That's my Goddard badge around my neck. I'll know my time with the Institute is over when they ask me to hand it and all my other badges back…probably while I'm signing the paperwork on my retiring.