February 11th, 2006
And Now For Something A Little Different…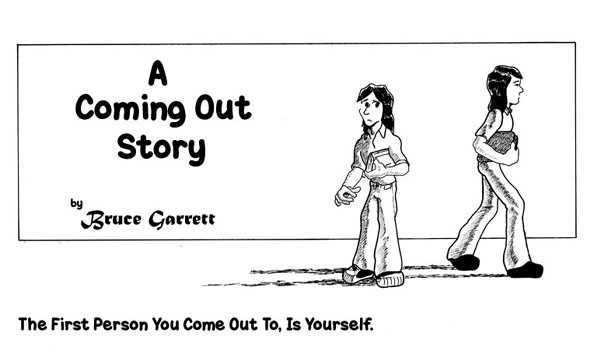 Click on the graphic above and you'll be taken to the beginning of a cartoon series I've been planning now for months. My regular readers here will know that it began with a one-shot slice of life comic I did a few months back, about the time my high school buddies dragged me to see my first X-rated movie. I got many requests to expand on that story, but even before I'd finished it I knew I wanted to tell more about that time in my life. Here it is, or at least, here is where it starts. I'm going to try and have a new episode up each week, but for the time being I can't promise that. Just keep checking in, if it interests you.As good as I had it, and I admit I had it really, really good compared to many gay teens, I still had a very awkward coming-out process. In part it was my Baptist upbringing. Though I had walked away from church by age 14, the experience left me very socially awkward, and with this embedded idea that boys shouldn't be too interested in girls until they're old enough to get married. Ironically enough, I was fine with that.

But mostly it was the horrible Sex Ed class I had in 1969, which was taught by our gym teachers who seemed to want to keep us as ignorant as they could about sex and human sexuality. Those classes were full of awful grainy black and white 1950s films about the dangers of "heavy petting" and VD. All we learned was a bit of human anatomy many of us already knew, and a hodge-podge of ignorant ideas about human sexuality that mostly consisted of Don't Do That!

What we were taught about homosexuals and homosexuality was nothing more then the myths, lies and superstitions of the time…but the high octane version. We were taught that homosexuals usually killed the people they had sex with, that they mutilated the genitals of the people they had sex with, that homosexual men were mentally ill and thought they were really women, and wanted to have sex with children and sometimes animals too.

We all just listened to it raptly, like a group of kids being told ghost stories by the scoutmaster. Looking back, I realize now that if they had only laid it on a little less heavy, I might have grown up knowing I was gay, and loathing myself like a lot of other gay teens back then did. But what my gym teachers did was convince me absolutely that I couldn't possibly be homosexual, because I wasn't any of the monstrous things they taught us homosexuals were.

Problem was, I had this thing for good looking guys that kept yanking my chain the older I got. It didn't make me afraid, so much as confused and irritated and disgusted with the whole love and sex thing generally. By the time I was 17 I figured I'd just skip the whole thing, and go live on a higher plain somewhere, and be beyond the reach of all that dating and mating stuff. Ha Ha Ha.

So this new cartoon series is about that first step your gay and lesbian neighbors take in the coming out process…the time when you come out to yourself. I'm old enough now to look back on a lot of it with a sense of humor, mixed in with a bit of amazement that I came through it all mostly okay. The 1970s were a different time. There were hardly any resources for gay adults back then, let alone gay teens. You just kind of flailed around on your own, grabbing whatever bits and pieces of knowledge you could, from wherever you could dig them up. The Stonewall riots had only happened a few years previously, the only national gay paper, The Advocate, was hard to find anywhere except inside of seedy bars and grimy adult bookstores, and if you subscribed it came in a plain brown envelope. There was no Internet, no personal computers, no way of discovering the larger gay community beyond your doorstep, other then fumbling your way down to the city's one dank gay bar…not exactly the best place for a teenager to hang out.

Hopefully I can capture some of the sense of coming out back in those days for readers today, but not in a heavy handed way. The story I want to tell is mostly light-hearted, although it has it's dark moments. About a third of what you'll see as the series progresses really did happen to me…about a third is artistic license…and about a third is pure fantasy. It was a trip. I had great times, and I had terrible, awful moments that even now I really don't like to revisit. On the whole, I think I'd rather have grown up in a society that didn't give a good goddamn about sexual orientation. But I had to deal with coming of age, and coming out, during the Vietnam/Nixon/Counter Culture/LSD/Watergate/Long Hair and Bell Bottoms years. Black people were rioting for what decades of segregation was doing to them, women were fighting their way out of the 1950s womanhood straight-jacket, people were coming home from Vietnam crippled or in body bags, and hard hats were bashing long hairs in the streets. The adolescence we live is the one we're tossed into. This was mine. Mostly.