November 3rd, 2021
The One Thing A Thief Hates Being Called Is A Thief
This came across my Facebook stream today…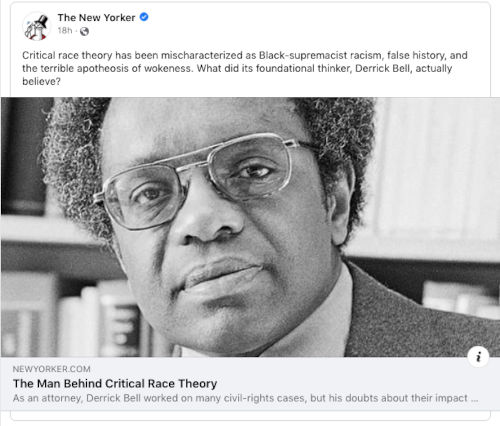 The text post enlightened me on details I hadn't heard regarding the kook pew complaints over CRT, especially the black-supremacist angle. That was a new one to me and it tweaked my interest. This gay man endured decades of seeing our struggle for equality labeled as us wanting "special rights"…in other words, more rights than everyone else. But really the complaint was we wanted more rights than bigots thought we deserved.
It's really stunning in its way, how equal rights, equal opportunity, equal justice, gets its most venomous pushback from exactly the direction you would, in retrospect, have expected. But there is always a learning curve.
There are those of us who grew up in the culture and simply didn't question it because it all seemed to perfectly normal. We were born to it. It was our daily lives. But then we began to see the foundations of that normalcy and it shocked us, and it called to our moral sensibilities, the very things we were raised to, all those days in the church pews, all those hours listening to the morality plays of our youth, and we began to work for change, not because we felt guilty, but because we felt a moral obligation once we could see the problem, to fix it. It was simply how we were raised. It's what you do.
But there were others who seemed to know intuitively that They Were The Problem, and you saw it in how outraged they became at even discussing the problem, and how furiously they denied there even was a problem.
If you don't like what you see in the mirror, it's not the mirror's fault. And I am not so much woke, as still that little Baptist boy sitting in the pews who was told that as you sow, so shall you reap, and though I am an atheist now, I still see the truth of that.