July 21st, 2021
Brood X, 2021…Not Entirely Done…
Brood X is but a memory now…but its mark can still be seen if you know where to look and what it is you are seeing. Here's a couple iPhone photos I took today at work. I've lowered the image size for the page here, but you can see them full size if you click on them.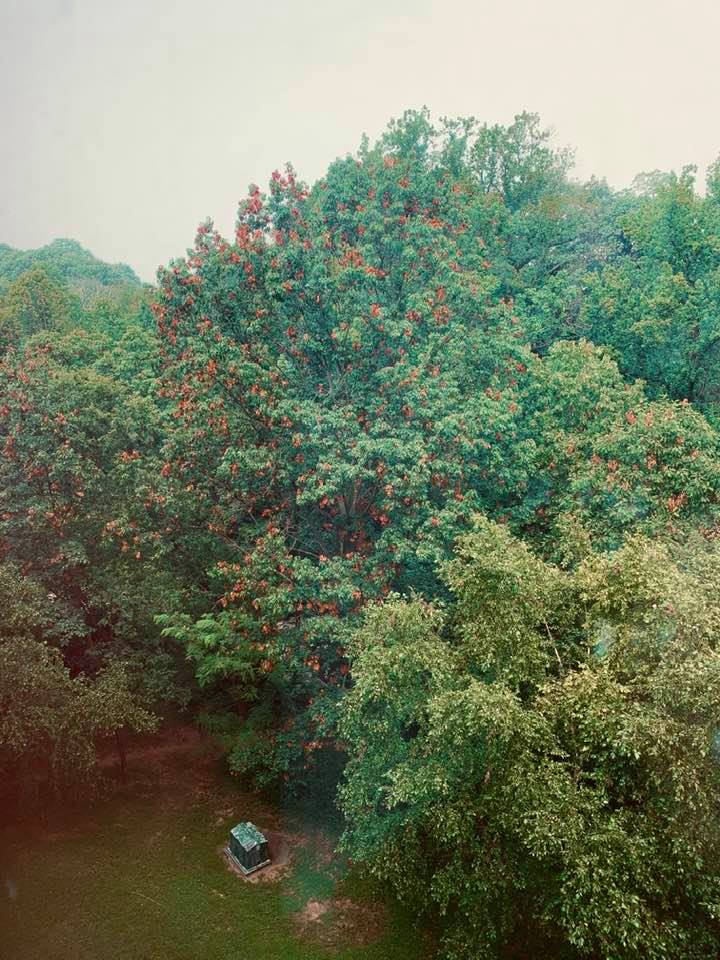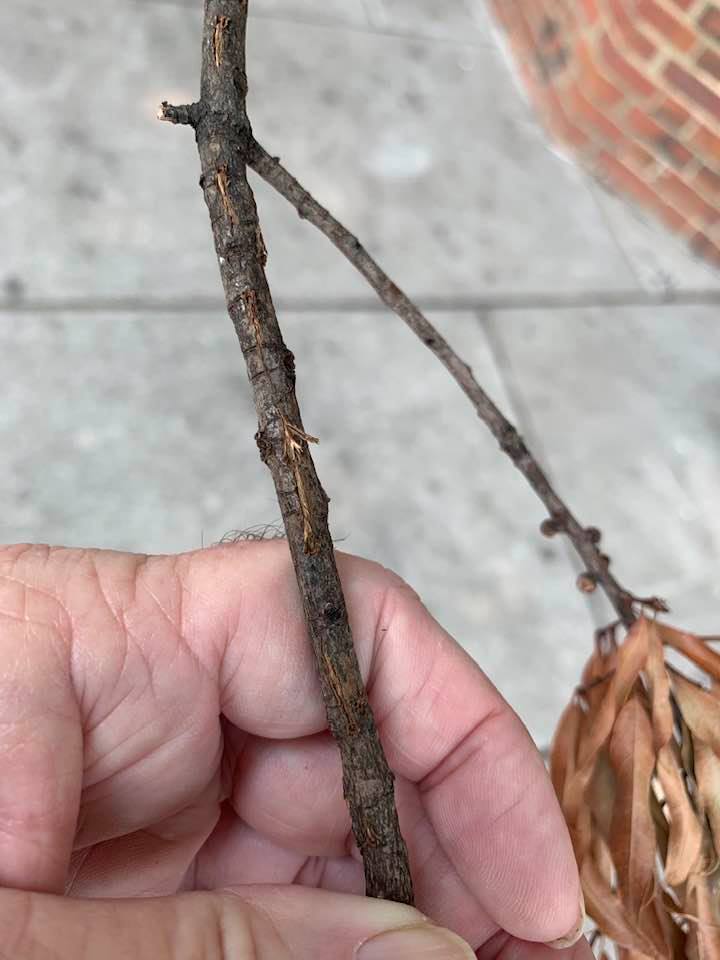 That first photo is of trees behind the Institute today, at the edge of Wyman Park. Those reddish branch tips are dead leaves where the females laid their eggs. Those branch tips have died off which is why the leaves are dead. Why did they die?
The second photo is of a branch end I picked up while walking across campus to get lunch (a thing I haven't done in 18 months but was able to finally do today). It had fallen from a campus tree. Lots of those have the same dead branch tips. Some of them are going to start falling off shortly. Maybe the wind blows them off. Maybe they just drop. Look carefully and you can see where a female made slits in the branch to lay her eggs in. What I learned this year was she also deposits some sort of egg nutrient that also prevents the tree branch from healing over, and locking the eggs inside. And so the tips of those branches die off and you start seeing the dead branch tips everywhere, on certain favored trees, sometime after the last cicada finished the last song of their emergence.
See all those dead branch tips in the first photo? This is why you cover small saplings with a net the years brood X is out and about. They can't handle it. The trees in that photo will just grow out new branch tips. I like to think they remember them fondly. Oh…I knew your great great great great great great great….etc times a zillion…grandmother cicada. I was just a young tree then and she needed a home for her children… Much of planet Earth's life cycles are vastly longer than our little three score and ten.
I've no idea whether the eggs had hatched or not so I tossed the branch over onto a grassy spot. Eventually the eggs hatch and the tiny little cicada nymphs drop to the ground and dig in, attach to a root somewhere, and their unique cycle of life continues. At least we get to know our parents, and maybe even our grandparents.