December 9th, 2020
Horrible Draftsman Is Horrible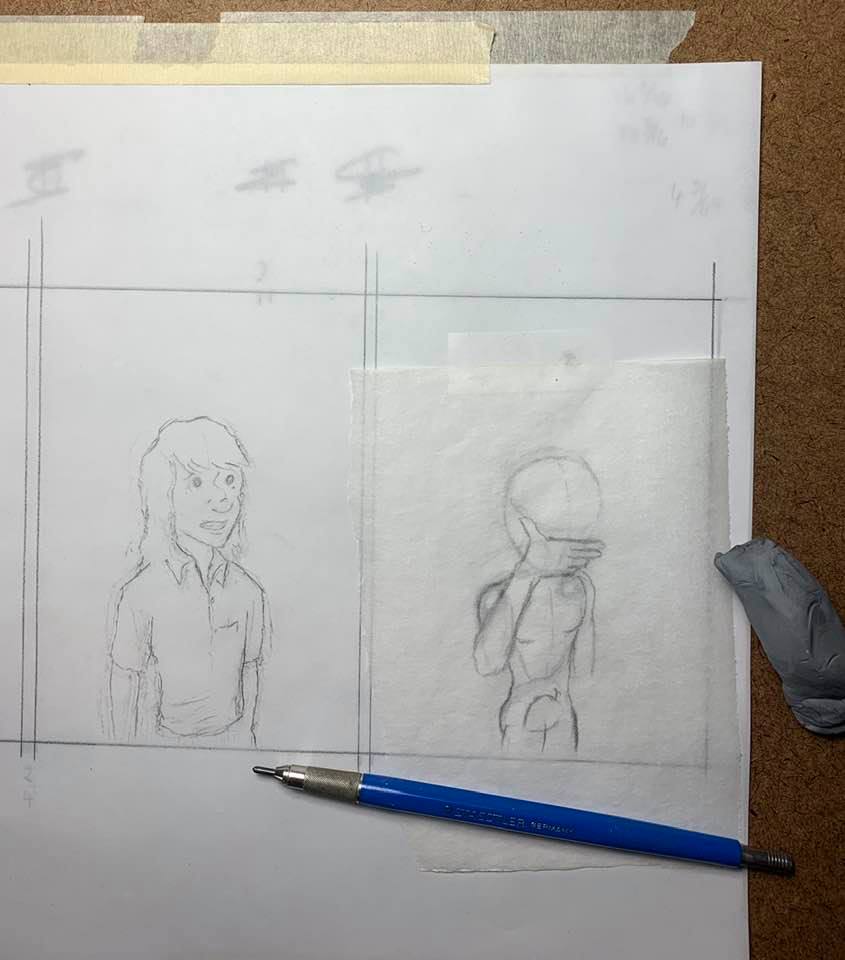 Last two panels of the last strip in episode 31. Notice all the erasure marks on the one on the left. No kidding, I really am a hunt and peck draftsman. It probably makes it a lot more work than it would otherwise be if I had more formal training. I just eyeball everything. But there is a method here to my drawing a figure and you can see a bit of it in the panel on the right.
I start with a bunch of circles and ovals and draw some rough grid lines over them and then start fleshing things out. Circles and ovals for the head, arms, abdomen and hips, a kind of odd triangular form for the chest and rib cage. It gives me a start on where to put things. I have no idea where I came up with this but it's something I've used to help me get a figure drawn for ages. I suspect it's stuff I've pulled from various artist's guide books over the decades. A kind of desperate dumpster diving for an art education.
Note the bit of tracing paper I've taped to that last panel. This is my crutch. This panel was, for me, a complex pose, and I needed to get it just right for the gag at the end of the episode to work. I made several starts on it and wasn't satisfied with about half of it, but the other half was in the ballpark. So I layed a bit of tracing paper over the part I liked to try various solutions for the part I couldn't seem to get right. Doing this, I can just toss the paper overlay when I see myself backing myself into a rut, and just start over fresh on another piece of tracing paper if I needed to. I can also move the tracing paper around to see if adjusting it this way and that makes it any better. This saves me from potentially erasing all the way through the drawing below it in a struggle to find the right lines…like I almost did on the left panel (which I'm still working on…). When I get something I finally like, I'll stick the tracing paper Under the drawing, trace over its lines to complete the drawing, and put it aside. Sometimes I just leave it there when I put the paper I'm going to do the inks over it.
There was more work to do but I know when it's time to just stop for the night and see what I see when I look at it again with fresh eyes in the morning. Which I did early this morning. I think I have it all good now.
So now it's on to the inks. The pencils are the hardest part of the work for me, and the most time consuming. And the part I'm always the most afraid of. But I think I'm finally learning that if I just keep struggling with it eventually I get it right. At least I'm getting more confidence in that.
Soon I'll lay another sheet of the same art velium over this one, stick them both on the big LED light board, and do the inks. That way…and again this is all because I'm really insecure about my drafting abilities…if I screw it up I still have the untouched pencils and I can start over with a new sheet of art velium. It seems the pros all just ink right over the pencil lines. I will never have enough nerve to do that.