December 5th, 2020
Trying To Maintain A Head Of Steam…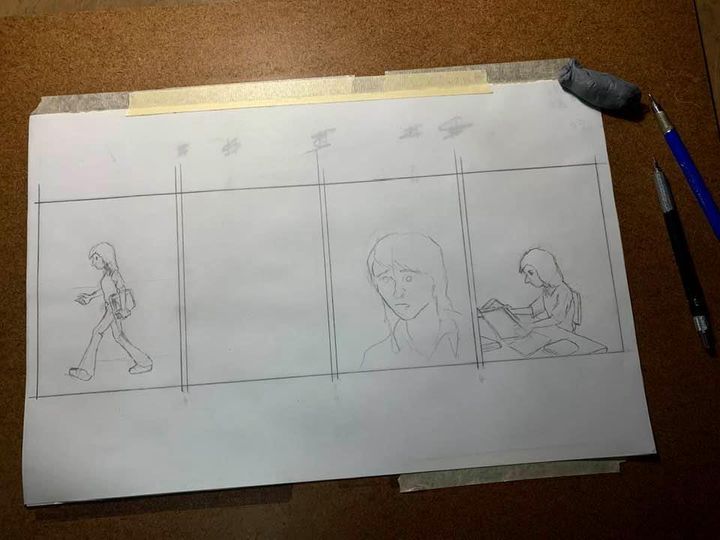 Starting the pencils on episode 31. Once again it'll just be three strips, four panels each. Maybe if I just treat it like it's a paying job I might get these done sooner. I want to get all three in this story arc finished by year's end…which is just a few weeks away so maybe that's a tad optimistic. The pencils are the most difficult part for me, since I'm really just a self trained hunt and peck draftsman. But mostly…I'd say four fifths of it, is overcoming my self doubts and just doing the work. Once I get into it and build up a head of steam for it, I can bang things out pretty well. The electric eraser (off panel in this photo) does get a lot of work though.
I have a template that gives me the size of each strip, and grid lines for two, three and four panels to a strip. I have saved line art that's just the two, three and four panel frames, that I copy over to the working line art file after I've scanned in the line art and copied it over to a master image file. If the panels are oddly sized I tweak it in GIMP using a transform tool that lets me extend or compress the panel sizes.
I've got all this down to a pretty uniform workflow, which is what made moving it over to GIMP a stressful process. But it turned out not to be so bad after all. Just a few tweaks to it and I'm back in business.
[Update…] Well well…I got the first strip pencils done…generally. There are still details to flesh out, but the essence of it is done. Took about two hours.
I need to remember this. I can do the work in a reasonable amount of time. Most of the time between episodes of this story has been dallying because I'm afraid of not being good enough to draw anything but crap.
Well…and not being able to figure out how to tell parts of it…
And it's true that some of what I've drawn in past years I'm appalled to look at now. But that's normal. You get better at a thing the more you do it. At this stage of my life I'm doing some of the best artwork I've ever done. I really need to stop being afraid that I'm no damn good.