December 4th, 2020
A Coming Out Story, Episode 30…Real Soon Now…
Final strip for ACOS 30 almost finished. I hope to put the new episode up tonight and make it public tomorrow morning. I've discovered I need to let my cartoons simmer overnight before going live.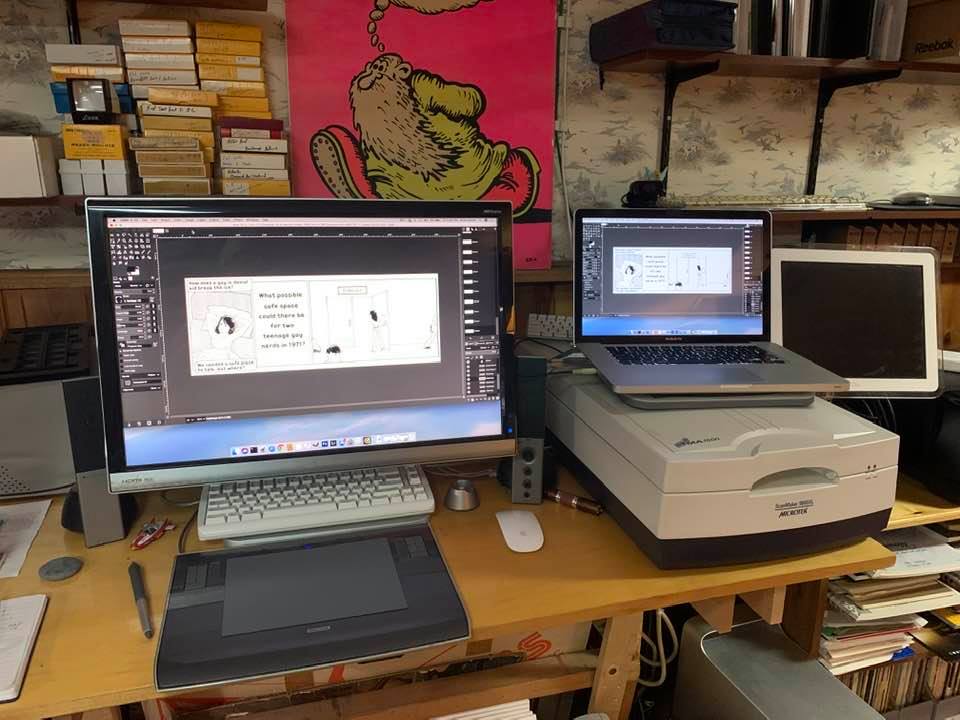 Notice I'm using GIMP now instead of Photoshop. After Adobe bricked the Windows copy I spent 850 dollars for I vowed to get myself off Adobe products. They claimed I'd somehow bought a "bulk" license that had expired even before I registered it. They'd let me use it for two years after the alleged expiration date. Then one supposes, since their new rental software business model wasn't such a big hit, the tweaked their license algorithm and remote turned off my copy when it failed the new check.
I called their support number to ask what was going on and that I'd spent serious money for that copy, and their service droid told me to be more concerned about all the money Adobe was loosing to Piracy. But I'd bought a legitimate license. They even let me register this so called expired license that cost me 850 bucks and use it for two years.
The wonderful thing about commercial software is there are so many different directions they can point their fingers to blame for customer abuse. Adobe of course can blame the vendor I bought the license from that they claimed was already expired when they let me register and use it for two years. But of course, after two years the vendor isn't much likely to refund my money. And more than likely they'll claim it was a perfectly legitimate license and it's Adobe that's fucking with me, not them. And the fact is, buried inside nearly everyone's licensing terms, is a clause allowing the vendor to change the terms of the license out from under you whenever they feel like it.
Think about that, those of you who think you have a permanent license for an Adobe product. 
So I've switched to GIMP, which has turned out to be a nearly perfect replacement for Photoshop. And it's open source. But there is one small problem.
GIMP has a well known problem with tablet input devices, like my Wacom. It seems there is a bug in GTK2 that they've been dallying with fixing for 5+ years (It's Open Source!), and the only machine that GIMP works properly on with my Wacom is the MacBook Pro you see here. So for the duration, that has become my art room computer.
Allegedly GIMP 3 fixes all that (real soon now!). There is a development release, GIMP 2.99.2, that allegedly has the tablet fix in it. But what you get, apart from a development release they tell you up front might crash on you at any moment, is a tarball that you have to compile.
I don't have an up to date Linux system (it's on my todo list) so I'll just stick with the MacBook Pro for now. I'm actually really happy with GIMP. It does some things I need better than Photoshop, and its quirks are easily adapted to. I have a reference document I've been working on that steps me through a How To in GIMP things I did all the time in Photoshop, like ingesting line art onto a transparent layer. (It's in Google Docs if there are any GIMP users here who want to look at it…message me) Moving and sizing objects on a layer is very odd in GIMP if you're used to the way Photoshop does it, but once you understand it the process is very straightforward. Likewise copying line art from one image to another. But I can do everything in GIMP that I once did in Photoshop…at least regarding my cartoons…so I'm happy.
At some point I need to work on moving my photography workflow away from Lightroom. They say there are lots of good alternatives, some of which work way better at things like noise reduction and shadow detail.