June 20th, 2020
The Things You Realize In Hindsight
I'm pretty much finished setting up a full paper darkroom down in the basement now. And somehow the entire house just feels different.
I've been posting this play by play adventure to my Facebook page because it's so much easier to just snap a picture of the work in progress with the cell phone and put it up there. But this is a big event in my psyche and in the thread of my life and that's exactly what I set up this blog to write down and it's inexcusable that I've neglected it here. So this is a start at remedy.
A couple years ago a co-worker offered me her grandfather's photographic enlarger. She was moving out of state and needed to shed some extra things and among them were what was left of her grandfather's darkroom stuff that she'd inherited but never really used. She wanted it all to go somewhere it would be appreciated and used and she knew I was a photographer. So she made me the offer of all of it including the enlarger.
At the time I'd made my peace with not having a complete darkroom. My rowhouse was small and there was no room in the basement to build such a thing. The previous owners had finished the front half which I was using as an art room. I had the drafting table set up there, and a desk for the art room Mac, and the two scanners, one for my cartoons and the other for my B&W negatives. There was a small half-ish bathroom in the back that I set up to develop film. It had a tiny shower that I didn't really need, and for a time I thought about taking it out, along with the good ol' boys bar in the front half, and building a paper darkroom in that space. But I decided I wanted to keep the bar, and the shower stall became a storage closet instead. Developing film and then scanning it in and doing the rest in the computer proved to be so much better than the labor intensive and now very expensive process of developing prints on silver bromide paper. Plus, the only photographic paper I wanted to use in my printmaking, Agfa Brovira, was no longer in production. The Agfa was so much better than Any of the competition I just didn't feel it was worth the effort if I couldn't get any. By then I had an excellent large format inkjet printer that makes very high quality B&W prints, so I was satisfied.
I told her as much, but then fatally added that if the enlarger was a Beseler 23c I'd take it, because that Beseler was the only enlarger I ever wanted. And it was true. I lusted after that one back when I was a youngster. Unlike the others it had a two rail construction which made it as sturdy as a tank. You could tilt the enlarging head on its side to project on a wall and do huge prints…providing you had a way to develop them. But living on a youngster's budget and having only the bathroom of the apartment mom and I lived in to use as a darkroom, the Beseler just wasn't in the cards.
Well…guess what kind of enlarger it was.
The deal was I would give her the first good print off of it. So I accepted and when I got it and everything she had boxed with it home I took an inventory and tried to figure out what I still needed and where the hell was I going to put everything. The back basement shower stall seemed the likely place to set up an enlarger table. I could turn off the water service to it easily and build some shelving to support it and store things like paper and trays and such underneath. But where would I develop paper? The little bathroom was too small to lay out trays.
I wasn't sure I could do it. Or where I would put things. And I still needed some things I didn't have anymore. I'd saved a bunch from back in the day when the thinking was someday maybe I'll own a house and build a darkroom. But I hadn't saved everything. I had the darkroom timer…a nice Time-O-Lite I preferred over the GraLab everyone else liked when I was a kid, mostly because it was all metal and the mechanism just fascinated me. I had the Very nice Rodenstock Rodegon 55mm enlarging lens I'd bought back in the day, but I needed a good 75mm one for the medium format negatives I had and that would be expensive. Plus a lens board for it. I would need negative trays for the Beseler in 6×6 and 6×7 format. I needed a new print dryer. The print flattening and glossing agent I used to use, Pakosol, wasn't made anymore. Agfa Brovira wasn't made anymore and what was worse in my opinion was everything that was available now was multigrade paper which Kodak Polycontrast had taught me to hate. The Beseler did however, have a much better arrangement for using them: a tray that was just below and above the negative carrier. Back in the day I had to use a clip on tray for my Polycontrast filters that sat below the enlarging lens and I just knew it was subtracting resolution from the print. But I would need to buy a set of multigrade filters too.
All told, I reckoned I would have to spend just over a thousand bucks to get everything back together again. The 75mm enlarger lens would be about half that expense, but I wasn't settling for anything less than a Rodenstock if I was going to do this. Then there would be the cost of the paper. Everything about analog photography is expensive now. Probably because it's only a few of us diehards that are still doing it,
I was a perfect storm of indecision. It's really hard for me to break out of one of those. So I dawdled over it. For two years now I've dawdled over it. And I began to feel guilty which only made me avoid it more. Then something just…came over me…and I had to do it. Maybe it was the lockdown. Maybe it was just the sight of that poor enlarger sitting on my dryer with a plastic bag over its head all this time. I decided to go ahead and spend the money for the things I still needed, and work through how to set up a darkroom in the back half of the basement.
When I lived with mom in the apartment in Rockville the bathroom sink was wide enough for me to place three 8×10 trays on it, with one actually in the sink. The enlarger sat on the toilet seat. I cut a drain hole in a plastic wash tub and put that in the bathtub to wash my prints. The sink in the back basement here at Casa del Garrett was much too small for that. There was just no room in there, really, even to develop film. I'd made it light proof so I could load a film tank, which I then took out to the bar in the front half and did my processing there. I could was the film in the film washer I'd kept from my kidhood, which I could connect to the faucet of the utility room sink in the back. But for paper I needed more space. Which meant I needed to make the entire back basement light proof. 
Luckily that wasn't such a big problem. The basement is two-thirds underground and the only outside light that gets in the back is through a small window that I could cover over. I made a light seal out of quarter inch black foam core and darkroom cloth I had left over from when I made the bathroom light proof. Then I sat in total darkness back there for about ten minutes while my eyes adjusted to make sure it was all light proof. After a while I was able to detect a couple small light leaks. I patched them and did the experiment again. It was all good.
I needed to figure out how to layout a darkroom there. The bathroom took up a lot of the space already. But the shower stall in it could hold the enlarger. The washer, utility sink and furnace were on one side of the back basement opposite where the shower stall was built. In the other back corner I had my dryer, and a chest freezer…the tops of both were about even and at the right height to set my developing trays.  I could put a safelight in the rafters above.  I began work on setting up the enlarger in the shower stall, but first I needed a place to put everything I was storing there. So I had to build some more shelving and redistribute some things elsewhere in the house. Here's the mostly finished result…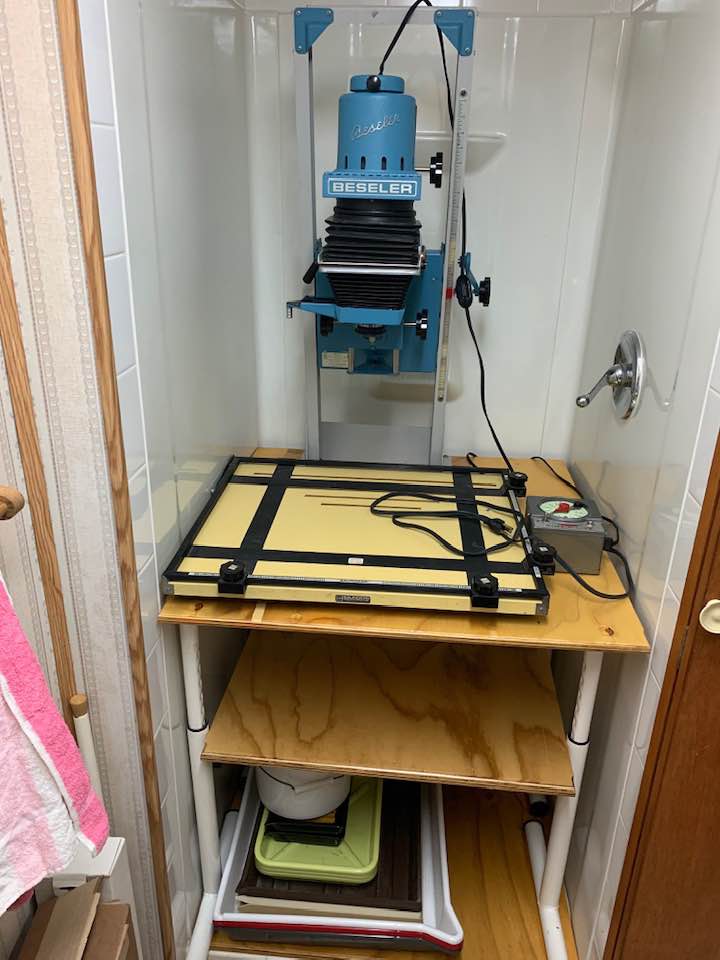 Running electric cords to the Time-O-Light was all I needed to do. The Time-O-Light controls both the enlarger and the safelight I put up near the ceiling. The shelves can store my trays and negative carriers and such. 
I think I have everything ready now. In a little while I'll mix up some chemistry and make my first silver print in something like 35 years I think. I'd stopped in my mid to late 20s after I accepted that I'd never be a photojournalist. Later, when I did begin getting newspaper gigs again, mostly for Baltimore OUTLoud, it would all be digital anyway. I had what was left of my print darkroom things stored away in a box for decades, only to get the film development stuff out when I bought the house, and set up a film only darkroom in the basement bathroom. The rest of it just sat in the box. Until my co-worker, Courtney, gave me this enlarger.
It's odd…I bought the house in 2001, but now somehow it feels more like it's really mine now that I've set up a full darkroom in it.The art room was certainly me. Pretty much everything in the house by now is me. But all this time one essential piece was missing. When I give Courtney her print later, I need to thank her for bringing me back to this, and back into a place I didn't really know I was missing for so long. The house is complete now.