June 12th, 2020
We Must Turn Our Rage Into Action. . .
A Pulse survivor speaks…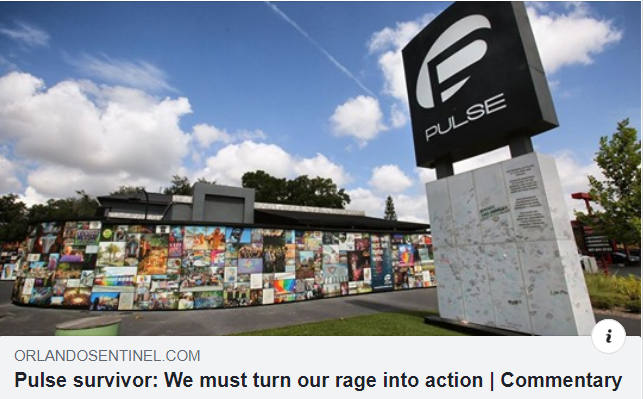 I remember the thumping Latin music. The unbridled joy of a space safe for me to bring my whole self. A plastic cup teetering on the edge of a bathroom sink. Gunshots — endless gunshots. A panicked sprint for the exit. I remember waiting on a street corner for news, dialing my best friend Drew's number countless times. I remember when I finally realized he would never pick up. By sunrise, 49 people, including Drew and his partner Juan, had been killed by a man filled to the brim with hatred and armed with weapons of war… – Pulse survivor: We must turn our rage into action, The Orlando Sentinel
Probably the most heartbreaking thing I read in the aftermath was from a homicide detective investigating the scene. He was new to the job and had always thought homicide scenes would be quiet as the detectives worked it. But this one had the cell phones of the victims constantly ringing, and he knew every ring was from a loved one desperately hoping for an answer that would never come.
Go read the whole thing. He links the shootings then to the police killings of unarmed black Americans now, and the bigotry and hate that fueled them both. We have work to do to honor their memories, and drag this nation inch by inch back to its promise of liberty and justice for all, and make it real.