June 9th, 2020
How To Experience Driving While Black In America Even If You're Not
Get a standard poodle…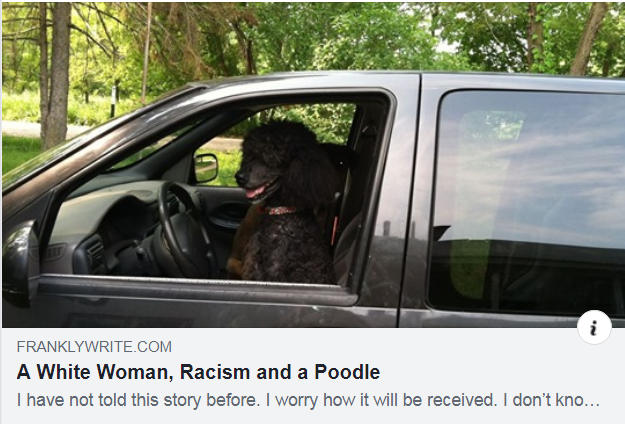 I have not told this story before. I worry how it will be received. I don't know the right language to express it other than my own thoughts and feelings. This post is not for people of color because they already know it. This is for white people living in suburbs and small towns who think this is a big city problem and "It's not my town."

Before moving to New York City, I drove every where. I got pulled over 3 times in 15 years; two speeding tickets and an illegal left hand turn.

The first year I was back in Michigan, I got pulled over 5 times. Each time it was for impeding traffic and I did not get a ticket.
Read her story. She got pulled over five times in one year, for bullshit traffic offences. Sometimes the cop walked up to her car and unbuckled his holster. One cop kept his hand on his gun the entire time, even after he realized she didn't have a black man in the car with her. It was her poodle, Merlin.
She notes in her blog post that John Steinbeck told of a similar experience of mistaken identity in his travelog, Travels With Charley. I first read Travels when I was a young boy, and it lit a fire in me for the open road. But it also told me a few things about my country that frightened me. Steinbeck drove through the south just as the black civil rights movement was gaining steam. The Warren Supreme Court had ordered schools to desegregate and the outrage in the south was already turning bloody. Occasionally people there would mistake Charley for a black man riding with him…
I went through Beaumont at night, or rather in the dark well after midnight. The blue fingered man who filled my gas tank looked in at Charley and said, "Hey, it's a dog! I thought you had a nigger in there." And he laughed delightedly. It was the first of many repetitions. At least twenty times I heard it – "Thought you had a nigger in there." It was an unusual joke – always fresh – and never Negro or even Nigra, always Nigger or rather Niggah. That word seemed terribly important, a kind of safety word to cling to lest some structure collapse.

-John Steinbeck, Travels With Charley In Search Of America
Not all poodles are toy size. I had a neighbor once who had a Standard poodle and I saw him walking it every now and then down our streets. They have a noble, regal poise and walk. Some dogs just know they're royalty. Like Charley, hers would have been sitting upright in the passenger seat, because to slouch is beneath some dogs. And she got pulled over five times in a year for bullshit traffic violations because the cop thought she was riding with a black man. And sometimes they unsnapped their gun holsters as they approached the car. And one even kept his hand on his gun the entire time, even after he realized her passenger was her dog. And that had never happened to her before.
Since Merlin died, I have not been pulled over once.
If you want to know what it's like driving while black in the land of the free and the home of the brave, buy yourself a "Standard" poodle (yes, that is the type) and drive around with it in the car. Fair warning though…you might get shot.