March 21st, 2020
Tales From The Plague…(continued)
Krugman this morning…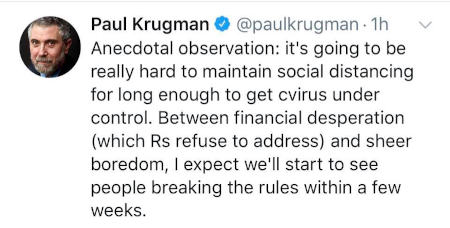 This is what I've been thinking the past few days. All week long the street has been full of parked cars during what are normally business hours. My neighbors on either side of me have to work. One is a nurse, the other works in a homeless shelter. Some neighbors further down are retired, but the rest normally drive to work in the morning. Last week they all stayed home. Just this morning my end of the street is nearly empty of cars. Saturday morning is a typical time to go grocery shopping. People at the other end still look like they're staying in.
A friend posts on Facebook…
"My introvert gene is saying, 'Now you know why I am here. I saved countless numbers of your ancestors from plague." This is just another step in ongoing evolution.
Heh…yeah. It's almost spooky how well I'm taking the new reality. My employer has mandated work from home for the time being, and I'm content to stay home, but I need to at least get out and take a walk around the block periodically. It's good for my mental health though I'm sure, that I can still continue to do my usual workday work even if it's here at home. Work from home is easy for me to do…mostly. I have an office laptop here at Casa del Garrett, with the secure VPN software installed, and I have good broadband internet via the Comcast borg. There's coming a time however, when I will have to go into the office to do system testing that cannot be done remotely. But that is being deferred for now.
My introvert gene is coming in very handy now. I'm lucky in that my winter stocks are still pretty good and I don't actually need to go shopping and won't for weeks. I have a house with things to do, deferred housework, work in the art room, film to develop and scan. I recently subscribed to Disney Plus and Curiosity Channel.
Plus I am an only child, and we onlies are almost preternaturally good at keeping ourselves company. When I need human company for the duration, social networking is fine by me. It was a lifeline when I was a young gay man, and I was an early adopter. I can definitely get through this without going mad. But I worry what Krugman there is worrying about. We need to flatten the curve for now, as much as possible.
I'm a heart patient. I'm fine, it wasn't nearly as serious as it could have been, and I'm taking my meds. But if my heart starts acting up again, it would be nice to have an opening at Union Memorial. I probably won't need it considering how good I'm doing…the stents seem to be settling in nicely. But it is a worry.