February 15th, 2020
The Tao Of Love And Automobile Maintenance…Not Exactly In Harmony
Mercedes-Benz USA has some advice for the lovelorn this Valentines Day…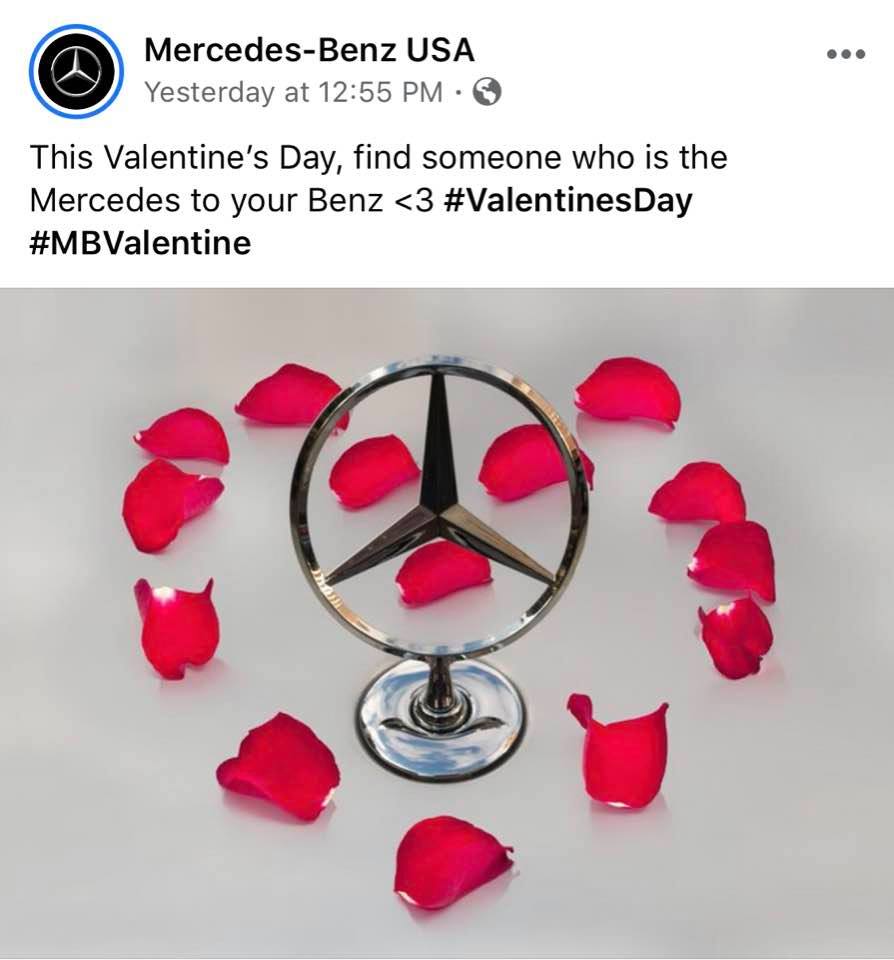 Yes…of course! A German boyfriend who is everything I ever wanted, good looking, solid, reliable, goes the distance, and a great ride, but periodically requires me spend thousands of dollars on him for maintenance. 
I don't think the word for that is boyfriend.
A few days ago the cabin overhead lights in my car, a 2012 E350 Bluetec, went out. The map lights still worked, as did the rear cabin overhead light. But the main overhead light up front, just in front of the rear view mirror went out. The lights (there are two) are inside a ceiling panel with switches for the map lights, the rear cabin light, the sunroof and the emergency call system. Everything else was still working so I figured it was either a bulb or a fuse.
The other day I took the car to the new Mercedes mechanics I've been using in Westminster. They're the folks who did the couple grand DEF tank heater replacement for about 500 bucks less than the dealer quoted and gave me a two year warranty on the repair which the dealer would not. I've been using them ever since and regard them highly. Today I was wanting my usual between regular service interval oil change, plus an inspection for the road trip to California I'm taking in March.
I got a call from them shortly after I got back to the office. They were recommending replacing some coolant hoses and a few other simple items. Then they got to the overhead cabin lights. It wasn't a bulb or a fuse. There was an error code on the entire front ceiling control panel. It would have to be replaced. Cost: about a grand. The part was that expensive, I suppose because it controls all that other stuff too.
Mind you everything else is still working. It's just the overhead cabin lights that aren't. So…dig it. One-thousand bucks just to get my overhead cabin lights working again. This is what comes of jamming everything onto a single electric panel that nobody but Daimler can make because of the proprietary firmware embedded into it.
I found a source for one second hand, presumably from an accident car, for $75. This is versus the $750 the part costs from Daimler. For $75 I can take a chance on it working. Installing it is a bit tricky, but not beyond my means. But there is a catch. Having all those other features in it may still make a do it yourself repair impossible. One gotcha could be resynchronizing the sunroof. From what I read in the Mercedes forums some people get the sunroof synced on the first try. The steps for doing that are pretty simple. But other people never get it right. Then it has to go to a certified Mercedes mechanic with the certified Mercedes computer diagnostic and programming equipment. My mechanics have already told me they won't work on customer supplied second hand parts because of liability issues.
So anyway…about Valentines Day this year…Dear MBUSA, I appreciate the thought…really…however…

The object of my affection and I are going through a rough patch these days. And the car too.  I really need to stop letting Germans get me twitterpated.