November 27th, 2019
Howard Cruse Has Passed The Torch…Pick It Up…Carry On…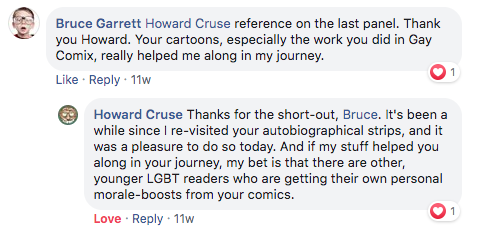 Last September I posted a link to the most recent episode of A Coming Out Story, that I'd managed to get out while vacationing at Walt Disney World. It's part of a story arc I'm interleaving with the point in the story where I finally, Finally, come out to myself. The last frame has a shout-out to Howard Cruse in it…something I'd remembered from a one off cartoon he did for The Village Voice titled "Sometimes I get so mad…" It's about all the static gay folk get from all directions in American culture and how that makes you blow your stack from time to time. You just want to live your life and people who don't know you from Adam feel free to harass you and it takes its toll. At the end of it is a young Howard, sensing his emerging sexuality, trying desperately to find some facts about homosexuality, nervously looking through the pages of a paperback titled "A Pocket Guide To Loathsome Diseases" by one Doctor Pompous J. Fraudquack, and thinking maybe he'd finally get some facts there.
I knew the feeling all too well, even though I was nine years younger and in 1971 coming out to myself in a theoretically post Stonewall world. It would be decades before the effects of Stonewall and the first ever Pride march a year later would make themselves felt much beyond the confines of the big urban gay zones. For years after I came out to myself, everything I knew about homosexuality and what it was to be homosexual were things I'd been taught by the heterosexual majority. A lot of it was hostile and damaging to a gay teen's self image. It wouldn't be until the advent of the personal computer and those first amature computer bulletin boards that we didn't have to see ourselves through heterosexual eyes anymore and liberation came to the suburbs and the rural zones.
The main theme of A Coming Out Story isn't so much about what happened to me back then, or the guy I was crushing on at the time, and what happened to us both, but the context in which it happened. I'm trying to tell it in a humorous way, because looking back on it there is a lot there that I can laugh about, thankfully, with an older man's perspective. But it wasn't funny then while it was happening to me, and if I'm trying to say anything with this story it's that the world needs to give sexual minority kids a break. It's difficult enough at that age to navigate your way through the dating thing with all those emerging hormones percolating through your body. Being the outliers in that dance is harder still. Beating up on the gay kids, damaging their ability to love and accept love from another, only serves the hate filled worst among us…all the little Dr. Fraudquacks who taught us to hate ourselves, or at minimum, distrust our hearts, believe ourselves to be damaged goods, unworthy, never to be loved. It snowballs, all the love that could have been given, and now will never be, on and on and on. And so the world gets smaller, and angrier, and darker. That is what the Dr. Fraudquacks are doing to all of us.
I posted a link to the episode when I finished it and got it out on my website. Then in a comment, I gave Howard a shout-out, as to say Thank You…I remember this little one off you did and it spoke to me and I just want you to know you made a difference. Over the years I'd told him this often. But you can't thank people like him enough. Trying to make a living at art is a hard, hard path. Doubly so if you dare to be an out and proud gay cartoonist. He never got the commercial success and respect he deserved and I'm convinced that was why, because as a storyteller and draftsman he had very few peers. Seriously…look at his lines. They're perfect. Every one. Compare his draftsmanship to Any commercial cartoonist you like. The polish he put into everything he did, no matter how small or trivial, is intense.
He was at the top of the art form. And as a storyteller he was among the best. There's his magnum opus, Stuck Rubber Baby, of course. But look at some of the amazing work he did in Gay Comix. Billy Goes Out for instance. At its surface it's the story of a young gay man hitting the backrooms for some quick anonymous sex. But look deeper and there's a heartbreaking story of love found, and lost to hate, and the struggle to go on with life, somehow, after the worst has happened. There's one panel in it that is I think quintessential Howard Cruse in its surreality while looking life's bad moments right in the eye and not flinching. Earlier on in the story we've seen one of Billy's older relatives instructing him to keep the gay thing in the closet for the sake of his career, and in another panel telling him off handedly that homosexual love was just mutual masturbation. Billy explodes on him while his boyfriend Brad tries to calm him down. Who are You to tell us how we feel!  Then toward the end of the story we find ourselves looking down on that older relative's grave site from above, the coffin in the ground being shovelled over by a graveyard worker. But the coffin is open and the relative is looking back up at us as his grave is being filled in, saying that his married life was horrible and he hated every moment of it but at least he has someone to cry over his grave. And, one supposes, he knows Billy won't. Because homosexual love is just mutual masturbation, and his marriage however much he hated it, was more real than Billy's love for Brad. The scene creeps you out. Howard gave the chillingly heartless mindset of the bigot its perfect representation in that one single amazingly and meticulously drawn panel.  
So when I posted a link to my newest ACOS episode I waved at Howard, because his example is a big part of why I keep working on it. And as he always did, because he had a big heart, he waved back, and encouraged me to keep at it, that I was making a difference too, just by putting my story out there. You get encouragement from one of your heroes and it really lifts you up.
And now I am more determined than ever. I'm going to miss him. But looking through the tributes he's getting from the community…cartoonists, activists, family and friends…it does my heart good to know he Was successful at the most important thing of all. By coming out and telling his stories, he made a difference, a real substantial difference, in people's lives. He was loved. He touched so many lives. And he showed us that we could make a difference too…all of us…whether by art or activism or however…by being our authentic selves, and telling our stories. That is how you defeat hate.