October 30th, 2019
The Evil Homosexual Bad Guy Who Must Die To Avenge The Heterosexuality Of The Heroes…part the upteenth…
This post from the Hollywood Trade paper Variety came across my Facebook stream this morning…
'Stargate' at 25: How Roland Emmerich's Sci-Fi Classic Overcame a Chaotic Birth
Where to I send the Condolences On The Birth Of Your Classic Evil Gay Who Must Die movie? I know lots of people like this one, I can see that fact every time it comes up, but it really stuns me how nobody notices the homophobia in the portrayal of the evil gender bending alien villain played by Jaye Davidson, just after his role in The Crying Game.
There's a scene I particularly remember, where the Wimpy Nerd Who Needs To Learn How To Be A Real Man played by James Spader is ushered into the presence of Ra, who is seated on his glamorous bed behind a silken screen being attended to by his muscular nearly naked servants and young nearly naked boys. We see Ra behind the silken curtain slowly combing his long luxurious hair. Tell me this wasn't meant to push the buttons of every teenage/young adult heterosexual male in the target audience. You know…the age group most responsible for violent gay bashings. Ra's a godamned queer!! Ra must be destroyed!!!! Pass the popcorn…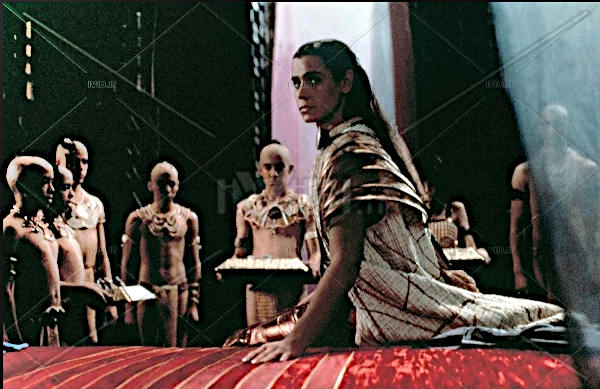 I suppose it gets easier after you've made your first box office million or so injecting this poison into young males, to ignore the newspaper articles about violent gay bashings and murders. Vito Russo would have had a field day with this movie. God how I miss him.