October 30th, 2019
Throwback Thursday Only Wednesday
Facebook tossed this memory back at me earlier today…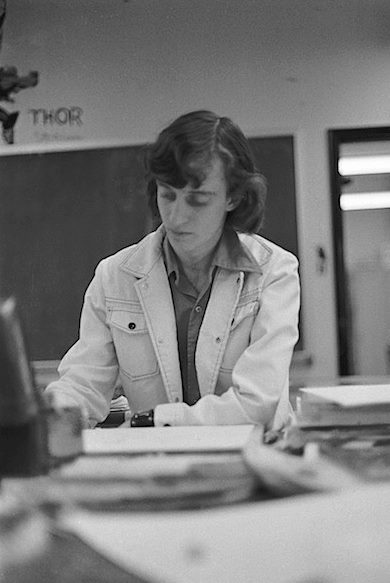 This is the winter of 1971. I'm 17. The artist at work. 
I love this one, unruly hair, oversized canvas jacket that I thought was oh so stylish, and mismatched shirt collar though it is. It was taken by a friend with my camera for possible inclusion into the yearbook. In my senior year I was staff cartoonist for the student newspaper (The Advocate…really) and was also made staff photographer after the previous one had a tiff with the editors and quit. What I like about this shot is my friend actually managed a snap when, for an instant, I got into the drawing I was working on and was actually concentrating on it there for a moment. It's not often I get to see my concentration face.
I'm posing at one of the art room desks, not pretending to draw but actually drawing one of my newspaper cartoons. Even though the shot had to be posed I insisted I would be working on something for real, not faking it. That has always been my photographic style. In this shot you can't see my hand with the pen in it, but that's the drawing on the board and paper in front of me. The tackle box also in front of me is typical. The artist's tool boxes they sold in art stores were Expensive and I noticed they looked a lot like the tackle boxes they sold in the sporting goods section of most department stores, which were a lot cheaper. To this day I have a tackle box full of drawing stuff on my drafting table.
And this by the way is why to this day I draw on a horizontal surface and not with the drafting table top tilted at an angle like I see a lot of other artists do. All my grade school art rooms had tables like these and I just got used to drawing that way. And see the board I have the paper on. I still cut Masonite boards to use for drawing and tape the paper on them. Then I have the paper on a nice smooth solid surface I can turn this way and that while I'm working on it and even tilt if I really need to.