February 24th, 2019
Still Discovering Our Past
I've written previously on this life blog of the importance of uncloseting gay people in the history books, and especially uncloseting the history of anti-gay bigotry and persecution. And I've asked anyone dropping by this blog and those posts to consider how many times they've heard comparisons of the struggles of gay Americans and black Americans denounced because gays never were sold into slavery, never had to ride the back of the bus, never were denied the right to vote. Or comparisons with antisemitism denounced because gays were never herded into extermination camps. How many times have you heard the struggle for gay equality dismissed as the pastime of privileged rich white men. How often have we heard, and still hear, that laws protecting gay people from discrimination are unnecessary, are really just about seeking social approval.
The naked fear among bigots isn't that homosexuality will be normalized, but that their crimes against so many innocent people will at long last get put under the spotlight of history and they will finally be seen for what they are, not righteous defenders of decency and morality, but predators, proudly ignorant, stunningly immune to any reflex of human sympathy, hungry, ravenously hungry to fill the empty void within them where a heart should have been, with the hearts of others, and all their hopes and all their dreams.
If you don't have a gay history bookshelf at home, I strongly recommend you start one. Find a little corner somewhere in your nest, get a nice little bookcase from Ikea or some such, and prowl the second hand book stores for titles like And The Band Played On, The Celluloid Closet, A Glimpse Of Hell, The Verdict of You All, Anything But Straight. Or look for some titles more recently published and still in print. Loosing Matt Shepard, The Lavender Scare, Sex Crime Panic, Hoover's War On Gays. No matter how well you think you know our history, every corner of the gay chronicles has something in it to stun. How did I not know this?? And if it makes you angry, so much the better. Put that anger to use in the voting booth, and in activism to make sure it is never closeted again, along with all of us.
Today I learned something new, courtesy of Peter Thatchell…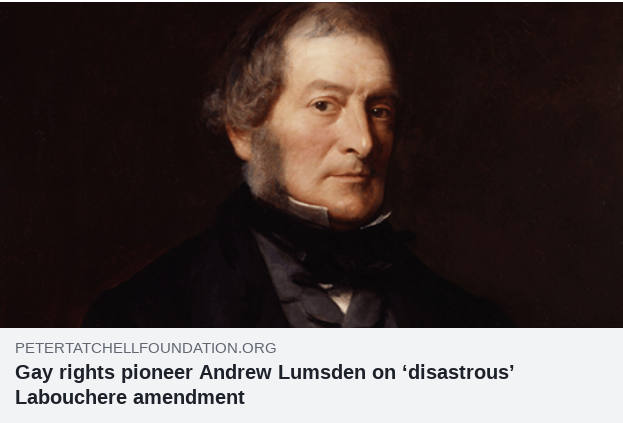 Sodomy at the time was already a crime in Britain. Labouchere's amendment to the law criminalized any sexual activity between men. This man's work is why Oscar Wilde, Alan Turing, and so many others went to prison. It has some resonance with one of the books I recommended above, The Verdict of You All by Rupert Croft-Cooke, who was arrested in his home in 1953 and charged with a "homosexual offense".  
"Croft-Cooke was a homosexual, which brought him into conflict with the laws of his time. In 1953, at a time when the Home Office was seeking to clamp down on homosexuality, he was sent to prison for six months on conviction for acts of indecency. Croft-Cooke's secretary and companion, Joseph Alexander, had met two Navy cooks, Harold Altoft and Ronald Charles Dennis, in the Fitzroy Tavern near Tottenham Court Road in London, and invited them to spend the weekend at Croft-Cooke's house in Ticehurst, East Sussex. During the weekend, they consumed food and alcohol and had sex with both Croft-Cooke and his assistant. On their way home from the weekend, they got drunk and assaulted two men, one of whom was a policeman. They were arrested and agreed to testify against Croft-Cooke to get immunity from prosecution for the assault charges." –Wikipedia
After Oscar Wilde was convicted, Labouchere expressed regret over the shortness of his two year sentence, which was actually the maximum but not the seven year maximum Labouchere had originally proposed.
This man's evil remained on the books until 2003, and to this day remains on the books in many former British colonies around the world, where the U.S. religious right keeps itself busy inflaming religious passions against gay people who cannot speak out for themselves without risking a knock on the door and being disappeared. The sodomy laws not only erase us, and our history, they give bigots free rein to tell any filthy lie they can think of about us, without fear of the open sewer they call a conscience being exposed for what it is.
Those fears are now being realized, at least for some that still live. This is why they fight so fiercely against the teaching of this history in the schools, why they support maintaining sodomy laws still on the books, and dream of reestablishing them where they have been repealed. Labouchere is in the grave now, safe from the judgement of history, and one can wonder if karma ever came to visit him while he still lived. But that question is less meaningful for us today than how we remember the lives he managed to destroy for the sake of the emptiness within where a heart should have been, where their should have been kindness and sympathy and love, that no amount of feasting on the hopes and dreams of others can fill. Living our lives openly and proudly is only half the work. Our history must come out of the closet along with us. We must tell our stories, and also the stories of those who came before us, who could not speak openly of their lives while they lived.