February 7th, 2019
Guten Appetit Little Guys!
Back again Valentine's Day? I thought I told you to never speak to me again. What's that? Gifts for my spouse? You know perfectly well I've never had one of those. Gifts for my boyfriend? You jerk…you know I've never had one of those either. Gifts for my secret crush? Hahahaha…I don't keep secrets like that from someone…I'm an artist, I wear my heart on my sleeve. You just want to sell me a paper one to give to someone I love that they can throw in the trash a few days later. I'm not biting. I've had my real heart tossed in the trashcan many times. Go Away!
What's that? a gift for my ex? I don't have an ex…exactly. But now you've piqued my interest. You sly devil…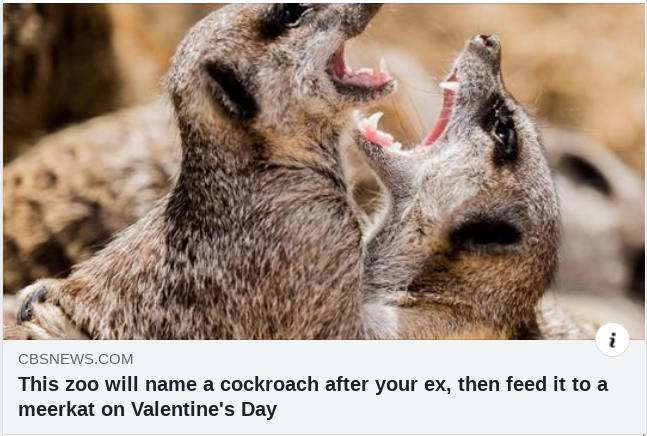 The El Paso Zoo isn't the only zoo offering a non-traditional Valentine's Day promotion. The Hemsley Conservation Center in Kent, England, will name a cockroach after your ex in exchange for a donation. You can also name a roach at the Bronx Zoo, which calls them "eternal" and "timeless" gifts.
Happy Valentine's Day! I named a cockroach after you.
I told you never to speak to me again. And could you be any more adolescent? You're a piece of work.
I had it fed to a meerkat.
Gott im Himmel…
Valentine's Day…I think I'm in love with you again. Guten Appetit!