February 3rd, 2019
Rainbow Mouseketeers Still Not Part Of The Show…
…at least not here, not yet. This came across my Facebook news stream last week…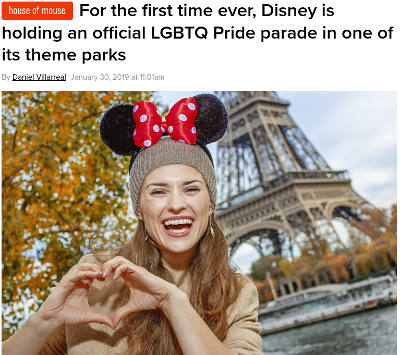 …and I was overjoyed. The parade was to happen on June 1, to mark the start of Pride Month, and I immediately put in for vacation time for the first days of June so I could be there. But in my delight I wasn't paying enough attention to what I was reading.
I thought they meant Disney Paris in Epcot at World Showcase Lagoon, which is a completely natural reaction if you've ever been there. I'd been to Gay Days at Walt Disney World and Gay Days is a very big deal there. A certain someone (Hi There!) who works there once told me it was one of their biggest money making weeks. So I just assumed we were finally official there now, and I put in for vacation time at work and was seated at one of my household computers just about to make my hotel reservations, when I looked up the article above again to verify the date and realized it was going to be at DisneyLand, not Disney World.
But that was okay too because Disneyland was where Gay Days all started back in the 70s, after a same-sex couple started dancing at one of the dance spots there and got thrown out of the park and the Los Angeles gay community came back in numbers too big for security to deal with. Everybody went into the park wearing a red shirt to self identify as being part of the protest. The genius of that was they couldn't just toss out every guest wearing a red shirt, but with so many of us in there it would have been obvious that red shirt = gay guest. I'm told that as the day went on some straight guys began taking off their red shirts. But it was a success and after that event (they used to call them Zaps) it became a regular thing and eventually it migrated east to the World too.
I went to Gay Days at Walt Disney World a few years ago and it was a lot of fun…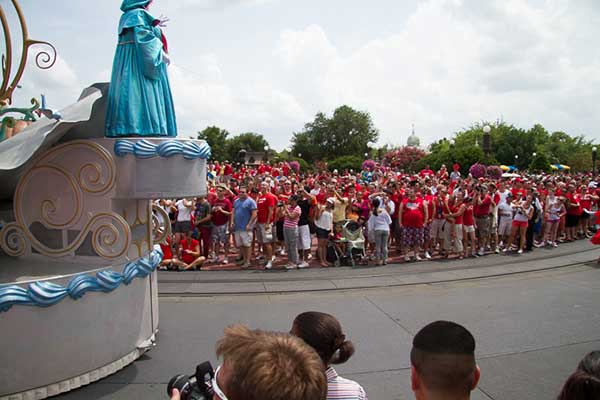 Gay Days Revelers Receiving The Blessing Of The Fairy Godmother
Yes I cut off her head in that shot. I had to hold the camera up over mine to shoot over people's heads. Otherwise this would have been a great shot.
And we still wear our red shirts…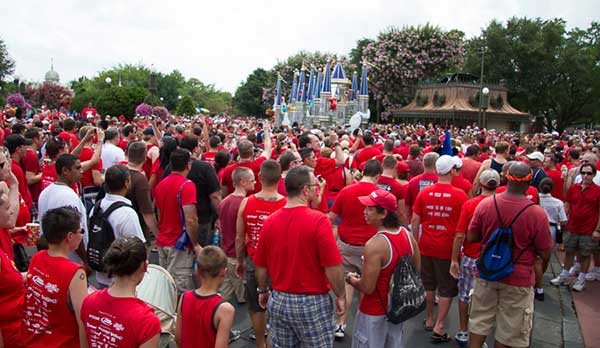 …though nowadays our shirts bear the trademarks of all the businesses lending their support to the event…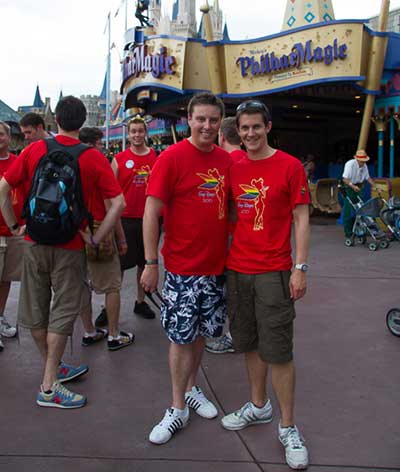 …and some of us even make custom designs on them. I thought this was really cool. Someone at Disney must have thought so too because a few years after I took this a Tinkerbell with rainbow wings pin was being sold at the pin traders kiosks.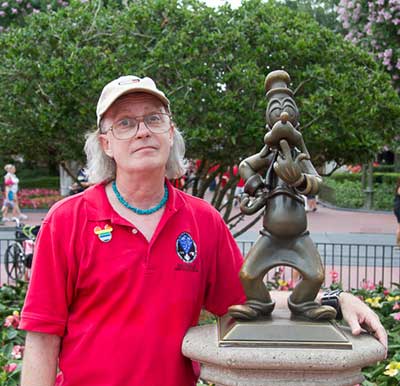 And of course I wore my red shirt, but it was one I got at work with a Hubble servicing mission patch on it, to show some space cadet pride too.
So, thinks I, Disneyland is finally making us official. That's Wonderful! But I wondered where they'd put a Paris pavilion in the Anaheim park.
Then just this morning I see this article…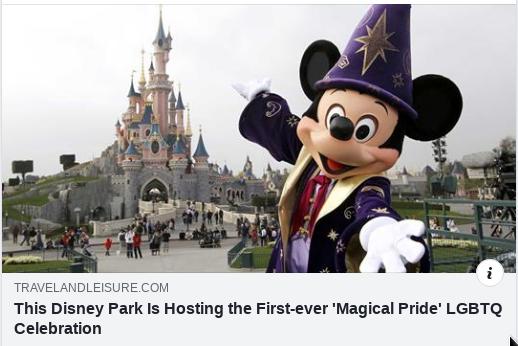 …and realize, hey, that's not the castle at Disneyland. Oh wait…they mean Paris France. I keep forgetting there are more of those things around the world now.
And now I'm a bit ticked off. Not at Disney, I know what they're doing…they're still afraid to officially acknowledge us here in the land of the free and the home of the brave because our religious right nutcases who probably never set foot in a Disney park anyway (Holyland Experience theme park is just down the Interstate for them…) would raise a shitstorm….as they'd say in Epcot Germany.
And there's already been one mass shooting at a gay nightclub in Orlando…
And attacks on patrons coming and going near other gay nightclubs and in gay neighborhoods in this country are on the rise…
So it still can't happen here. But after the Pulse shootings Disney got a lot more gay friendly and it was so gratifying and you can tell they wanted to do something more. But they still can't do it here. Not in the time of Trump.
So I cancelled my vacation request at work. Gay days is a lot of fun, but not so much when you're single and none of your hometown gay friends want to go with you because they don't like all that Mickey Mouse stuff. I have two DVC vacations planned for this year and that'll be enough pixie dust for 2019.