December 9th, 2018
Train Ride!
By this time next Sunday, if all goes well, I should be in my Viewliner roomette on The Cardinal, now past DC Union Station and the engine swap (electric to diesel) and somewhere in Virginia, heading to Chicago by a circuitous route through Charlottesville, then to Charleston West Virginia, Cincinnati and Indianapolis. A friend will be house sitting and cat sitting while I'm away. It's a strange route but it gives me a roomette the moment I step on the train in Baltimore, all the way to Chicago. They say when the leaves turn in autumn it's one of Amtrak's most scenic routes.
I'll have a five and a half hour layover in Chicago, which given how nice Chicago Union Station is it won't be a hardship at all. And I'd rather have a buffer of many hours between trains than the less than an hour I have in LA to get off the Southwest Chief and onto the Pacific Surfliner. A late train could make me miss that connection. I'd still have options, but I really want to take that train just to watch the California coastline pass by. Also, that line runs right past the ancient ancestral Garrett homeland so it's a nostalgia thing too.
Really looking forward to it. On the two night two day trip on the Southwest Chief I sprang for a full sized bedroom compartment with its own bathroom and shower. I did that at the last minute on the trip back last year and it's the only way to go on a multi night journey. But last minute tickets are at the max price. This year I bought mine back in April and that put the cost over a roomette at half, or in other words I get it round trip for the one way price I paid last year.
Below is the layout of the Superliner sleeper cars. The difference between Viewliner and Superliner is the Superliners are double deck cars whereas the Viewliners are single level. Viewliners are used between Boston and Washington DC because the double height Superliner cars won't fit through the tunnels in the northeast corridor. This is why the Cardinal, which runs from New York to Chicago, is a Viewliner. Nice thing about the older Viewliner sleepers is the roomettes all have their own private toilets and sinks. But that is awkward for couples traveling together so the next generation of Viewliner cars won't have toilets anymore, but I've heard they still have their sinks. I'm hoping my car on the way to Chicago next week is one of the older ones. It's a pain in the neck to have to get dressed in a tiny roomette to go to the bathroom in the middle of the night. This is why I'm paying extra for the full size bedroom on the two night trip from Chicago to LA. That and my own shower. Plus the beds are a bit wider.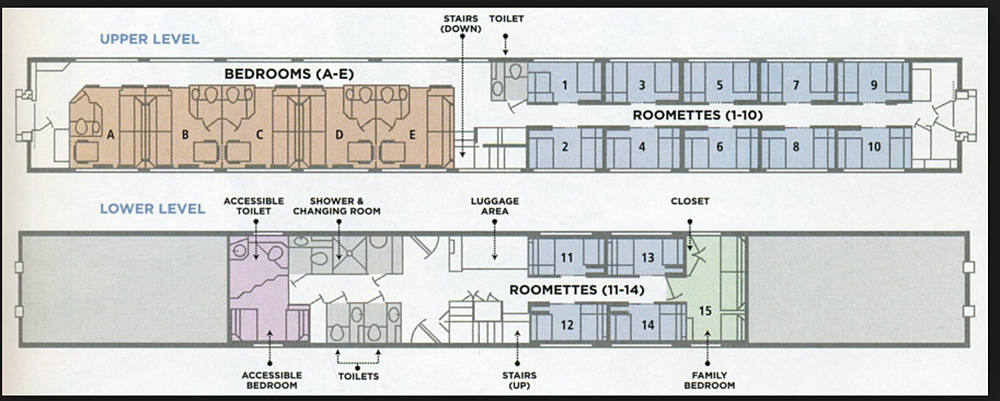 The train is still Very pricey if you get a sleeper, versus just riding coach. But overnight in coach is not fun and the sleeper cost is about what I'd be paying for a road trip anyway. It's the motels mostly that drive up the cost. On the train I'm carrying my room with me and meals in the dining car are included in the sleeper price. Plus I'm not doing any of the work (and neither is my car). I can relax and watch the scenery go by. I still love the road trip, and want to do more of that when I get a chance, probably not until after JWST launch and commissioning. Maybe. But if I'm just wanting to get from point a to point b and it's a vacation the train is now my preferred way to travel.
Until at least, the current Amtrak CEO makes travel by passenger train just as miserable as he made it for the passengers on the airlines he used to be CEO of.
I did this last year, more or less, and it was Wonderful. Last year I took a local from Baltimore to Washington DC Union Station, and from their picked up the Capitol Limited to Chicago, and there I got the Southwest Chief. The Chief runs the same route as the legendary Santa Fe Super Chief and it is the fastest route from Chicago to California. Hanging out in the lounge car with a drink and snacks and watching the southwest scenery go by was definitely the way to go. Like Biergarten in Epcot Germany you get communal seating in the Amtrak dining cars, and as a solitary traveler I'm basically filler so it's never hard to seat me. And just like Biergarten now I have fellow travelers I can chat with and trade travel stories with. When you've been single most or all of your life, you tend to treasure those modes of travel and dining that give you opportunities to socialize, which a table for one does not.
It's not for everyone, especially if you get motion sickness. But mom used to take me on the train when we went on vacations to Florida and it brings back memories and the motion of the train at night actually helps me sleep. Except I can't because I am always looking out the window at the passing scenery.